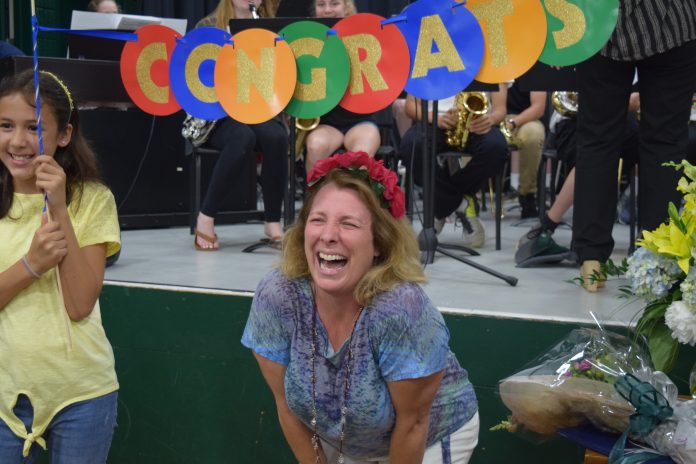 JAMESTOWN – Charlene Tuttle was named the 2019 Rhode Island Teacher of the Year at a surprise announcement at the Lawn School in Jamestown, where Tuttle is a sixth-grade science and social studies teacher, the R.I. Department of Education announced Wednesday.
Tuttle was touted for her passion and engagement through the use of hands-on learning opportunities.
"Each year, I'm amazed by the talent, creativity and commitment of our Rhode Island Teachers of the Year, and Charlene Tuttle is no exception," said Gov. Gina M. Raimondo in a statement. "Charlene always puts her students first and, in doing so, is both a leader and a mentor to her colleagues."
Tuttle will now work with the Department of Education throughout the 2018-2019 school year to develop policy, lead professional development and help support education statewide. Tuttle also is eligible to represent Rhode Island as the National Teacher of the Year.
"Ms. Tuttle is an exemplary teacher who is full of passion for her content, radiates love for her students, and gives back to her school and community," said Jamestown Superintendent Ken Duva in a statement. "As you walk the halls of the sixth-grade wing at Lawn School you can sense the excitement that is flowing out the door of the science room. Students are laughing, having fun and enjoying the learning that is occurring daily with Ms. Tuttle. Her smile and love for learning is contagious to all her students and colleagues."
At Lawn School, Tuttle has designed a SeaPerch program to build Remotely Operated Underwater Vehicles with students, created and ran after-school coding workshops, and collaborated with Roger Williams University and commercial aquaculture interests to study the local environment. She has served as a member of the State Leadership Team for the development of Next Generation Science Standards, according to RIDE.