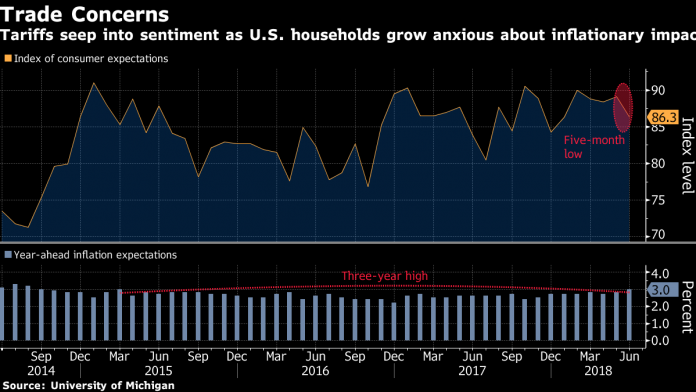 NEW YORK – Consumer sentiment weakened in the latter part of June on concerns about the economic impact of a trade war, according to a University of Michigan survey on Friday that also showed a pickup in inflation expectations.
Highlights of Michigan sentiment (June, final)
Sentiment index was little changed at 98.2 (estimated 99) after 98 in the prior month; preliminary reading was 99.3
Expectations measure decreased to a five-month low of 86.3 from May's 89.1
Current conditions gauge, which measures Americans' perceptions of their finances, advanced to 116.5, from 111.8 in May
Year-ahead inflation expectations rose to 3 percent, the highest level since March 2015, from 2.8 percent the prior month; preliminary figure was 2.9 percent
Key takeaways
While sentiment remains high by historical standards, with survey respondents still upbeat about the job market and incomes, there's uncertainty surrounding U.S. tariffs on certain foreign imports and the threat of more.
The survey showed that American households are worried about the future effect of trade tensions on prices and the pace of economic growth in general.
The potential impact of tariffs on the economy was spontaneously cited by one-in-four consumers, with mostanticipating a negative effect. The increase in inflation expectations was due both to rising energy costs and the impact of tariffs on goods, according to the survey. The longer-term outlook for prices was more subdued.
Nonetheless, Americans anticipated an annual gain of 2.5 percent in their incomes, up from 1.6 percent in May and the highest since 2008, according to the University of Michigan.
Official's views
"While tariffs may have a direct impact on only a very small portion of overall GDP, the negative impact could quickly generalize and produce a widespread decline in consumer confidence and optimism," Richard Curtin, director of the University of Michigan consumer survey, said in a statement.
"The June survey offers a glimpse into the potential reactions of consumers to rising tariffs and suggests that the timing and size of the loss in confidence could be quick and substantial," he said.
Other details
Index of current personal finances rose to 136 in June from 130
Gauge of buying conditions for durable goods climbed to a three-month high of 166 from 160
Inflation rate over next five to 10 years seen at 2.6 percent, the highest since July 2017 and matching the preliminary reading
Reade Pickert is a reporter for Bloomberg News.