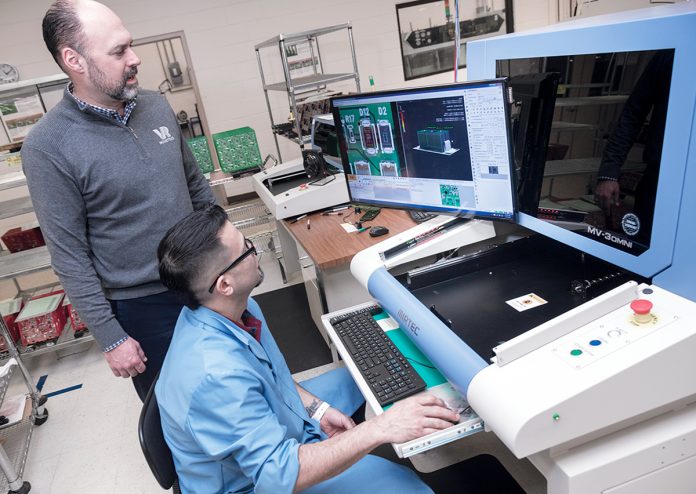 In Warwick, one small business is starting to see a boomerang effect in the movement of contract manufacturing. Customers that had sought out less-expensive suppliers in Asia, particularly in China, are starting to return to American sources.
VR Industries Inc., a contract manufacturer of electronic components, including circuit boards, has had several customers that previously purchased parts from them return, after being dissatisfied with their experience overseas.
Problems with supply-chain management, defective parts and even language barriers are encouraging some companies to return to U.S.-based manufacturers, according to Brian Pestana, president and CEO of VR Industries.
Pestana, whose father, Fred, co-founded the company in 1985, said the contract manufacturer over the past decade has strengthened its role in product design, helping customers find efficiencies that will keep production in the U.S.
"In our industry, we've seen relationships have grown stronger with our customers," Pestana said. "They want us to be more involved in the product-development stage. If we're involved, we'll have some input, so it's designed more efficiently."
Despite the savings of labor costs in China and other Asian marketplaces, customers are increasingly interested in trying to keep their products U.S.-based. "What we're seeing now is the customers are having this discussion," Pestana said. "They're looking more at total cost of ownership than they were in the past."
Pestana estimated a "handful" of customers have returned their business to VR Industries as a result of dissatisfaction with overseas experiences. Others seem less willing to move overseas.
"There is a stronger sentiment with our existing base to stay here and not listen to that little guy on their shoulder saying: 'Go to China. Save money,' " he said.
To facilitate collaboration between its engineers and clients, VR Industries has opened its own customer-innovation center. Previously, customers would provide a design and indicate how many units they wanted, a transactional relationship.
"Customers can come in with their product. And we bring our engineers in and really collaborate," Pestana said. "There is a lot of collaboration in the industry right now."
One of the continuing challenges for the manufacturer is finding qualified candidates for both entry-level and management positions.
Although the company has a continuing relationship with William M. Davies, Jr. Career and Technical High School, it needs more employees who know how to solder and run equipment.
And high-skilled management positions can be difficult to fill, as well. The company now has an opening for a director of quality, with a medical-device background.
"These are the tricky ones [to fill]. There's not a simple solution," Pestana said.
OWNERS: Brian Pestana, CEO and ­president, and Fred Pestana, founder
LOCATION: 333 Strawberry Field Road, Warwick
TYPE OF BUSINESS: Electronics contract manufacturer, medical-device assembly
EMPLOYEES: 45-50
YEAR ESTABLISHED: 1985
ANNUAL SALES: WND