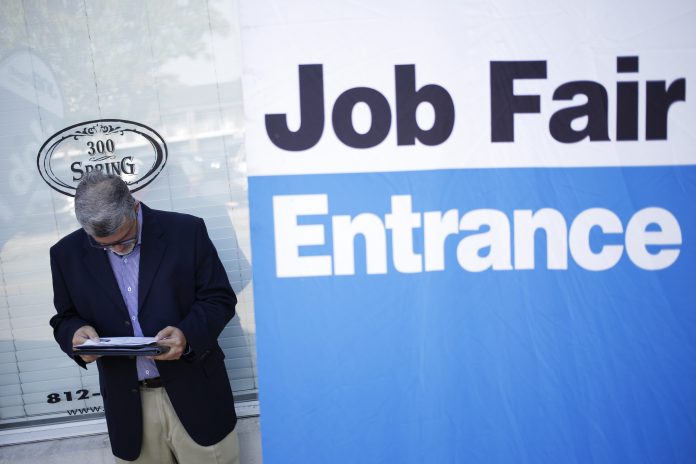 NEW YORK – United States job openings rose in July to a fresh record and the biggest share of workers since 2001 quit their positions, adding to signs of labor-market strength that may push wages higher, Labor Department data showed Tuesday.
Highlights of job openings (July)
Number of  positions waiting to be filled increased by 117,000 to 6.94 million (estimated 6.68 million) from an upwardly revised 6.82 million in June, according to Job Openings and Labor Turnover Survey, or JOLTS
Hiring little changed at 5.68 million;  hiring rate unchanged at 3.8 percent
Quits rate rose to 17-year high of 2.4 percent from 2.3 percent; 3.58 million Americans quit their jobs, up from 3.48 million
Key takeaways
Job postings exceeded the number of unemployed people by 659,000 in July, the most in data back to 2000. The gap helps explain why wages rose in August at the fastest pace since 2009, as employers struggle to find qualified workers and Americans become more confident in leaving their jobs for better pay elsewhere.
Although it lags the Labor Department's other jobs data by a month, the JOLTS report adds context to monthly employment figures by measuring dynamics such as resignations, help-wanted ads and the pace of hiring.
Other details
Layoffs declined to 1.6 million from 1.65 million; layoffs rate unchanged at 1.1 percent
There was 0.91 unemployed person per job opening, compared with 1.9 people when the recession began at the end of 2007
Openings increased in manufacturing, leisure and hospitality, and finance and insurance; decreased in retail, educational services, federal government In the 12 months through July, the economy created a net 2.5 million jobs, representing 66.7 million hires and 64.2 million separations
Katia Dmitrieva is a reporter for Bloomberg News.