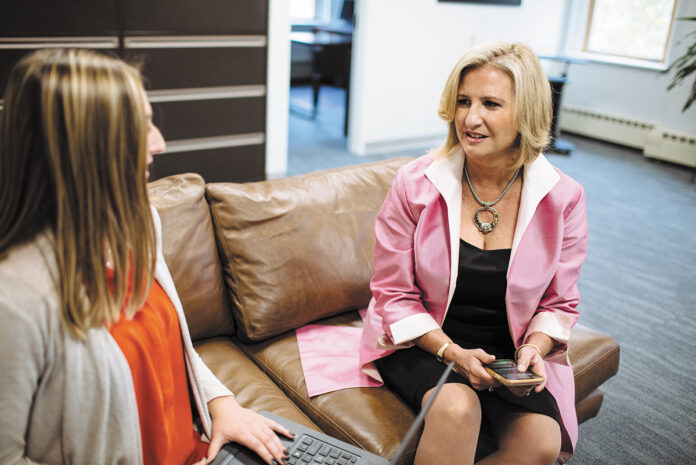 2019 PBN Business Excellence Awards
BUSINESS LEADERSHIP: Laurie White, President, Greater Providence Chamber of Commerce
---
Consistent, forward-thinking, strategically targeted planning, followed by action.
Those qualities are central to the economic-development work of the Greater Providence Chamber of Commerce and also are embodied in its president, Laurie White.
Leadership means knowing the subject matter well, perceiving the next new issue, advocating for goals and thanking people, said White, who has been Chamber president for 14 years.
Knowledge is the starting point because "the landscape is constantly shifting," White said. "The Chamber has a front-row seat at everything happening in Rhode Island." As a persuader, White said, it's essential "to understand both sides of the story and to understand the counter arguments."
Persuading can involve the heavy work of changing minds. "Your argument has to be honest, sincere and accurate. You have to present your points in a cogent fashion, not using hyperbole," she said.
Appreciation is crucial. "Most business projects don't happen without a struggle," White said. "When a project crosses the finish line, thanking [those involved] is important. That's the way to keep people engaged."
Alden Anderson, chairman of the Chamber board and senior vice president of CBRE Inc., said one of White's great qualities as a leader of the membership organization is the careful, strategic thinking that she invests before taking action.
'We aspire to be a partner for change in Rhode Island.'
LAURIE WHITE, Greater Providence Chamber of Commerce president
Anderson said he admires White's "very measured process of decision-making after thoroughly understanding the landscape and ramifications." He added, "Laurie has a good understanding of what can and cannot get done, so that we don't start going down paths that end in failure. She is conscious of the law of unintended consequences."
Not every problem has a quick or obvious solution. The chronic obstacles to economic growth in Rhode Island include its small tax base and consequently tight public resources. But, White said, it's necessary to balance a fair tax load with important projects, such as improving education and building the economy, to make Rhode Island attractive to new, revenue-generating businesses.
White sees big progress under the leadership of Secretary of Commerce Stefan Pryor, appointed by Gov. Gina M. Raimondo in 2015. She said his time on the job was preceded by a period of unhelpful turnover in economic-development leadership.
Before Raimondo selected Pryor, White said, "there was not a full appreciation of economic development. But this is long-term work."
Pryor, White said, "has been able to make the case that economic development is at the base of everything that happens in Rhode Island."
Important work in recent years, White said, has included workforce development, streamlining of regulations, collaboration with the General Assembly, improvement of infrastructure, and development of the former Interstate 195 land as an innovation district.
Crucial improvements that still need work, White said, include public school curriculums and buildings and student performance. Undereducated and undertrained people who cannot contribute to the economy are "an anchor around our neck," she added.
White has economic-development and relationship-building chops that run deep. A 1981 honors graduate of the University of Rhode Island, White started her career as a television journalist, at WLNE-TV Channel 6 in Providence. She worked as a public information officer at the state Department of Economic Development and joined the Chamber in 1989. She rose through the ranks, taking a break from 2003 to 2004 to serve as executive counselor to then-Gov. Donald L. Carcieri for policy and communications. She serves on many boards that work on education and economic ­development.
White said any accolades she earns are really earned by the entire Chamber. "We aspire to be a partner for change in Rhode Island to put it on a path to prosperity by digging deep and getting into the issues that are prevalent today," she said.

Want to share this story? Click Here to purchase a link that allows anyone to read it on any device whether or not they are a subscriber.