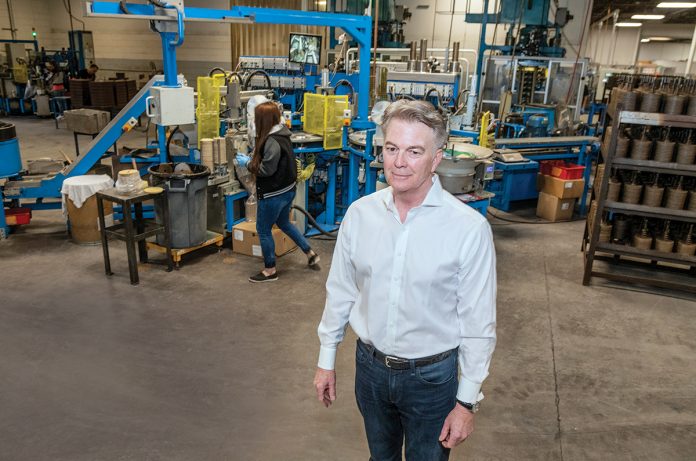 Amid the rolling fields and wooded hills outside Worcester, Mass., people park their cars in a dirt lot then take a shuttle bus to a store that sells marijuana for recreational use. Some customers have been in line outside for an hour or more. Despite a cold winter wind, the mood is calm as the line winds through a heated tent as recorded rock music plays.
As buyers exit the store, they are shuttled back to the parking lot, where they drive off under the watchful eye of police with products – not legally sold in Massachusetts until last fall – containing the all-important ingredient: tetrahydrocannabinol, commonly called THC, the principle psychoactive chemical in marijuana.
If Gov. Gina M. Raimondo has her way, it's a scene that could be repeated across Rhode Island. Northeast Alternatives has already opened a marijuana dispensary in nearby Fall River.
  See related story: Raimondo: A 'Partner with Business'  

Raimondo says her proposal legalizing recreational marijuana for those age 21 and older isn't a personal priority. But she believes other states in the region will follow Massachusetts' lead and legalize it. So, despite widespread concerns in the business community and local government, she wants to regulate it and collect much-needed tax revenue. She says her proposal, which also expands an existing state medical-marijuana program, would raise $6.5 million in fiscal 2020. She also promises a strict regulatory framework.
The "regional landscape guarantees that Rhode Island will now be dealing with the consequences of marijuana legalization in law enforcement, public health, employment issues and beyond," she noted in her budget proposal.
Manufacturers and other employers, however, have said they'll oppose new restrictions on how they hire or ensure workplace safety.
"We're working with the governor's office to submit legislation for employers," said Laurie White, president of the Greater Providence Chamber of Commerce. "We're thinking about drug-free work zones. There may be some language in the statute to clarify the rights of employers."
Craig Pickell, chairman of the Rhode Island Manufacturers Association, said members' "immediate reaction to it is that it's one more intoxicant that's being legalized. We know it's coming. We're not going to stop it, but we don't want the legislation to leave people [in our industry] vulnerable. We want protections for employers. We want someone to be able to tell us if a co-worker is under the influence, regardless of whether it's alcohol, marijuana or whatever."
Pickell may be right that legalization for recreational use is coming to R.I., but House Speaker Nicholas A. Mattiello has already warned that this may not be the year.
"I am certainly listening to the concerns expressed by the business community … as well as the concerns from the law enforcement community about impaired driving and safety on our roadways," Mattiello said in a statement. "I am also not certain that our regulatory system is ready to handle legalization this year."
Pickell's group is especially concerned about THC-laced candies and other edibles. Under Raimondo's plan, such edibles would be available, but the potency of those and other marijuana products would be limited. The state would have the authority to cap THC levels, the only provision of its kind so far among states that have legalized marijuana. Only medical-marijuana patients will have access to high-potency products.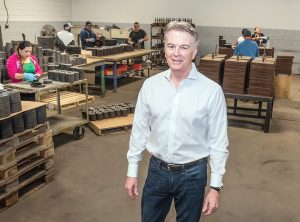 Other proposed restrictions include:
• Consuming marijuana in public and growing it at home would be banned.
• Drivers who refuse to be evaluated by "drug-recognition ­experts" or who refuse to take a roadside chemical test for marijuana will face a mandatory six-month driver's license suspension.
'[Marijuana is] one more intoxicant that's being legalized.'
CRAIG PICKELL, Rhode Island Manufacturers Association chairman
• Those who give or sell marijuana to minors would face "severe administrative and criminal penalties."
• All marijuana products must be tested through state-licensed labs.
• Purchases would be limited to 1 ounce each, and frequency limits for purchases would be imposed.
• Municipalities would control where marijuana-related businesses can be located. They would be able to ban marijuana businesses through local referendum.
• Municipalities would receive 15% of all marijuana-related state revenue, with larger shares going to cities and towns with the most marijuana businesses.
The first marijuana retail stores would open in January, with other types of marijuana-business licenses being issued in the following months.
Like the manufacturers association, Rhode Island's construction industry has concerns.
John Marcantonio, executive director of the Rhode Island Builders Association, says having impaired workers on construction sites is particularly dangerous in a field for which the potential for injury is already elevated. "The construction industry already has a problem with opioids, and this is adding to the problem. If someone is operating a large piece of machinery and there's an accident, there are effects from the insurance on down, never mind damage to your reputation" as a company.
One of Rhode Island's largest employers, defense contractor General Dynamics Electric Boat, said legalizing marijuana could hurt its growth plans here.
"Submarine manufacturing is difficult and demanding work," EB spokeswoman Liz Power said in a statement. "We must ensure the safety of our employees, as well as the quality of the work we perform. As a Department of Defense contractor, we are required to comply with the [federal] Drug Free Workplace Act. As part of our compliance … Electric Boat requires all new employees to pass a drug test. … Additionally, many of our employees are also required to maintain a security clearance, and marijuana usage would negatively impact their ability to do so."
Legalizing recreational marijuana could also threaten EB's plans to hire more than 5,000 people at Quonset Point over the next decade, Power warned.
Municipalities also have voiced opposition to Raimondo's proposal. The Rhode Island League of Cities and Towns claims it doesn't give municipalities enough control over marijuana businesses or enough money to manage them.
But Brian Daniels, the league's executive director, acknowledges that some members see economic-development opportunities in legalization.
"Some communities are looking at it as a magnet for a commercial zone," he said.
Jared Moffat, Rhode Island political director of the Marijuana Policy Project, a national group advocating for marijuana policy, said he understands the concerns of business groups. "I don't think they're being unreasonable," he said.
Regarding concerns about drug testing by employers and police, Moffat said a breathalyzer for marijuana is being developed. Raimondo said new technology for marijuana testing could be available later this year.
Regulating marijuana "addresses the public health and safety problems created by the illicit market, and it allows law enforcement to spend more time addressing serious crimes," Moffat said. "It also generates significant tax revenue to fund important public needs [such as] education and infrastructure."
Scott Blake is a PBN staff writer. Contact him at Blake@PBN.com.