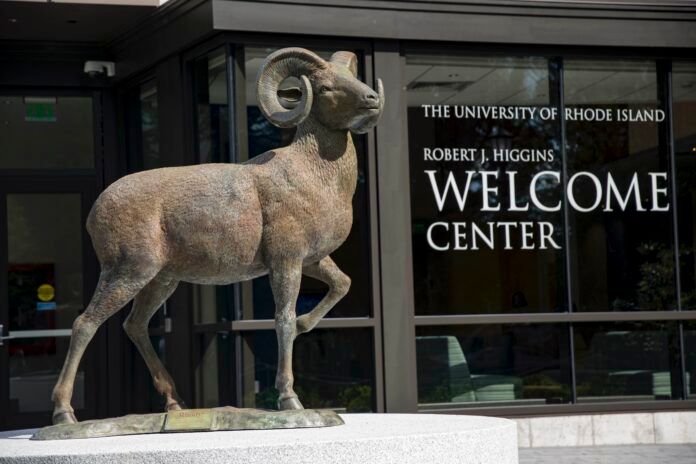 PROVIDENCE – The University of Rhode Island employed the top two bread winners in the state – and six of the top 10 – among state employees in 2021, according to payroll data provided by the R.I. Department of Administration.
David M. Cox, men's basketball coach at the University of Rhode Island, was the highest- paid state employee, earning $715,188 in 2021. Cox has occupied the top spot for state-salaried employees for the past three years.
Per his contract with the university, Cox's income is augmented by a percentage of gate receipts from Ram home games. In 2021, he collected $225,000 in gate receipts that is classified on the payroll document as overtime pay.
David M. Dooley, the former URI president who retired in June after 12 years at the helm, was second to Cox in 2021, earning $661,466, with no overtime pay. Dooley's successor, Marc B. Parlange, is being paid an annual salary of $500,000 per year for the first three years of his tenure at the university.
Dooley's total pay includes his base salary, as well as payouts for accrued leave and deferred compensation upon retirement.
Dawn Bergantino, URI spokeswoman, told Providence Business News that, "It is not uncommon for a basketball or football coach to be the highest-paid state employee at Division I state institutions across the country. Coach Cox receives a base salary, $225,000 as a guaranteed portion of gate receipts for home games, $175,000 for participating in athletic events and functions and other categories of pay."
Other top URI earners among state employees include a former dean, athletic director, retired provost and a vice president of research and economic development.
• Raymond M. Wright, the former dean at URI's College of Engineering, sits at the fourth spot on the state's top 10 list, earning $333,862 in 2021. He collected $126,241 in other pay.
• Thorr D. Bjorn, URI's athletics director, was sixth, and earned $303,538 with $22,000 in overtime pay. His base salary was $281,538 for 2021.
• The seventh-highest state earner was Donald H. DeHayes, URI's retired provost and vice president for academic affairs. He collected $300,428 in pay.
• Peter, J. Snyder, URI's vice president for research and economic development, sits at the eighth spot, netting $289,963 in salary for 2021.
Bergantino said URI operates within a national marketplace where competition to recruit faculty, administrators, athletic staff and others is intense.
"Salaries for [former] URI Provost and Vice President for Academic Affairs Don DeHayes, who also announced his retirement in 2021; URI Vice President for Research & Economic Development, and Professor of Biomedical Sciences Peter Snyder; and URI Director of Athletics Thorr Bjorn reflect this reality," she said.
As for Cox, compared to the highest-paid college basketball coaches, his salary pales in comparison, as he earns much less than Kentucky's John Calipari, at $8 million per season, Duke's Mike Krzyzewski who earns about $7 million a year, and Villanova Wildcats coach Jay Wright, who collects a $6 million annual paycheck.
Cox, now in his fourth year, has sat at the top of the state's payroll list since becoming a coach at URI. He was second in earnings in 2018 collecting a total of $474,326 in pay, of which $95,000 was garnered from gate receipts.
Other top earners among state employees in 2021 include:
• Dr. Purvi Chokshi, a physician general at the R.I. Department of Behavioral Healthcare, Developmental Disabilities and Hospitals, who earned $361,745. She received $153,786 in overtime pay, $9,790 in longevity pay and $5,372 in other pay. She ranked No. 3 on the top 10 list.
Derek Gomes, spokesman for the R.I. Department of Administration, said that other pay can include voluntary retirement incentive payments, clothing and shoe allowances, regular severance payments, such as vacation and sick payouts, health waivers, diabetes wellness payouts, retro payments, and enumerations as determined by a state agency.
The voluntary retirement incentive allows eligible state employees of the executive branch to receive a payment two times their annual longevity amount, to a maximum amount of $40,000, if they were eligible for full retirement on or before Dec. 31, 2020, and they elect to retire within the enrollment periods established under the VRI program.
• R.I. Department of Corrections has two employees among the state's top 10 highest earners for 2021, Mark E. Wilbur and Paul T. Fetter, Jr, who ranked fifth and ninth respectively.
Wilbur, a correctional officer, earned $305,091, which includes $221,518 in overtime pay and $10,027 in other pay. Wilbur's base salary for 2021 was $73,545.
Fetter, also a correctional officer, was paid $285,871, that included $183,848 in overtime pay and $10,647 in other pay. Fetter was expected to earn a base salary of $91,376 for the year.
Regarding the sizable overtime pay, J.R. Ventura, chief of information and public relations officer at the Department of Corrections, said, "There is no higher priority for our agency than safety and security, and that means that shifts and posts need to be covered.
"We are a 24/7 operation; when the courts sentence someone, we have to accept that person into the system; we do not get to say no. Overtime is necessary to make sure all posts are covered," he said.
Ventura said the two officers have worked at RIDOC for "a long time, and are willing to work many hours and shifts when posts need coverage, which prevents other officers from being ordered over. For several years, we were involved in litigation with the Department of Justice and were unable to recruit new correctional officers – we are still catching up in replenishing our ranks."
• Andrew P. Lekos, a physician general at BHDDH, ranked 10th on the 2021 list, earning a total of $283,309, with $71,232 in overtime and $19,279 in other pay. Lekos had a base salary of $192,797 for 2021.
Gov. Daniel J. McKee, who earned $145,755 in salary, did not make the top 100 on the state's 2021 payroll list.
Cassius Shuman is a PBN staff writer. Contact him at Shuman@PBN.com. You may also follow him on Twitter @CassiusShuman.

Want to share this story? Click Here to purchase a link that allows anyone to read it on any device whether or not they are a subscriber.