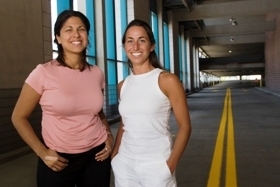 Designers make accessibility the key to their work, no matter the locale
Kat Darula and Rosanne Ramos see beautiful designs everywhere – in beaches, hotels and churches. But those designs aren't always accessible to all.
Fixing that problem is where they come in.
As co-founders of Providence-based Multi Design for People LLC, Darula and Ramos offer clients a multidisciplinary approach that includes architectural, product and graphic design.
Using those elements, the company looks to advise others to create a sense of inclusion for people of all cultures and ability levels, in locations that previously lacked it.
According to Darula, the 3-year-old company has worked as close to home as Providence Place mall and as far away as St. John, the smallest of the U.S. Virgin Islands.
Whatever the location, she and Ramos and the firms with which they team up are looking to create a place that is accessible for people ages "80, 18 and 8," Darula said.
"Most people don't argue with wanting to do it," she said. "They just don't have the resources or information to do so."
The company's highest-profile work has been on St. John, where Darula and Ramos partnered with private developers and government agencies to make the destination more accessible.
The two Rhode Island School of Design graduate degree program alumni were afforded the opportunity when a former professor of theirs was visiting Maho Bay Camp, an eco-resort on the island. The professor learned that the resort's developer was looking to make it more inclusive for people of varying ages and physical abilities.
Connection made, Darula and Ramos started putting their design process to the test in 2004.
Darula said the company worked with Maho Bay on "eco-tents" – accommodations she referred to as a "glorified tree house." The success of their eco-tents led to more conversations throughout St. John. Last year, Multi Design was brought back for "Building a Destination of All," an island-wide discussion about accessibility.
"Different groups and entities – private and public – saw the need to do what we were doing," Darula said, "and saw how to apply it to what their particular business was doing."
While on the island, the consultants followed four physically challenged visitors of different ages and abilities, documenting their experiences and noting which aspects of the destination worked for them and which didn't.
One of their firm's key findings was the lack of accessible transportation. Darula said there were no vans on the island that accommodated people in wheelchairs. So, working with a van company, Multi Design mapped out modifications that included the removal of the middle seat of each vehicle to make room for wheelchairs and the addition of portable ramps.
For the beaches, Multi Design recommended the use of Mobi-Mats, a portable flooring initially used in the first Gulf War to help tanks get to the water. Now, the mats have commercial applications, including use as a temporary pathway for people in wheelchairs who are looking to get across sand.
But their Caribbean sojourn lasted only so long, and now the company is back in Rhode Island. Eventually, Multi Design would like to create an environment in the Ocean State that is accessible to people from all walks of life.
More immediately, Darula said, the company is working on several high-profile projects in Providence.
First up is a redesign of the Providence Place mall's parking garage. The current design has caused confusion and anxiety amongst motorists, Darula said; Multi Design's work to resolve those problems is expected to last for the next year.
Multi Design is also designing a tree house at Roger Williams Park Zoo. The project will include a 16,000-square-foot facility, connected to the zoo's boardwalk and elevated 10 feet, plus a variety of educational supplements about wetlands, Darula said. It also will incorporate rest points along the route – so, for example, a grandparent could stop while a grandchild marches forward.
The latter project is one of the most exciting for Multi Design's mission, Darula said.
"That is going to be iconic for accessibility and inclusion in Rhode Island," she said. "If you can build a tree house that includes everybody, then that should give people the idea that it is possible to create a bank or a mall that also includes a wide range of ages, abilities and cultures."
Company profile: Multi Design for People LLC
Owners: Kat Darula and Rosanne Ramos
Location: 169 Weybosset St., Suite 213, Providence
Owners: Kat Darula and Rosanne Ramos
Employees: 3
Year Founded: 2003
Annual Revenue: WND
[Editor's note: Since this article was published, Kat Darula has left to join Item Group. Rosanne Ramos remains a principal of the former Multi Design for People, now Inclusion by Design LLC; she can be reached at 996-6751 or ros@inclusionbydesign.us.]