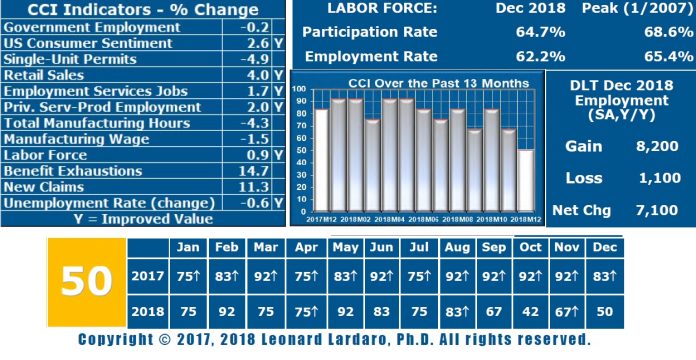 SOUTH KINGSTOWN – After a double-digit climb in November, the December 2018 Current Conditions Index fell 17 points to a value of 50, according to the latest findings by University of Rhode Island economist Leonard Lardaro.
Summarizing recent activity – which saw CCI measures decline as low as 47 in the fourth quarter of 2018 – Lardaro said: "Evidence that Rhode Island's economy is slowing has become uncomfortably abundant."
A 33-point gap separates the CCI released Monday from that of December 2017. December was the 10th month in which the CCI declined year over year.
Published monthly, the CCI measures 12 economic indicators that are representative of the economic climate of the state. A value above 50 implies economic expansion, while a value less than 50 indicates contraction.
While 2018 had a "fairly strong" start when it came to economic performance, said Lardaro in his end-of-year review, that "noticeably deteriorated" after June as time went on as "negative changes increasingly emerged."

In December, six of the CCI's 12 indicators saw improvement, one fewer than the seven which saw positive results in November.
Government employment saw a 0.2 percent decrease in December
Rising for the first time in three months, United States consumer sentiment grew by 2.6 percent in December
Single-unit permits, reflective of new home construction, fell by 4.9 percent in December marking the sixth dip in the seven months prior to December
Retail sales grew "strongly," by 4.0 percent, in December said Lardaro
Employment service Jobs grew by 1.7 percent in December
Private service-producing employment grew by 2 percent in December
A proxy for manufacturing output, Total Manufacturing Hours fell by 4.3 percent in December – the third such decline for the indicator in the fourth quarter
Manufacturing wage fell 1.5 percent in December
Rhode Island's labor force grew by 0.9 percent in December
A "sharp" 14.7 percent bump was seen in benefit exhaustions in December
A timely measure of layoffs, new claims grew by 11.3 percent in December. The fourth jump in the indicator between June and December, Lardaro said the upward trend shows a "likelihood .. of rising layoffs may well be occurring"
The December 2018 unemployment rate fell 0.6 percent
Emily Gowdey-Backus is a staff writer for PBN. You can follow her on Twitter @FlashGowdey or contact her via email, gowdey-backus@pbn.com.