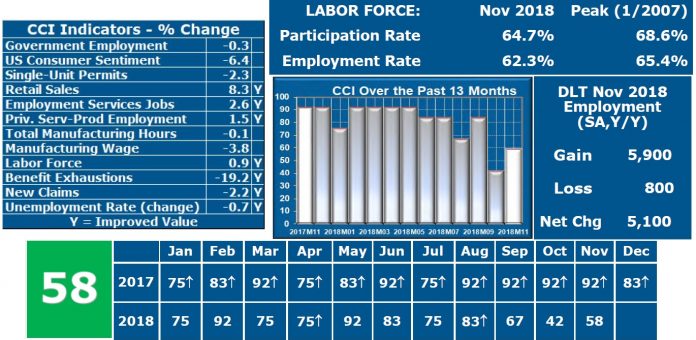 SOUTH KINGSTOWN – Characterizing November's performance as a "reprieve" from October's results, University of Rhode Island Economist Leonard Lardaro announced the November Rhode Island Current Conditions Index value was 58, a 16-point increase from the prior month.
Released Monday, the November 2018 CCI value represents a 34-point decline from the November 2017 value and the ninth month in 2018 in which the CCI value did not increase year over year.
Published monthly, the CCI measures 12 economic indicators that are representative of the economic climate of the state. A value above 50 implies economic expansion, while a value less than 50 indicates contraction.
Lardaro noted that, "The CCI has remained noticeably weaker since its most recent high of 92 in May."
Citing a "better overall economic performance" compared to October, in his commentary Lardaro said, "Signs of a weakening economy are, however, becoming increasingly evident."
In November, seven of the CCI's 12 indicators saw improvement, two more than the five which saw improvements in October.
Year-over-year economic indicator shifts in November:
Government employment declined 0.3 percent
There was a 6.4 percent dip in U.S. consumer sentiment
Single-unit permits, which are an indicator of new home construction, declined 2.3 percent in November
Retail sales saw an 8.3 percent increase in November.
There was a 2.6 percent increase in employment service jobs
There was a 1.5 percent increase in private service-producing employment.
Total manufacturing hours, a proxy for manufacturing output, declined 0.1 percent.
There was a 3.8 percent decrease in the manufacturing wage in November.
The labor force increased 0.9 percent
Benefit exhaustions, the timeliest measure of longer-term unemployment, saw a 19.2 percent decrease in November.
There was a 2.2 percent decrease in new claims, the timeliest measure of layoffs, in November.
The November 2018 unemployment rate dropped by 0.7 percentage points compared to October 2018.
Emily Gowdey-Backus is a staff writer for PBN. You can follow her on Twitter @FlashGowdey or contact her via email, gowdey-backus@pbn.com.