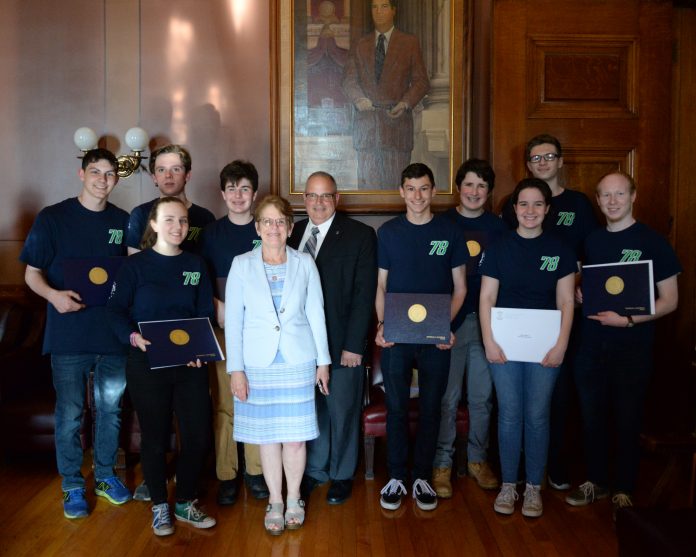 PROVIDENCE – Rhode Island and Massachusetts high school students from the Air Strike robotics team who competed in the FIRST World Championship robotics competition last month paid a recent visit to the Statehouse at the invitation of Rep. Terri Cortvriend, D-Portsmouth, and Rep. Dennis M. Canario, D-Portsmouth.
Part of the nonprofit Aquidneck Island Robotics, the Air Strike team made it to the semifinals, finishing fourth out of 68 teams in its division at the FIRST World Championship, which was held in Detroit from April 24-27. The team won three New England district events and placed ninth out of 210 teams in the New England district of the FIRST Robotics Competition. FIRST stands for: For Inspiration and Recognition of Science and Technology.
During a six-week period, students worked with professional mentors to develop a 125-pound robot that can be controlled remotely to retrieve, load and seal balls into the hatches of spaceships.
The team itself, as well as individual members, also won special awards.
Cortvriend presented team members with citations and a resolution honoring them for their successful season.
Team members are: Anthony Abuisi, Freddy Collins, Spencer Dellenbaugh, Wren Hager, Tom Hilmer, Joey Hook, Nathan Janssen, Sami Jefferds, Jacob Kimes, Tim Lopes, Garen Seibert, Charlie Silveria, Aislinn Sullivan, Seamus Sullivan, Rick Blight, Mark Seidman and Tim Sieben of Portsmouth; Tom Dolan, Austin Estrella and Kim Lesieur of Middletown; Alexander Gaines, Noah Manuel, J. Rick Casey, Paige Manuel, Joseph Menassa and Elizabeth Stevens of Newport; Ella Junge and Eva Junge of Jamestown; Emilia Delemontex of South Kingstown; Michael DeSousa of North Kingstown; Ben Rosenberg of East Greenwich; Isabella Heffernan of Warwick; Gregory Sanford of Cranston; Lucy Bosch of Providence; Jack Viveiros of Fall River; Ben Jope and Jacob Jope of Freetown; Gary Gabriel of Westport; and Brad Mello of Waltham, Mass.
Susan Shalhoub is a PBN contributing writer.