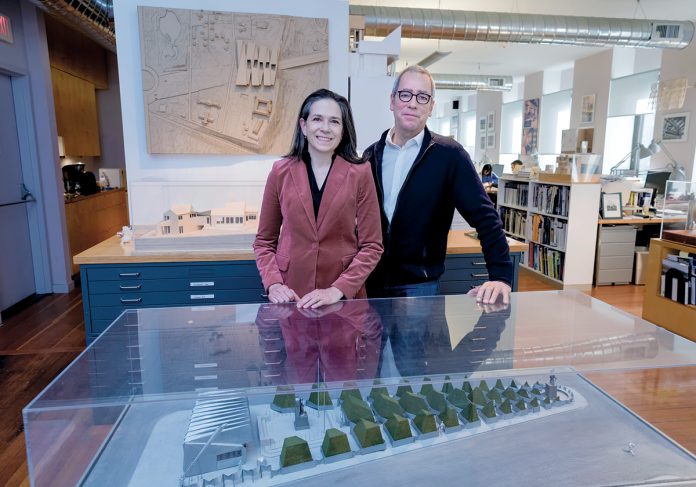 Kyna Leski and Chris Bardt both hail from families that appreciated the arts.
Leski is the daughter of an architect. Bardt is the son of a scientist and "artist at heart" who he said fell in love with architectural design, thinking it was "the perfect marriage of science, art and business."
The artistically minded pair met while studying in Harvard's Graduate School of Design's master's degree in architecture program. Today they are the principals of 3SIXO LLC, a modern-architecture firm based out of downtown Providence.
After separately working in corporate-architecture firms in New York City prior to their graduate school studies, both were looking to escape the hustle and bustle of the city.
"We didn't want to go back into corporate firms," said Leski, who was invited to work at Rhode Island School of Design following their graduation. Bardt was an alumnus of the school and both remain faculty members there today.
They moved to Rhode Island in 1988 and opened Studio 360 in 1997, switching its name to 3SIXO in 2002. What's kept the pair in Rhode Island, said Bardt, is the "incredible crafts capacity of Rhode Island."
Leski added: "New England … is one of the last strongholds where these industries can stay alive with low production. … You can find brilliant craftspeople here to make things" in small scale.
The company has garnered the attention of the American Institute of Architects multiple times. AIA award competitions are judged by out-of-state jurors, most recently at the 2017 AIA Rhode Island Awards Program, which celebrated Rhode Island-based projects and those competed for by Rhode Island-based designers. The firm took the highest accolade, the honor award, in the residential category. The winning project is a modern home located in Montauk, N.Y., that they built in the footprint of the client's previous dwelling.
The former building was removed, said Bardt, with the exception of the chimney. "Everything else is brand-new," he said of the modern design focused on subtle use of color and clean lines.
He added, this project is indicative of the firm's work, stepping back to "let the work emerge … rather than impose a design from the outset."
Additionally, as separate listings, Leski and Bardt were recently inducted into DESIGNxRI's Rhode Island Design Hall of Fame as lifetime-achievement honorees.
"Those are very important honors for us," said Bardt, who feels anchored to the Ocean State, given their more than 20-year history working with clients who range from schools to nonprofits, corporations and individuals.
Leski believes out-of-state juror recognition has led to increased in-state awareness, business and acknowledgement locally.
Looking forward, their biggest challenge and top priorities go hand in hand. "The state is such a rich state, architecturally and naturally, and there is a tendency to be a little bit less exploratory," said Bardt of the "small" market for the firm's work.
The company hopes to grow in the coming years by continuing to diversify its portfolio with commercial, residential and industrial commissions.
OWNERS: Kyna Leski and Chris Bardt
TYPE OF BUSINESS: Architecture firm
LOCATION: 146 Westminster St., ­Providence
EMPLOYEES: Five
YEAR ESTABLISHED: 1997
ANNUAL SALES: WND