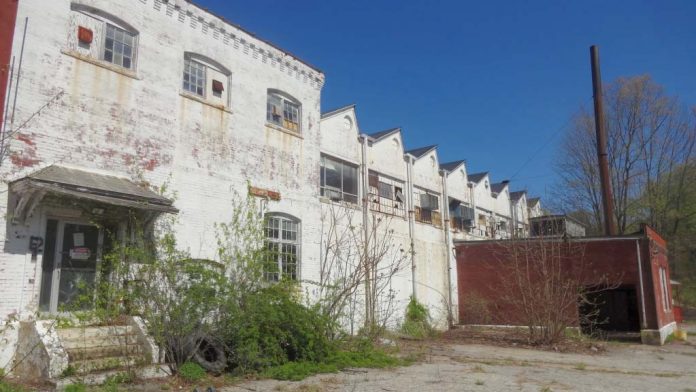 NORTH SMITHFIELD – The Andrews Mill Company Plant has been listed on the National Register of Historic Places, an official list of properties that have historical or architectural value.
NeighborWorks Blackstone River Valley, a nonprofit community-development corporation, acquired the former textile mill this year and is planning a mixed-use rehab project with apartments, live-work units and community spaces.
Initially operated until 1925, the mill includes three significant buildings and three structures. The manufacturer started operations in 1918.
The buildings include the main mill, built in 1918; an attached boiler house, built the following year; and a freestanding machine shop and gate house that is at the river's edge. The structures identified as notable include a concrete gate, a steel water tower and a stone masonry pump house that all were built by 1919.
After closing in the mid-1920s, the company was sold to Uxbridge Worsted Co. in 1936, which had leased it for a few years. The plant had 250 people occupied in worsted cloth production. The company later merged with another, and eventually sold the mill.
In the 1950s, it was leased to the Tupper Corp., maker of Tupperware, which used the mill for its corporate offices and as a laboratory. The Tupper Corp. purchased the buildings in 1958.
After changing hands several more times, the mill was sold to a real estate firm, which leased it to a recycling company, before its sale to NeighborWorks Blackstone River Valley.
Mary MacDonald is a staff writer for the PBN. Contact her at macdonald@pbn.com.