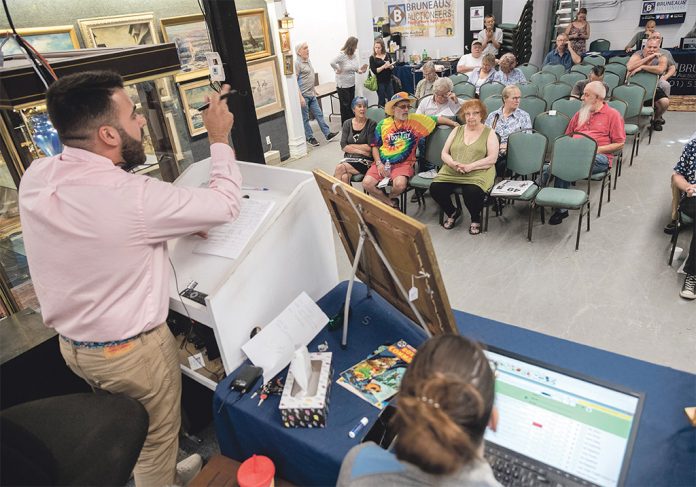 There were a few empty chairs at the June 8 antiques and fine arts auction at Bruneau & Co. Auctioneers gallery in Cranston, which Nancy Thomas, a spokeswoman for Bruneau, blamed on the sunny weekend weather outside.
On rainy or snowy days, she said, the gallery is packed. In the back, four people monitored online bids on computers, and gallery owner and President Kevin Bruneau sat ready to relay bids placed over the phone.
Most of their auctions include online bidders from all over the world who compete with live audiences, Bruneau says. He estimates the business's online presence pulls in up to 10,000 additional bidders who check in on auctions periodically.
Rhode Island auctioneers say the industry, while steady, has shifted in a number of ways, including demand, item worth and saturation of the market.
Young people are showing significantly less interest in auctions than older generations, but rising sales of midcentury furnishings have assigned new value to items once dismissed as too modern.
The auction business hit a high point locally in the 1980s, 1990s and early 2000s, according to Bruneau, who's been peddling antiques online and in person since 1992. Sales dropped off, though, when the Great Recession hit.
"In November 2008, the switch flipped off for antiques. It killed the main markets," Bruneau said.
Then, in the summer of 2015, Rhode Island deregulated the auction industry. The move allowed anyone to assume the title of auctioneer, making it difficult to quantify the size of the local industry today.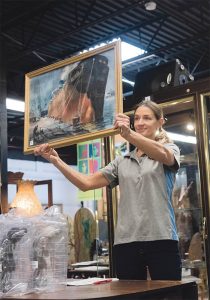 "When there is no licensing, anyone could call themselves an 'auctioneer' and there is nothing to say they are wrong," Ailie Byers, a National Auctioneers Association board member and auctioneer at Alpenglow Benefits in New Hampshire said, adding that the association has few members in Rhode Island.
There are no local organizations to track the number of Rhode Island auction houses. An online search turns up about 20, though longtime auctioneers say there are only about five actively selling antiques and art. A handful of others operate auctions for commercial properties and foreclosed real estate.
"We're holding our own, but are we as strong as we were in the [late] 1900s – no," said Michael Corcoran, a co-owner of Gustave White Co. in Newport, of the local auction industry. "But people are still very interested in it."
WEB OF WARES
The biggest challenge today, according to those in the local industry, is competition from sellers online, where antiques are ubiquitous and available at any time. Many of Rhode Island's auction houses have responded by embracing technology themselves.
Sal Corio, president and auctioneer at commercial liquidator SJ Corio Co. in Providence, claims the distinction of being one of the first Ocean State auction businesses to venture online.
"That was almost unheard of," Corio said. The tipping point came in 2015 when his company, which employs four, along with temporary hires during big auctions, was tasked with auctioning off equipment and other items from 38 Studios LLC, a failed video game company founded by former Boston Red Sox pitcher Curt Schilling.
Corio simulcasted the auction, taking live bids from the audience and accepting bids online. The method's success prompted Corio to turn to the internet almost exclusively.
"It seemed like that was where the industry was going, and we tried it and it worked really well," he said. "It's where we've moved 95% of our auctions – we get more activity and we get more bidding."
Antiques and collectibles are readily available online from myriad sellers, forcing auctioneers to compete with sites such as eBay Inc., Etsy, Craigslist, Amazon.com Inc. and Ruby Lane.
"The internet … let everybody know how much stuff was out there," Bruneau said. "It's way different from what we did 20 years ago."
The sheer volume of things for sale can overwhelm and burn out collectors, but Bruneau saw opportunity in identifying trends and focusing on where the market is going.
"You have to roll with it, but we definitely approach our business differently," he said. The auction house employs 11 and now sells art, glassware, toys, jewelry and other in-demand items via simultaneous online and live auctions, which are usually attended by about 100 people.
Less-sought-after, midrange items are sold off during separate weekly auctions.
Flexibility is likely to lead to longevity in the industry, and auction houses that find ways to market wares directly to customers have the advantage, Byers said. Fewer people are willing to spend a full day at an auction, but may be inclined to use an app.
"You have to work with technology now or you'll go by the wayside," she added. "If you still want to get customers and sell your wares, you have to do it on multiple platforms."
Still, some Rhode Island auction houses continue to avoid internet sales altogether.
"I hate online, I really do," Corcoran said.
His aversion to the internet stems mostly from problems caused by the purchase of things that are not in mint condition.
"We'd rather have people look at the items, and then they can pick out any imperfections. It's much simpler for us," Corcoran explained. "We never want to sell online. We do not have a website and we do not plan to get one."
His company, formed in 1926, continues to sell antiques, such as furniture, silver and gold pieces, and expensive Oriental rugs. Many of the items come from wealthy estates and are bought by antiques dealers.
"We have a cadre of people who have been coming to us for years. … "We have 20 to 30 people who come to every single auction," Corcoran said. "If more than 25% of our total is bought by lay people, not dealers, it's a poor auction, because the lay people do not know the value of these old things."
Bill Spicer shares Corcoran's dislike of the internet. As owner and auctioneer at the Bill Spicer Auction Co., and its sole full-time employee, he says he is too busy to bother.
The company fills a North Kingstown venue nearly every week with consignment goods, selling 180 to 200 lots per hour, and up to 550 lots per auction. If tools are up for bid, 700 lots can go during a single auction, Spicer said.
Bids are accepted in person or over the phone.
"I don't want to fool with that," Spicer said of the internet. "It's not what I want to do. What I take, I sell. Everything is sold that night."
He's heard tales of buyer's remorse and pressure on auctioneers to accept returns, and decided to avoid the risk.
"I hear horror stories from that," Spicer said.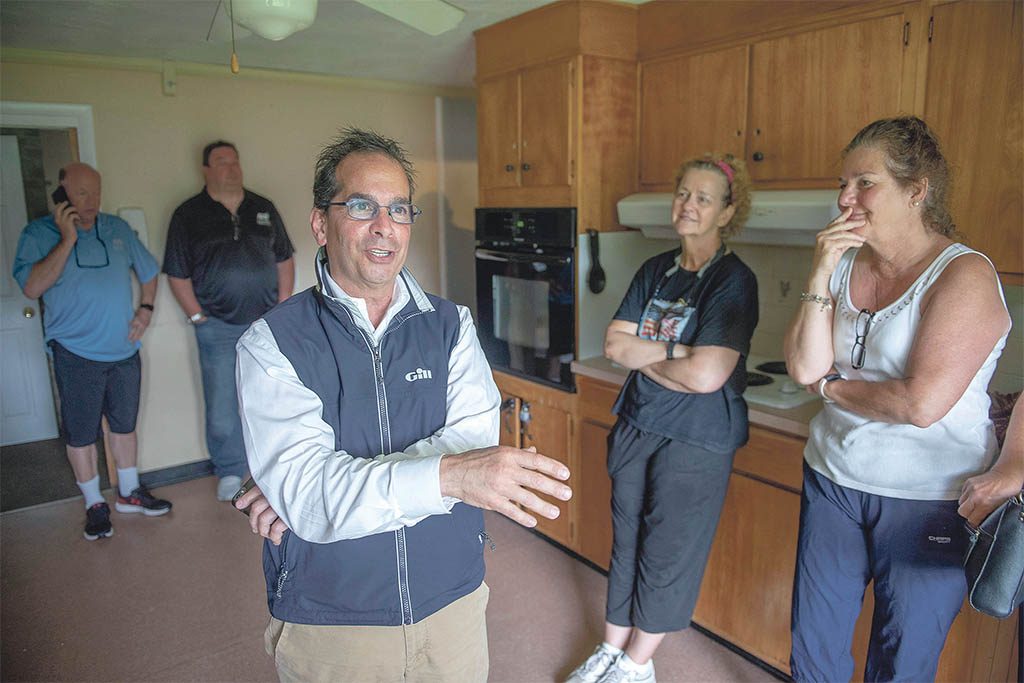 'IF IT'S BROWN, IT'S DOWN'
One thing Rhode Island auction houses do agree on is that demand in the industry has shifted. Pieces that once drew hefty prices now go for fractions of that amount, and vice versa.
It comes down to changing tastes and lifestyles, many say. Young adults aren't showing much interest in collecting things and filling their homes with heavy furniture.
"If it's brown, it's down," bidder Walter Sroka said of wooden furniture, before bidding began at the Bruneau auction he attended in June. Sroka, 54, of Coventry, was hunting for Asian pottery, vases and bronze bowls.
Among the items sold, an elegant French Renaissance Revival walnut center table sold for just $50, while three small KAWS dolls, created by the artist and designer Brian Donnelly, sold for a total of $1,300.
Such a juxtaposition is common in today's industry, said Travis Landry, pop-culture director at Bruneau and Co. Auctioneers Landry, who can occasionally be seen on PBS' "Antiques Roadshow," has earned a national reputation as an expert in toys, collectibles and comic books.
Today, midvalue art from the 1800s has limited appeal, while 1960s-era paintings by pop artist Roy Lichtenstein or more contemporary work by British artist Damien Hirst are highly sought after, Landry said.
According to Landry, art collectors are typically senior citizens, average comic collectors are 50 and under, and toy collectors tend to be about 40 or younger.
And the younger crowd, while not unwilling to spend money, has become ruthlessly discerning, seeking out things that have meaning to them.
"It's quality over quantity," Landry said.
Byers said she has seen the same shift.
"All of us that are younger, and are more transient in our lifestyles, we don't want to have a bed that weighs 12,000 pounds or a dining room table that seats 12 people," she said.
Byers, who hovers between Generation X and millennial status, grew up in New England's auction industry. She remembers the consistently good prices brought in from the sale of old mahogany furniture, beds and Depression glass.
Antique items that once were prized as heirlooms are now seen as cumbersome. Families are smaller, and half of the appeal of attractive, cheap furniture sold at stores such as Ikea lies in its disposability, Byers said.
"We live in smaller houses or locations, we have a much more fluid lifestyle … we've kind of moved away from acquiring," she said. "We want to travel, we want to have experiences, we don't want to spend all our money on things."
Landry, 23, said the auction industry has little appeal for his peers.
Young people have an appreciation for design, but tend to be drawn to marketing aimed at them, he added.
"My experience … living in a dorm and also doing this job, is there's a very big disconnect," he said. "Out of all my friends, there'd be a 3% interest rate in actually buying something. I think the millennial mentality is wanting to walk into a nicely furnished, gallery-type store with track lighting, compared to having to go to an auction and potentially having to clean something."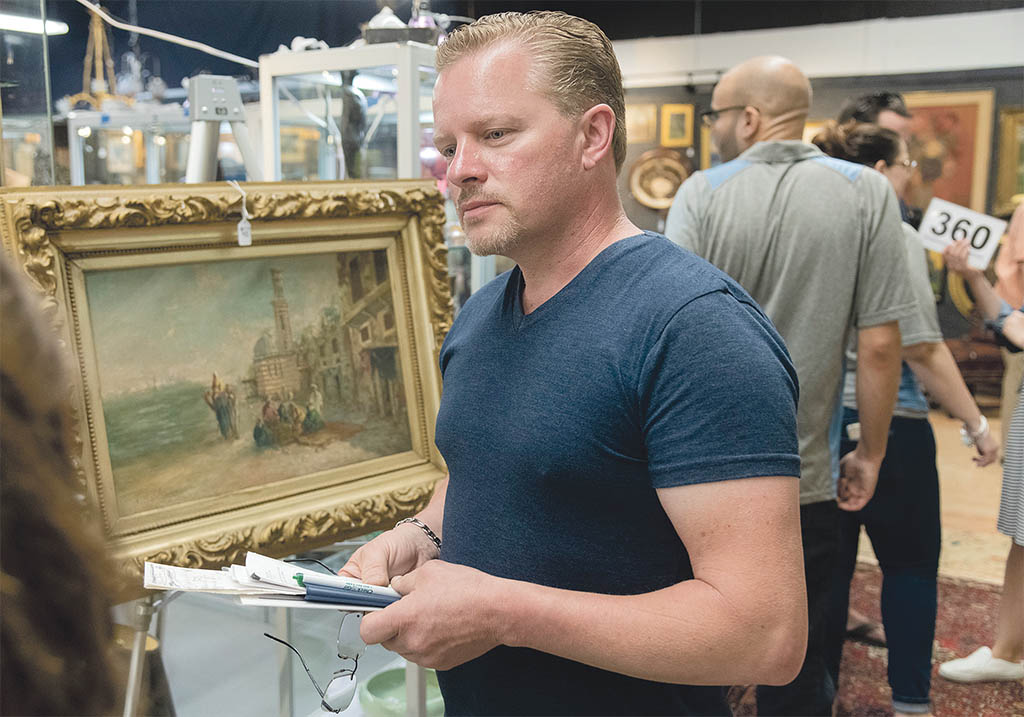 'IT'S ALL AESTHETICS'
Those millennials or Generation Xers who are looking for fancy furnishings seem to be drawn to pieces from the mid-1900s, with sleek or vintage designs and shiny finishes, auctioneers say.
Kevin Bruneau, of Bruneau and Co. Auctioneers, recently sold a fairly new swan table with a faux lapis lazuli finish that would not have drawn bidders a decade ago due to its age and gaudiness.
"It no longer matters about age, it has to have the look. It doesn't matter if it's a day old or 100 years old, it's all aesthetics," Bruneau said.
At the same time, high-end items, whether from the Victorian era or the mid-1970s, consistently bring in high prices, due to both quality and scarcity.
Tiffany lamps, rare stamps or coins, and furniture made by famous craftsmen are all increasingly purchased and squirreled away into collections, say industry insiders.
"Really good pieces such as [Newport native] John Goddard furniture, are selling at high prices, but they are becoming more and more rare," Corcoran said.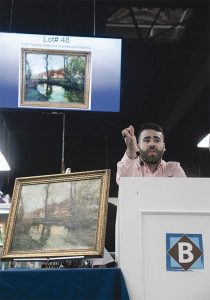 The same is true with toys and comics, Landry added.
"Supply diminishes as books get put in collections," he said.
Midlevel antiques, though, are almost flooding the market. A combination of factors are contributing to the surplus, including decreased demand for old furnishings, art and collectibles, and older collectors dying or downsizing and trying to sell off decades of accumulation.
As a result, auctioneers can experience slow periods.
"It's up and down, it's a business that in the 1990s I was probably doing twice what I'm doing now," Spicer said. "Prices were great then. I don't know why, but everybody was buying antiques, it was the baby boomers and their parents."
STAYING BUSY
In contrast, slower economic periods can mean more activity for commercial auctioneers such as Corio, although a strong economy brings benefits too.
"I think [the auction industry] is doing OK," Corio said. "This is 35 years that I've been doing this and we've stayed pretty busy."
He specializes in selling corporate assets, which means that when a business goes under in Rhode Island, Corio's company is often called to auction off leftover equipment on behalf of banks or creditors.
Auctions can take place weekly, monthly, or bimonthly, depending on how fast businesses are closing their doors. Sales are best, though, when buyers are feeling financially secure enough to bid on industrial equipment or real estate.
"Companies go out of business in good times too, and we prefer good times because in bad times I might have 100 sales going on, but no one wants to buy anything," Corio said.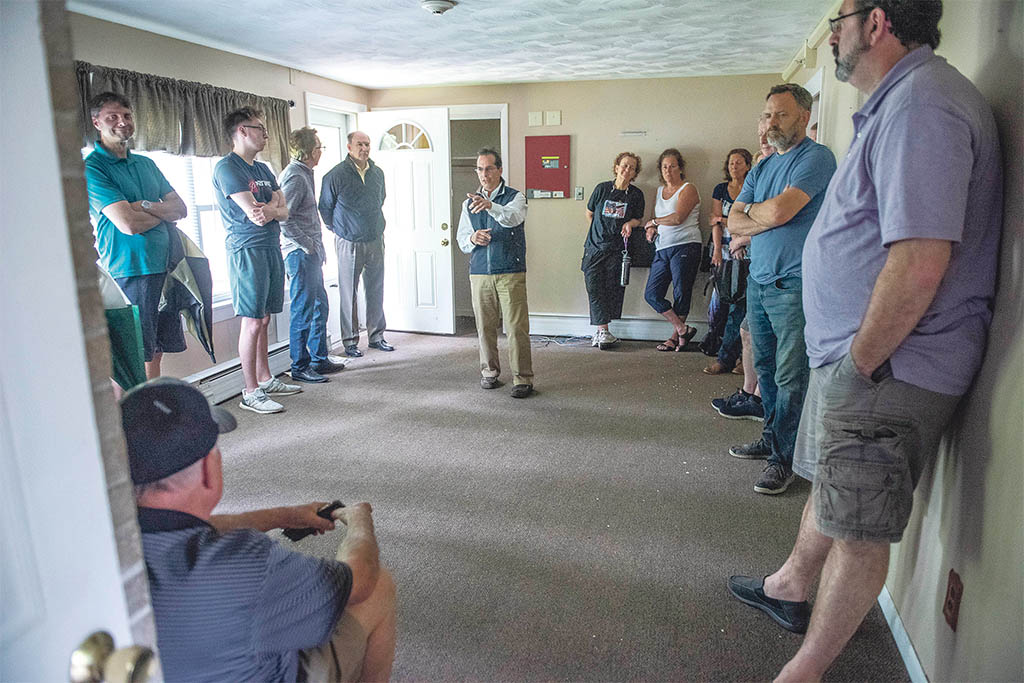 Elizabeth Graham is a PBN staff writer. Email her at Graham@PBN.com.