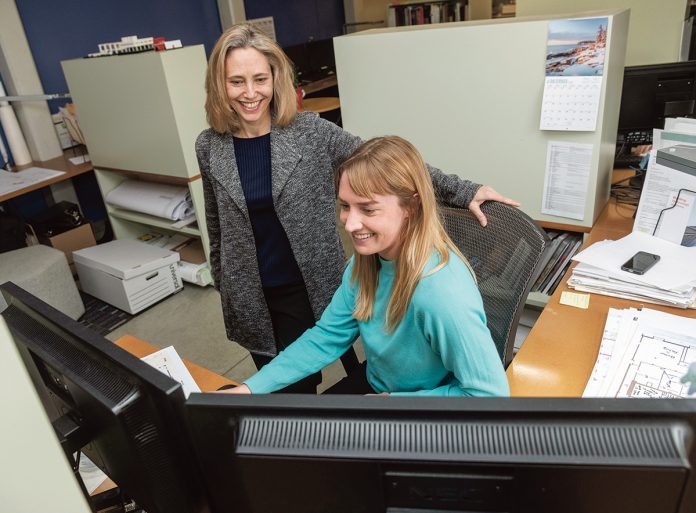 Business Women Awards 2019 | HONOREE
Kathleen Bartels, LLB Architects
---
KathLEEN Bartels, a principal at LLB Architects, took a path to her chosen profession that included foreign-language study and public-relations work – not typically things related to the field of architecture.
But varied interests have helped shape Bartels into a well-rounded leader who gives back to younger professionals and the community at large in myriad ways.
Bartels earned a bachelor's degree with a focus on Russian language from Dartmouth College and took a job after graduation with Lincoln School in Providence, where part of her role was to write the newsletter.
"I had to report on construction of a very large lower-school addition," she said. "As part of that, I'd take photos and interview the architects."
She became hooked on architecture.
After taking a summer studio architecture course at Rhode Island School of Design, Bartels eventually committed to getting a master's degree in architecture at the Harvard University Graduate School of Design.
Her first project after graduate school – a Westport house she designed – earned her an American Institute of Architects Rhode Island award and a place on the cover of Rhode Island Monthly.
Bartels joined LLB Architects in Pawtucket in 1996 and became partner a few years later.
She and business partner Chris Ladds bought a vacant mill now known as the Design Exchange in Pawtucket, winning awards for the historic reuse project.
The firm is known for its institutional work. Projects include work at the Brown University Department of English in 2001 and at the R.I. Division of Motor Vehicles in Cranston in 2010.
Other interesting LLB projects: the renovation of Church of the Blessed Sacrament in Providence, a renovation and addition to North Scituate Public Library, and a mixed-use building renovation on Federal Hill.
"We are less focused on attracting specific types of clients and more about doing interesting work. Architecture is, for us, about the process of coming up with design solutions for real-world problems," she said.
Bartels and LLB have hit some milestones recently: Bartels was named president, and the firm opened an office in Worcester, Mass.
Her career path circled back when Bartels began collaborating on projects for Lincoln School, such as the $5 million STEAM Hub for Girls.
"Kathy has a great eye for details and is able to translate abstract concepts, [such as] Lincoln being a place where 'tradition meets innovation,' into bricks and mortar, as she did with the marriage of modern design on a traditional building," said Suzanne Fogarty, head of Lincoln School.
Bartels has seen more women entering architecture. About 50% of LLB employees are women, with 25% being the national average, Bartels said. Under her leadership, LLB nurtures the development of younger colleagues.
Last fall, LLB Architects won a 2018 AIA New England Emerging Professional Friendly Firm award for its commitment to emerging team members working their way through the ranks.