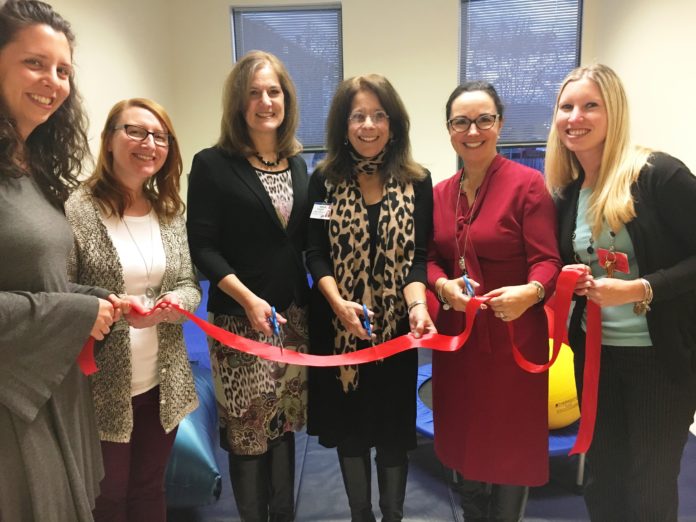 PROVIDENCE – BayCoast Bank has donated $5,000 to furnish and equip the new Sensory Motor Arousal Regulation Treatment, or SMART, Therapy Room at the Fernandes Center for Children & Families in Fall River, which uses a sensory-based model of therapy for children who have experienced trauma.
The donation paid for various pieces of equipment to help kids with sensory-regulation challenges. Items used at the center include a trampoline, cushions and therapeutic materials for sensory regulation.
The therapy employs sensory-based experiences to enhance a child's ability to regulate their emotions and behaviors.
The new SMART Therapy Room, which was unveiled during the recent 20th anniversary celebration of the Fernandes Center, is equipped with mats, a trampoline, a weighted blanket, a wobble board and crash cushions. The variety of equipment, which was funded through BayCoast Bank's donation, allows children to experiment and find their own comfort zone. These tools complement a child's therapy and allow for fuller engagement in their treatment and recovery.
"It is a privilege to contribute to a project that can provide such positive reinforcement to children who have experienced trauma," said Nicholas Christ, president and CEO of BayCoast Bank. "We applaud the Fernandes Center for Children & Families for implementing this treatment."
BayCoast Bank, a mutually owned savings bank chartered in 1851, is headquartered in Swansea. The bank serves southeastern Massachusetts and Rhode Island, with locations in Fall River, New Bedford, Seekonk, Somerset, Swansea, North Dighton, Fairhaven, Dartmouth, Westport and Tiverton.
Rob Borkowski is a PBN staff writer. Email him at Borkowski@PBN.com.