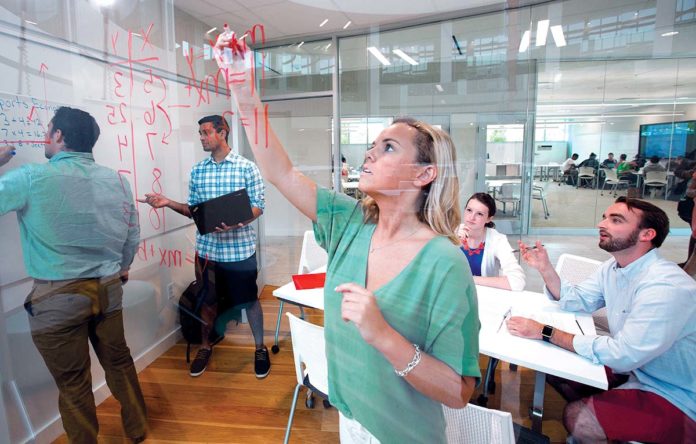 INNOVATIVE COMPANIES | EDUCATION
Bryant University's visually striking Academic Innovation Center, which opened September 2016, is designed to shun passive learning and lengthy lecturing. Instead, the AIC embraces design thinking – a way to solve problems from a more empathetic, idea-generation-type protocol – active and experiential learning, and dynamic teaching methods. The 48,290-square-foot building offers tiered classrooms, 23 multipurpose breakout rooms, moveable furnishings, whiteboards and 40 flat-screen, wireless monitors. Centrally located is its highly flexible and interactive Innovation Forum.
The $31.5 million AIC constitutes the most recent significant innovation at Bryant. In the last two years, Bryant has received record numbers of applications – more than 7,000 annually – while attracting highly regarded faculty members from Harvard, Yale, Cornell and Dartmouth, among others. Bryant graduates rank first in the state among median earners and ahead of their Brown University and Providence College peers, according to the federal government's latest College Scorecard. Faculty innovation grants and a five-year, $75 million capital campaign represent additional investments in classroom innovation.
Innovation apparently breeds innovation: high demand for small-group-study spaces at the AIC and elsewhere, for instance, led one Bryant student to develop an app that signals when such spaces are available.
The AIC is the outgrowth of five years of research and development, including visits to Harvard and Stanford to evaluate the latest insights into educational spaces, said Bryant President Ronald K. Machtley. The AIC applies the IDEO design-thinking method, "observation, ideation, rapid prototyping, user feedback, iteration and implementation," he said.
Eight faculty members comprised an advisory team that met regularly with the architect and other stakeholders.
The AIC and its experiential-learning approach has earned widespread acclaim from leaders, including General Electric Chairman and former CEO Jeffrey Immelt, who spoke at Bryant commencement.
"I like Bryant's culture of innovation," Immelt said. "I love your focus on the design thinking, moving beyond the classroom."