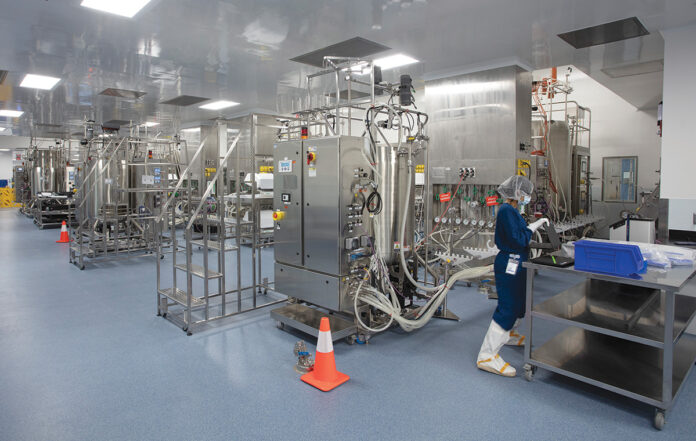 TECHNOLOGY
---
With help from companies ranging from global corporations to local startups, Rhode Island has had its share of victories in the biotech sector in recent years. And the indications are the momentum will continue.
Among the recent successes is the completion of a $200 million biomanufacturing plant at Amgen Rhode Island's West Greenwich campus. The 120,000-square-foot facility was built amid the COVID-19 pandemic in 2020, and the multinational biopharmaceutical company hired more than 150 people to staff it.
Another recent success story is Rubius Therapeutics Inc., which established a pharmaceutical manufacturing plant in Smithfield, using an existing 135,000-square-foot building. In 2018, the R.I. Commerce Corp. approved a package of tax credits and incentives worth up to $9 million.
On a smaller scale, Bristol-based biomedical startup Lenoss Medical LLC announced in May that it had raised $1.3 million in funding for its research into spinal fractures, partly with the assistance of the New England Medical Innovation Center and RI Bio, a nonprofit designed to grow the life science economy in Rhode Island.
"We can't compete head to head with Kendall Square [in Cambridge, Mass.]," said Hilary Fagan, executive vice president for business development at R.I. Commerce. But, she said, Rhode Island can take advantage of its expertise in design and manufacturing.
Rubius, for example, has its corporate headquarters in Cambridge but chose Smithfield for its latest manufacturing plant.
And it's not just biotech that is offering promise for Rhode Island.
The state has turned its focus to ocean-based technology, particularly offshore wind power. And the advanced materials manufacturing with both civilian and defense applications is getting a share of the attention, building on Rhode Island's long tradition of textile and marine innovation.
The information technology sector in Rhode Island has seen growth, too. Most visible was the arrival of global tech company Infosys Ltd. in downtown Providence, setting up its Design and Innovation Center in 2019 and pledging to hire as many as 1,000 workers in Rhode Island by 2023.
All this is supported by the growth of an entrepreneurial ecosystem that encompasses state and local government, nonprofits and major universities such as Brown University, the University of Rhode Island and Rhode Island School of Design.
"We're at a moment in time when there's an explosion of resources poised to help industry develop in the state," Fagan said.
A symbol for new development in the state is the Wexford Science & Technology LLC complex, part of which is located on land opened up after the relocation of Interstate 195. The complex consists of three buildings: South Street Landing, home to several Brown University administrative departments and the Rhode Island Nursing Education Center, the newly renovated Davol Square, and a new building called Point 225.
Gregory Herlong, director of development for Wexford developments in Providence and Baltimore, acknowledged that the top two floors of Point 225 – about 62,000 square feet – remain empty. Herlong said that space was intended for life science companies, with the infrastructure of those floors designed to handle their needs.
"That's where the focus is right now, going after the life sciences user," Herlong said. There's been some interest, he said, but it would be premature to say anything more.
"I'm optimistic about the next year," Herlong said. "The transformation in the [Providence Innovation and Design District] in the past three years has been remarkable. There are some incredible opportunities as the 195 land opens, and there is so much state and local support for development. Providence represents a tremendous opportunity."
One component of Wexford is CIC Providence, about 60,000 square feet of coworking space with about 100 client companies. Danish offshore wind company Orsted A/S has opened a U.S. innovation Hub at the CIC Providence to investigate companies interested in developing new technology to advance offshore wind development.
In April, Orsted, operator of the five-turbine Block Island Wind Farm, joined with its partner Eversource Energy to announce plans to construct an assembly facility at the Port of Providence to make foundation platforms for more than 100 wind turbines. These would support the development of larger wind projects that would supply power for Rhode Island, Connecticut and New York.
At the same time, there are about a dozen companies working on various aspects of offshore wind power based at CIC Providence. (Another wind technology company, Arctura Inc., is located in South Kingstown.)
Michael Katz, executive director of the URI Research Foundation, also known as URI Ventures, said ocean technology, or "the blue economy," is a logical growth area for the Ocean State and one in which URI, with its Graduate School of Oceanography, is poised to play a key role.
Katz also mentioned the 401 Tech Bridge initiative, which is bringing together a wide variety of players, including URI, to develop advanced textiles, composites and marine technology. During the pandemic, 401 Tech Bridge was asked by the state to help local manufacturers to produce and supply personal protective equipment.
401 Tech Bridge operates with $6 million in operating capital from federal, state and private sources, including the U.S. Economic Development Administration, which gave the organization a $724,674 grant in April.
Now 401 Tech Bridge is building an Advanced Materials and Technology Center in Portsmouth, a partnership among URI, Polaris MEP, the Composites Alliance of Rhode Island, the Rhode Island Textiles Innovation Network and the U.S. Office of Naval Research.
It's designed for short-term lab projects where collaborators can conduct research and development. "It's really a collaboration space, where companies will be able to show their products to potential partners on a small scale," said Mary Johnson, Tech Bridge manager.