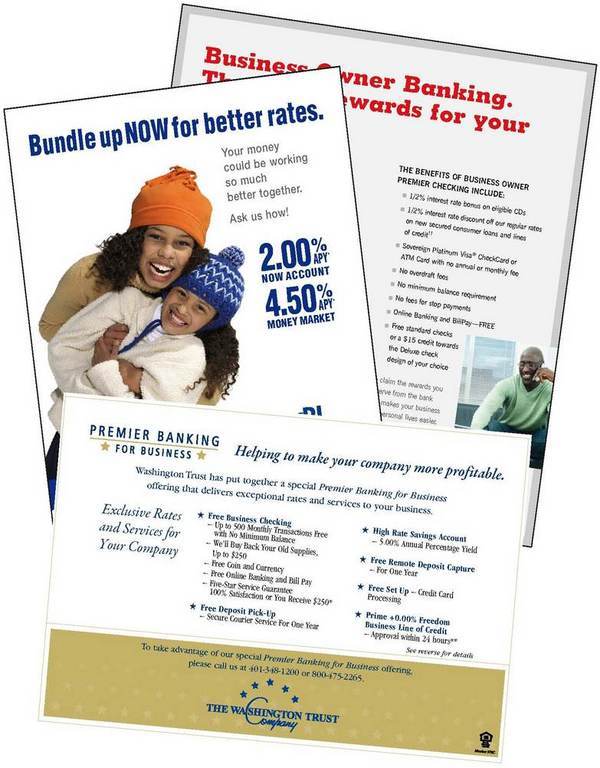 With more than two dozen different banks in the Ocean State all vying for the same customers, the institutions have become creative in how they sell their products. And bundling offers, they've found, is an effective strategy.
For starters, bundled offers persuade customers to do more of their business with the bank – not just keep a checking account, but also, perhaps, a savings account and some CDs, and maybe get a loan as well. So it's more business for the bank, and a deeper customer relationship that is harder to sever if a competitor suddenly offers a better deal for one piece of the business.
Bank Rhode Island has taken the concept particularly far, explicitly encouraging customers earlier this year to "bundle up" for better interest rates, and using bundled offers as a way to make banking easier to understand for the customers.
"What we found is that there were too many choices, and products and services were too confusing," said Kathleen Orovitz, senior vice president and director of retail banking for BankRI. "Most businesses don't have time to do this kind of assessment, and we put everything on the table and walk them through it."
For small businesses, BankRI developed a campaign called "It's All Here" that offered "everything your small business needs and then some," including business checking, premium money market accounts and a line of credit with a debit card.
On the personal side, in order to have a multi-service relationship with customers, BankRI developed the "Better together" plan offering customers who bundle a NOW checking account with 2 percent interest with either a money market account or a CD.
"The important thing is to build in premium rates around the bundle," said Orovitz. "We will discount fees and offer premium rates within the package to encourage customers to combine products and services."
The Washington Trust Co. also bundles some of its offers, in part in response to feedback from customers who have participated in focus groups. What they said, according to Michael Rauh, executive vice president of sales, service and delivery, is that they want bank services and products at a lower cost and faster. They don't have a lot of time to go through the banks' offerings. They want a comprehensive bundled package. And they don't want hidden fees.
"We designed and bundled a package around those issues," Rauh said.
For example, for those new customers opening a business checking account, Washington Trust will pay 5 percent on a companion savings account.
Business checking account customers, once they open a new account, can choose from a menu of free services, including free courier service and/or the free remote check image capture service and/or the free setup for merchant services.
"Our goal is to grow and bring new business customers into the bank and put a comprehensive package together and priced in a way that is less expensive than anyone we compete with in the market," Rauh said.
Sovereign Bank also sees bundling as a good way to build business.
Bundling "goes back to the beginning of time, when you sell as many products as you can to the customer," said Frank Casale, senior vice president and market leader for Sovereign. "What we don't want to do is be a transactional bank. We want to be a relationship bank where we can offer a large variety for business customers."
Rather than trying to sell "the widget of the week," Casale added, Sovereign set out to understand the full range of its customers' needs and address them.
The resulting products include the Business Checking Plus package, which includes free cash deposit processing, free investment sweep services, discounts on online ACH and wire transfers, a 1-percentage-point interest rate discount on small business lines of credit or loans, and free access to Sovereign's online tax payment service, among other things.
And for each business that sets up a business checking account, the bank will provide free personal accounts to employees.