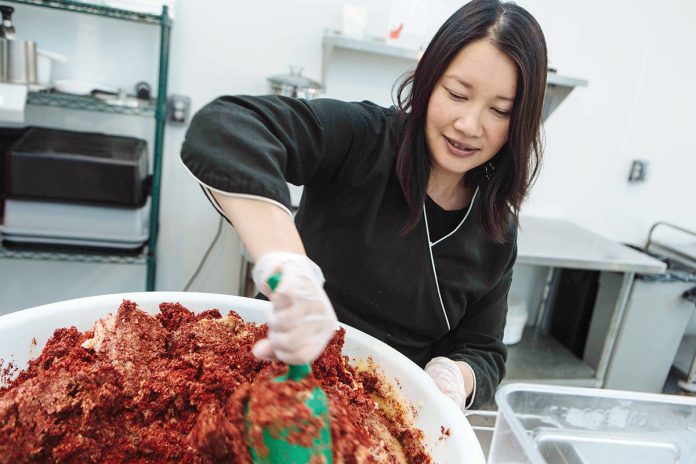 Chi Foods LLC 
Emerging Manufacturer | 2019 Manufacturing Awards
---
Minnie Luong was living in a Cambridge, Mass., apartment a few years ago when she decided to attempt to make kimchi. She had grown up eating the Korean culinary staple and wanted to try to make her own version.
"It came out terrible and was a colossal waste of time," she said with a laugh. "It was heart-breaking."
Being the founder and CEO of an Asian-food business would have been a stretch to even think about back then. It would have been hard to believe her kimchi would become good enough to grace the shelves of local markets, major grocery chains and college cafeterias, but Luong now owns Chi Foods LLC, a growing business that is planning to expand into teaching and other areas.
Kimchi is traditionally a side dish made from salted and fermented vegetables, including napa cabbage and Korean radishes. The food goes through a long process of fermentation and is commonly stored in kimchi refrigerators. Providence-based Chi Foods makes Napa kimchi and vegan kimchi.
The dish has a long history in Asian culture. Minnie's father, Chinh, made kimchi in Vietnam before he fled to the U.S. with Minnie, who was 3 at the time.
"I don't remember much about it, and it was a traumatic experience," Luong said. "I have been back to Vietnam, and I love it there."
While kimchi is a Korean dish, it is very popular in Vietnam. During the Vietnam War, the president of South Korea asked President Lyndon Johnson to supply it to the Korean troops deployed there. While working as a chef at a technology company in Manhattan Beach, Calif., Luong put kimchi on the menu to give the workers a healthy option.
'I started serving [kimchi] to my fellow employees so they wouldn't get sick, and
I wouldn't get sick.'
Minnie Luong, Chi Foods CEO
"I started serving it to my fellow employees so they wouldn't get sick, and I wouldn't get sick," she said with a laugh.
In 2015, Luong and her husband, Jeff, decided to move from California to Rhode Island, where her family lived, and shift the direction of their careers. Rhode Island's thriving food scene made starting a business attractive.
She said she decided to go into the kimchi business because of beneficial probiotics and flavor profiles. One of the company goals is to produce healthy Asian foods.
While going through the ups and downs of building a new company, Luong developed kimchi recipes, for which she uses locally grown products, selling jars of the kimchi at local food markets while raising money from family and friends. Chi Foods faced obstacles in creating the systems and operations needed to make high-quality products for its brand.
"There was a lot of testing going on," Luong said. "We had a refrigerator filled with kimchi."
Luong launched the business at Warren's culinary incubator Hope & Main, but within six months, Chi Foods needed a new location as it expanded.
Then her business got a big break. While Luong was attending an event in Providence, she met a Whole Foods employee who was on the hunt for new products. Before attending the event, she had rushed to make homemade labels for her jars. Six months later, Chi Foods' products were on Whole Foods' shelves.
"He commented about my labels," said Luong with a laugh. "It was a long process to get it into the store."
Her kimchi is now in more than 100 retail stores, restaurants and colleges in New England, including Rhode Island School of Design, Roger Williams University and the University of Massachusetts Dartmouth.
Last summer, while six months pregnant, Luong attended the Goldman Sachs 10,000 Small Businesses program, which allowed her to work on her business plan and raise more money for her company, which has five employees after three years in operation.
Chi Foods is currently working to expand its production facility to a research-and-design kitchen, which will be offering rental space to other food ­businesses.