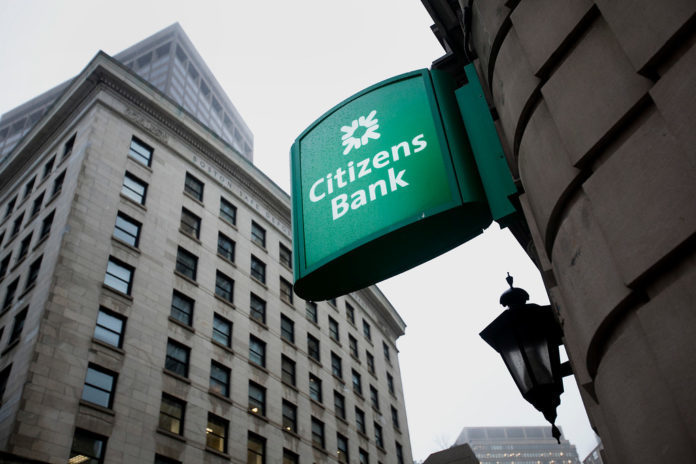 PROVIDENCE – Citizens Financial Group Inc. on Friday reported first-quarter profit grew 21.2 percent to $388 million, or 78 cents per diluted share, compared to $320 million, or 61 cents per diluted share, a year earlier.
Total interest and noninterest income for the quarter ended March 31 grew 10.4 percent to $1.7 billion compared to $1.5 billion during the same period in 2017.
"We are pleased to start 2019 with a strong first quarter result, which reflects disciplined executive of our strategic initiatives," said chairman and CEO Bruce W. Van Saun.
Citizens Financial Group, based in Providence, is the parent company of Citizens Bank.
Top line figures were buoyed by robust growth in interest and fees on loans and leases, which helped fuel a 14.5 percent increase to interest income totaling $1.3 billion. The growth was offset somewhat, however, by a sharp increase in deposit expenses, leading to a more modest increase of 9 percent to net interest income for the quarter.
"The improvement in net interest margin reflects higher interest-earning asset yield tied to higher interest rates and improving loan mix toward higher-return categories, partially offset by higher deposit and funding costs," according to an earnings report.
Total loans and leases grew 3.1 percent to $111.4 billion compared to the prior year. Net interest margin grew to 3.16 percent compared to 2.96 percent a year earlier.
Noninterest income, meanwhile, declined 2.1 percent to $371 million compared to the same quarter a year earlier. The reduction was largely fueled by a fall in capital-market fees, although the bank said it expects more business in that area during the current quarter.
"Capital market fee backlog as the commencement of the second quarter is robust," according to the bank.
Total deposits grew 3.2 percent to $115.7 billion. Total assets grew 2.1 percent to $153.4 billion.
"We continue to make consistent progress in running the bank better, so we can do more for our stakeholders," Van Saun said. "We are investing heavily in technology, our digital platform, customer experience and driving innovation which collectively positions us well for future success."
­Eli Sherman is a PBN staff writer. Email him at Sherman@PBN.com, or follow him on Twitter @Eli_Sherman.