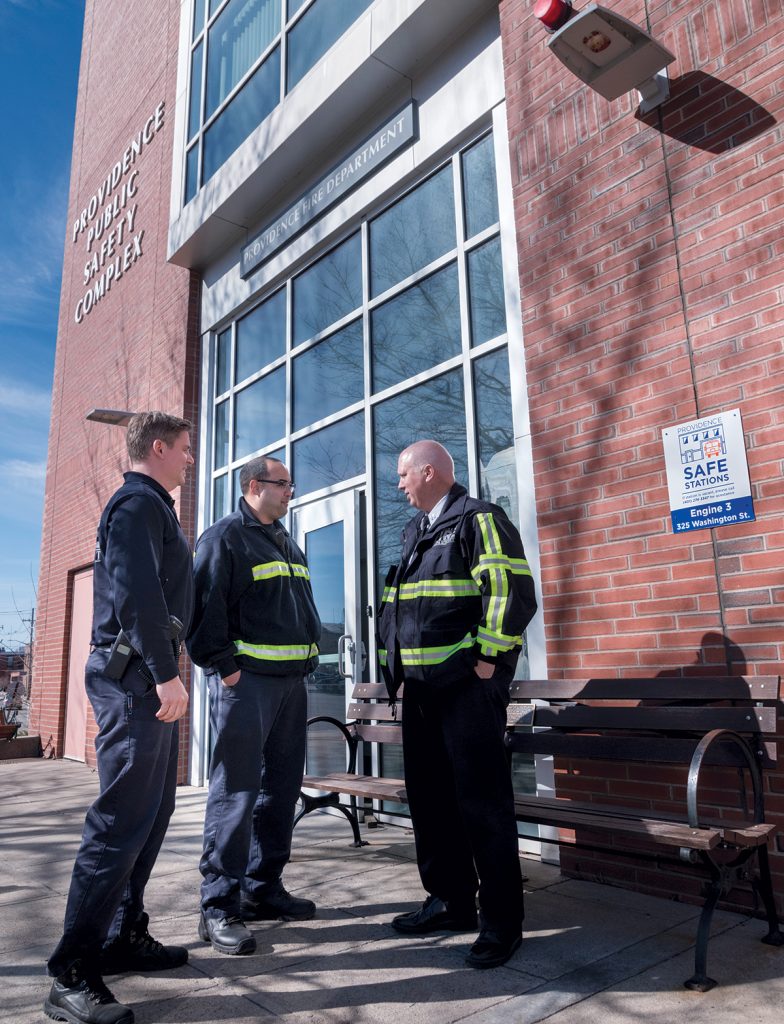 Between 2009 and 2016, more than 1,700 Rhode Islanders died from drug overdoses.
This sobering statistic is from the Prevent Overdose Rhode Island action plan managed by Gov. Gina M. Raimondo's Overdose Prevention and Intervention Task Force.
It is one of many reasons why Providence Mayor Jorge O. Elorza, the Providence Fire Department, R.I. Department of Health, The Providence Center's Anchor Recovery facilities and the R.I. Department of Behavioral Healthcare, Developmental Disabilities and Hospitals came together to pursue meaningful, community-inclusive methods to solve this national epidemic on a local level.
One result is PVD Safe Stations. Launched last month, PVD Safe Stations is modeled after a similar Safe Stations program in New Hampshire. Locally, 12 Providence fire stations have been equipped with information, resources and trained professionals to help those battling addiction identify what type of treatment they need and begin the recovery process – all at no cost to the user.
Funding for PVD Safe Stations, $256,148, came from a $2.2 million State Targeted Response to Opioid Crisis grant from the federal government.
The catalyst for the program, said Holly Fitting, vice president of addiction, recovery and residential services at The Providence Center, is a lingering "stigma associated with addiction."
She believes the state has built a "good infrastructure of treatment options" but the issue has not been solved. "We have a ways to go," she said.
Rebecca Boss, director of the state Department of Behavioral Healthcare, agrees but knows those dealing with addiction may be unaware of exactly which type of treatment they need – "a patient with cancer shouldn't be expected to know … what [their] particular disease requires."
She believes PVD Safe Stations will provide an avenue to treatment that goes beyond the stigma and addresses the addiction at its root via a short medical exam and peer counselors on hand to discuss options with the individual.
Placing treatment resources in fire stations is beneficial to residents, said Boss, because of a fire department's presence in society. "When people are actively using, [they're] at a crisis point in their life … and firemen do respond to crises," she said.
Rather than requiring them to visit an emergency room and then sending them home to recover, "meeting people where they are" in their time of need, said Fitting, is an important step in the treatment process.
As of Feb. 13, Zach R. Kenyon, Providence Fire Department acting EMS chief, said two individuals had used the city's Safe Stations program since it started on Jan. 2.
"I haven't heard anything negative" about PVD Safe Stations from locals, he said, adding it's "just a matter of time" before awareness of the program spreads and more people take advantage of it.
However, while equipping fire stations with treatment resources may work in Providence, Boss said: "There are different solutions for each community."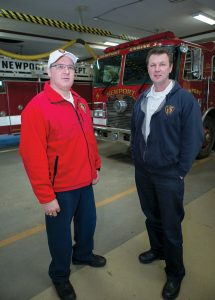 Brian T. Dugan, fire chief in Newport, said he was unaware of PVD Safe Stations and wasn't sure about the idea because "no one has ever come into the station requesting help with [addiction] recovery."
His staff is trained to provide treatment-center phone numbers to addicts, but when firefighters and EMTs address someone who is dealing with addiction, he said, "usually the person … is not in a position to" accept a card with a phone number.
Dugan doubts PVD Safe Stations could be easily implemented in the City by the Sea due to a lack of space. The fire department "wouldn't be the right place," he said, adding it would also create a problem "bringing someone to a hospital we don't have the [space] to treat or [to] counsel."
Middletown Fire Chief Peter Faerber similarly hadn't heard of the program. He said the town has been "fairly fortunate" to not have a "huge spike" in overdose calls but when they do receive one, they provide contact information for treatment centers.
He said the program is "well-supported" in Providence but questioned the practicality of implementation in Middletown "as far as privacy" and the amount of training his staff has counseling addicts.
Faerber, however, called the program a "worthwhile option" for the town.
Despite the high number of drug-overdose deaths in Rhode Island, the state believes it is making strides in combating opioid abuse. In December the state announced a 9 percent decrease in drug-overdose-related deaths from January to August 2017, compared to the same period in 2016.
Boss believes the PVD Safe Stations program is an important part of the state's effort to do "everything we can to address the epidemic.
"My hope is [the program] will increase access to care for individuals that need it, see more people access care and fewer people die of overdoses – that would be the ultimate success," she said.