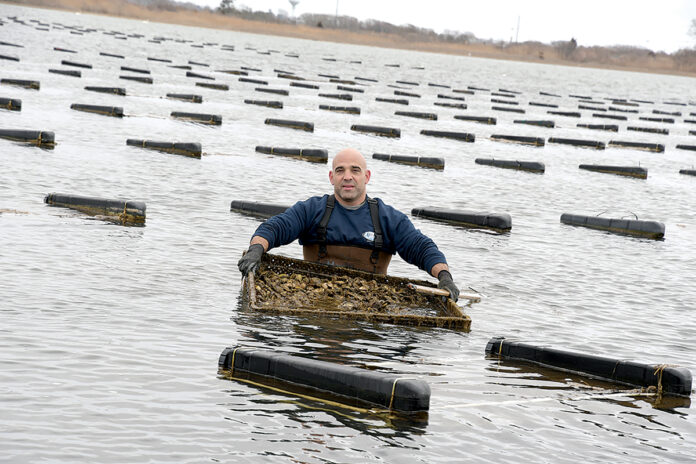 SOUTH KINGSTOWN – A five-year battle over a new oyster and scallop farm in a local saltwater pond isn't over, with coastal regulators opting to have experts look at a scaled-down version with different gear.
The R.I. Coastal Resources Management Council was slated to make a decision Tuesday on the delayed, and controversial, application of acclaimed restaurant owner and oyster farmer Perry Raso. But rather than say "yes" or "no" to Raso's proposal to add 3 acres of oyster and scallop farms to Potter Pond, the council's 6-2 vote sends an amended plan back to its staff for further review.
The amended version seeks to strike a compromise between Raso's original plan and objections from local property owners who say the oyster and scallop beds will make it harder for them to boat, water ski and fish in the cove. Rather than the 3 acres Raso proposed, Councilmember Jerry Sahagian suggested cutting the size of the farm down to just shy of 2 acres and shifting it about 50 feet closer to the shoreline. Sahagian's proposal also calls for eliminating any floating beds and gear and replacing them with underwater versions, calling the floating devices "aesthetically unpleasing."
Sahagian first sought approval of the full council on his idea but was met with objections by other members who said the council did not have the expertise to make that decision. The original size and configuration submitted by Raso has already been reviewed by council staff, who recommended its approval based on a host of criteria, including impacts on residents, boats, wildlife and the coastline.
"We're not changing the contours of this desk; we're changing a marine environment," said Councilmember Catherine Robinson Hall.
Hall also said she thought the public should have a chance to weigh in on the amended version, the same as was offered on the original application. Raso's proposal has drawn criticism from scores of local property owners, who contended that carving out more space for oyster and scallop beds – Raso already has another 7-acre section of oyster farms in a different section of the pond – will make it harder for them to fish, water ski and go boating in what they consider to be a popular recreational area.
Raso contends otherwise, citing the economic benefits of another oyster farm for his successful business, as well as a foray into scallop farming, according to his application. And he thinks opponents' claims that the pond is a bustling hub for water sports are exaggerated; Raso submitted daily photos of the pond during a monthlong stretch in 2019, showing it was almost always empty.
The back and forth between the two sides has dragged on, and escalated, over a long-delayed approval process. 
The CRMC is one of several state and local groups that have to review and approve the application, considering its impact on residents, boaters, wildlife and the environment. Opinions have been mixed.
The South Kingstown Waterfront Advisory Commission and the town's Conservation Commission both objected to the project mostly because of boating safety issues, according to filings with the CRMC. But South Kingstown Harbor Master Michael Stach didn't share their concerns. The Rhode Island Marine Fisheries Council ultimately did not issue a recommendation one way or another after a split vote on the application, despite a finding from its Shellfish Advisory Panel that the project would not hurt marine fisheries.
Even the CRMC itself is divided. A staff report submitted by David Beutel, the CRMC's former aquaculture coordinator, recommended approval, pointing out that Raso's existing 7-acre farm and the new proposal combined would take up roughly 3% of the pond's area, leaving 97% for remaining recreational activities.
Beutel also wrote that many of the written objections to the agency were based on misinformation circulated through a "Save Potter Pond" website and corresponding Facebook page. Additionally, more than half of the 147 written comments received were not from Rhode Island residents, according to Beutel's report.
But a panel of coastal regulators created specifically to review the case disagreed, issuing a recommendation to deny the application. In its 2021 vote, the panel cited the "significant impact" the project will have on such water uses, and the safety problems it poses by forcing these activities to a more concentrated area, as reason for its recommendation to deny the project.
Whichever way the council decides, a lawsuit seems imminent from whichever side is not happy with the outcome, as Councilmember Stephen Izzi pointed out. Also weighing heavily on some members' minds is public criticism of their role in deciding major water and land use and development projects without any expertise in those topics.
"It's [a] slippery slope," said Councilmember Donald Gomez. "If we propose such a change, the staff really needs to look at it."
Hall and Councilmember Ron Gagnon voted against the proposal to have staff review Sahagian's idea. Once the staff reviews his version of the project, it will return to the full council for a decision, a date for which has not been scheduled as of Tuesday night.
Raso could not immediately be reached for comment.
(Update recasts the intro of the story, adding the first five paragraphs, including results of the vote and comments from Jerry Sahagian and Catherine Robinson Hall, and recasts the last four paragraphs, with comments from Stephen Izzi and Donald Gomez.) 
Nancy Lavin is a PBN staff writer. You may reach her at Lavin@PBN.com.

Want to share this story? Click Here to purchase a link that allows anyone to read it on any device whether or not they are a subscriber.