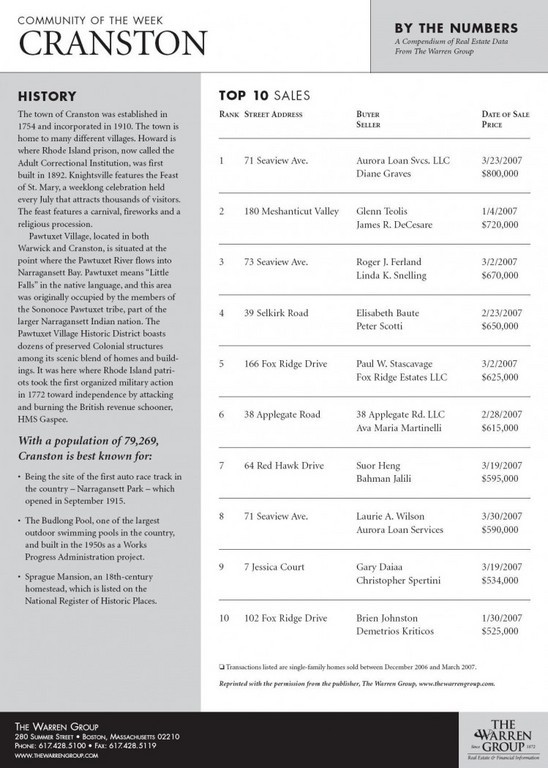 Reprinted with the permission of the publisher, The Warren Group, www.thewarrengroup.com.
The Town of Cranston was established in 1754 and incorporated in 1910. The town is home to many different villages.
Howard is where Rhode Island prison, now called the Adult Correctional Institutions, was first built in 1892. Knightsville features the Feast of St. Mary, a weeklong celebration held every July that attracts thousands of visitors. The feast features a carnival, fireworks and a religious procession.
Pawtuxet Village, located in both Warwick and Cranston, is situated at the point where the Pawtuxet River flows into Narragansett Bay. Pawtuxet means "Little Falls" in the native language, and this area was originally occupied by the members of the Sononoce Pawtuxet tribe, part of the larger Narragansett Indian nation. The Pawtuxet Village Historic District boasts dozens of preserved Colonial structures among its scenic blend of homes and buildings. It was here where Rhode Island patriots took the first organized military action in 1772 toward independence by attacking and burning the British revenue schooner HMS Gaspee.
With a population of 79,269, Cranston is best known for:
• Being the site of the first auto racetrack in the country – Narragansett Park – which opened in September 1915.
• The Budlong Pool, one of the largest outdoor swimming pools in the country, which was built in the 1950s as a Works Progress Administration project.
• Sprague Mansion, an 18th-century homestead that is listed on the National Register of Historic Places.