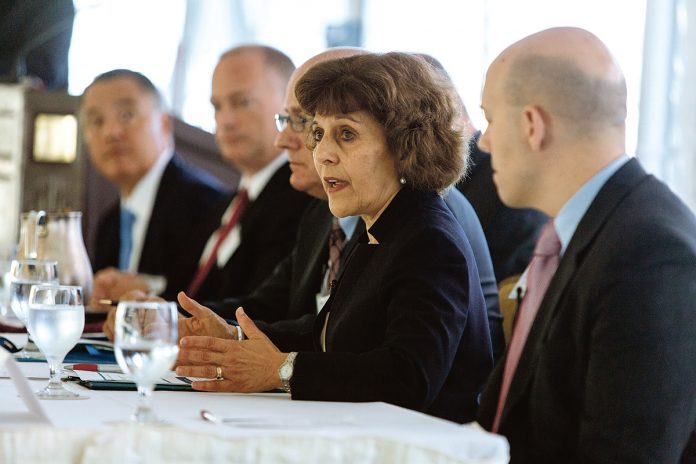 State reports are expected by this spring on the remaining three of Rhode Island's four largest health insurers to determine how well they have complied with laws and regulations in handling cases of mental illness and drug addiction, known in the industry as "behavioral health."
The first of the four reports, called "market-conduct exams," was released in September on Blue Cross & Blue Shield of Rhode Island, the state's largest commercial health insurer. Blue Cross' utilization review for approving coverage of services was found to be "noncompliant," according to R.I. Health Insurance Commissioner Marie L. Ganim's office, which conducted the exams.
Ganim's office is nearing completion of reports on the state's three other major health insurers: UnitedHealthcare of New England, Neighborhood Health Plan of Rhode Island and Tufts Health Plan.
Though she wouldn't discuss the findings, Ganim said such exams are needed periodically to check that insurers are properly following various laws and regulations.
"We look at market-conduct exams the way a teacher looks at a final exam," Ganim said.
Though still incomplete, the process has yielded welcomed changes that have improved procedures for handling coverage.
Maybe there was a time when treating mental illness and addiction involved more interpretation than other areas of medicine, she said, but those times have passed and there are specific standards and regulations spelling out how such problems are to be treated.
"The insurers have changed certain ways they handled behavioral health and it's all good," she added.
The state started the exams in January 2015. Ganim's office has been working with all four insurers to address some "systemic" issues as they have arisen. The review already has led to the elimination of several exclusions of coverage for behavioral health services.
In addition, all four insurers have agreed to end the practice of requiring prior authorizations for opioid-use-disorder medications, such as buprenorphine and Suboxone. And, as of January, all the health plans will adjust copays charged to patients for behavioral-health counseling and medication maintenance to be more affordable and comparable to primary care visits, Ganim's office said.
The Blue Cross report included recommendations to correct noncompliant practices and ordered the company to submit a proposed plan of correction, which officials say it has done.
In lieu of a penalty, the state required Blue Cross to make $5 million in "behavioral health system infrastructure" payments – $1 million per year, beginning in January – to a fund created by the health insurance commissioner's office at the nonprofit Rhode Island Foundation.
For its exam of Blue Cross, the state reviewed a random sample of 444 cases, most from 2014.
The report acknowledged that Blue Cross was cooperative and offered "innovative" solutions in response to the findings. The company also volunteered to eliminate its process for approving coverage of in-network behavioral health services and replace it with administrative procedures intended to expedite needed patient care.
Shortly after the report was released, Blue Cross took issue with how its operations were depicted.
The company "disagrees with the way the report characterizes our conduct during the review period," Blue Cross said in a statement, "and we strenuously deny any wrongdoing or violation of the law."
Blue Cross said it has taken steps before and after the report was released to improve access to behavioral health care for policyholders.
The company has announced:
• In October 2016: It launched the Medication Assisted Treatment Program to increase access to intensive medical treatment options for opioid addiction.
• In April 2018: It partnered with the Addiction Services Center at Roger Williams Medical Center to deliver medication-assisted treatment for opioid use disorder. It also has supported a new "behavioral care model" promoting alternatives to inpatient hospitalization for children and teens with mental illnesses.
• In May 2018: The company said, effective August 2018, it will remove approval requirements for in-network behavioral health services. And, effective this month, copays for behavioral health office visits will be consistent with primary care office visits.
• In July 2018: The company said it is working to change the misconception that addiction rehab services must happen at distant locales such as Florida or California and is sharing resources to help Rhode Islanders get treatment within the state.
"I don't believe any insurer has done more to improve the behavioral-health landscape in Rhode Island," said Matthew Collins, Blue Cross vice president of clinical integration.
Ganim spokesman Cory King said all four companies are being treated the same through the review process. The timing of Blue Cross being the first would not influence findings on the other three companies or give them more time to change their operations because the cases being reviewed for each company all come from the same time period.
King said Blue Cross was the first one reviewed because "somebody had to be first" and it is the largest health insurer in Rhode Island. He said Blue Cross was "very responsive" to requests for information, but he could not say whether it was more cooperative than the other companies.
Neighborhood and Tufts both said they have no problems with the state review but declined to discuss any results. A spokeswoman for ­UnitedHealthcare did not immediately respond to a request for ­comment.
Scott Blake is a PBN staff writer. Email him at Blake@PBN.com.