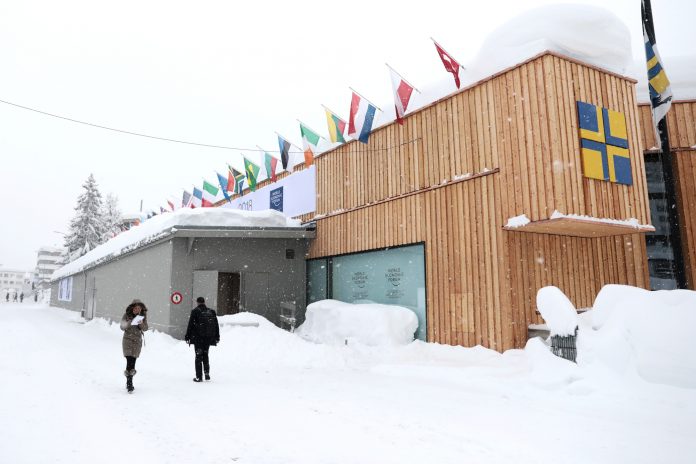 NEW YORK – Enjoy the party while it lasts: That was the opening day message for the corporate and political leaders attending the World Economic Forum's annual meeting.
Booming stock markets and the best global economic growth in seven years are fueling record levels of optimism among chief executives, according to a survey released by PricewaterhouseCoopers LLP late Monday in Davos, Switzerland.
But just hours earlier, the International Monetary Fund used the gathering to argue that while the outlook for this year and the next was better than previously anticipated, a recession may be closer than many acknowledge and that investors and policy makers should guard against complacency.
The combination of optimism and caution will set the tone for a week of meetings a decade after the worst financial crisis since the Great Depression wrong-footed Davos delegates. Among the current risks: potential irrational exuberance in financial markets, surging debt in China and elsewhere as well as political flash points from Brexit to North Korea.
"The bull market seems to be steamrollering over everyone who has a bearish view," said Tim Adams, president of the Institute of International Finance who will be in Davos. "But there's a lot of complacency. There are termites in the foundation and a number of those are gnawing away at night."
It's a conflicted backdrop for world leaders and global executives gathering for the meetings that this year will host U.S. President Donald Trump, Indian Prime Minister Narendra Modi and French President Emmanuel Macron, along with many leading CEOs.
In some ways the Davos meeting should be a cause for celebration. After years of sluggish growth, the world economy is finally taking off. The IMF upgraded its outlook for this year and the next by 0.2 percentage point each, pushing its forecast for worldwide expansion for both 2018 and 2019 to 3.9 percent, the highest level since 2011. Trump's recent tax cut was cited as one reason for the pickup.
The lender said the global recovery now under way is the broadest in seven years, with gross domestic product rising last year in 120 countries which together account for three-quarters of world output.
The optimism was mirrored by PwC's survey. Fifty-seven percent of about 1,300 CEOs polled by the global consultancy saw brightening prospects for the world's economy in the next 12 months. That was almost double the amount last year and the largest increase since the firm started asking about the world economy in 2012.
Optimism among U.S. business leaders in the international environment has more than doubled to 59 percent after Trump's election had ushered in a period of uncertainty, PwC said. Faith in the economy turned executives optimistic about their own companies' outlooks. Forty-two percent said they were "very confident" in their own firm's prospects for the coming year, up from 38 percent last year.
Retaining top talent at companies has risen to the top concern of global chief executives as fears of an economic slump have receded from their biggest worry last year, according to a separate poll by the Conference Board released last week.
"With the stock markets booming and GDP predicted to grow in most major markets around the world, it's no surprise CEOs are so bullish," said Bob Moritz, PwC's global chairman.
There still remains doubt over whether the good times can last. In a briefing to reporters, IMF officials were at pains to stress that the world economy was still plagued by uncertainty and that governments should use the current window of stability to prepare for a future downturn. While the U.S. tax cut may give the world a lift now, it could end up exacerbating America's trade and budget gaps, leading to a slowdown later on.
"The next recession may be closer than we think, and the ammunition with which to combat it is much more limited than a decade ago," said Maurice Obstfeld, the IMF's economic counselor, at a press briefing in Davos on Monday.
There are several reasons to doubt the durability of the recovery, including advanced economies approaching the limits of their growth potential and the likelihood that expansions in the world's two biggest economies — the U.S. and China — will slow, Obstfeld said.
Mark Machin, chief executive officer of the Canada Pension Plan Investment Board, also sounded a note of caution. "Given where asset prices have run to now, it's unlikely we can expect very high asset-price returns over the next few years," he said in a Bloomberg TV interview in Davos. "I think they are going to be quite depressed."
Enda Curran and Alessandro Speciale are reporters for Bloomberg News.