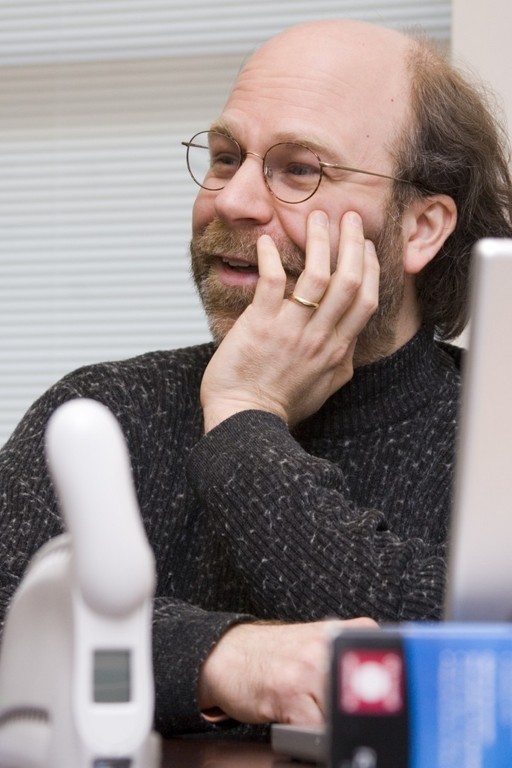 Brian Jepson has gained a reputation as an expert on and a catalyst for digital innovation in Rhode Island. At O'Reilly Media, he has authored and edited definitive technology books on such topics as software engineering and repairing and upgrading personal computers.
Jepson is also applying his expertise to projects in Rhode Island: He is developing an embedded system that will run on the Rhode Island Wireless Innovation Networks (RI-WINs), an effort to make Rhode Island the first state with border-to-border wireless broadband access, and is also spearheading a joint technology project between Providence Geeks, AS220 and The Steel Yard.
PBN: How did you come to develop an embedded system for RI-WINs?
JEPSON: They ran a contest of while ago for members of N-GEN, which is part of [the Business Innovation Factory], and the idea was to submit a proposal … and you'll win access to the network and $1,000 to implement it. So I proposed "RI-WINs in a box" – a solar-powered, self-contained node that will consist of a modem, a small computer and solar power. And the idea is you would be able to deposit this kit on the roof of a building, if you needed to do some monitoring and you didn't want to go through all the hassle of running wire, because RI-WINs obviously eliminates one type of cable, and solar power eliminates another.
PBN: RI-WINs has yet to be financed and is at least a year and a half from completion. Meanwhile, Cingular is launching its 3G wireless network here. Has the moment passed for RI-WINs?
JEPSON: The niche for Cingular … is business users who want to pop open their laptops, put the card in, get their e-mails, surf the Web and download important information. But it's not going to replace cable modems, and it's not going to replace DSL. And RI-WINs has announced they're going to be working with the Town of Foster to bring broadband to the residents there. … So I'm careful not to imply that this is going to be a statewide thing, because I don't know, but I do know that in at least one town in Rhode Island they will be using this technology for a broadband replacement. And I can tell you that it's probably going to be a long time before Cingular or Verizon or any of those guys are going to be looking to replace your cable modem or DSL, because they want one user, one account. They want you to spend $59 a month or $79 a month, and they want that card to be used in your laptop – they don't want you to be sharing it in your whole household.
… What I'm getting from RI-WINs is, they've got bandwidth and they're going to work with towns, with universities and with private industry to define what's done with it. And that's not what Cingular is all about.
PBN: Can you talk about your work on the board of AS220?
JEPSON: AS220 is working to open a new space in the Dreyfus Hotel building at Mathewson and Washington streets. … There will be space for programming, a ground-floor restaurant tenant, and there'll be efficiency-style apartments for artists. So a lot of AS220's focus right now is on the capital campaign. We're in a period right now where a lot of our energy is raising money for that and planning how it's going to be done.
My primary role at AS220 is really as one of the resident geeks – and when I say resident geek, I'm not actually physically there; I'm often remote. Generally it means keeping the Web servers running. We have one Web server running – AS220.org – but we also host artists for their own Web sites – Erin McKeown is a really big one, she's a local musician who is huge.
PBN: How and why did you and Jack Templin come to found the Providence Geeks?
JEPSON: Jack was introduced to me by a mutual friend when he came to Providence. Jack saw what was going on here, and he opened my eyes to the amount of innovation in Rhode Island. … We talked about what we could do to energize the geek community, the digital innovators who are working in computer programming, design technology, design engineering. How do we get them together to share information? And the obvious thing was right in front of my face the whole time – AS220, which ended up being a welcoming and great environment for us. … And it just kept growing.
PBN: Tell us about the partnership between the Providence Geeks, AS220 and The Steel Yard.
JEPSON: There are a lot of people out there who want to build the sort of things that have traditionally belonged to factories and industry.
Personal fabrication is becoming a very important phrase. We've been printing with ink-jet and laser printers for years in 2-D, so now people are saying, why can't we have 3-D printers? 3-D printers are also called Santa Claus machines, because you draw what you want to make, you press a button and that object comes out. They're often used for rapid prototyping – you come up with an idea and you want to crank it out and test it. Well, an artist or a sculptor could do a lot with it. So there is a group, Fab@Home, that has come up with a design for a 3-D printer that you can make for $2,000. Right now most of them go for $20,000, so that's suddenly within reach of three organizations with a lot of energy and interest. The idea is we could take milling machines at The Steel Yard … and hook them up to a computer, so you do a 2-D design on your computer, you press a button and you have a piece of wood in the router and it carves it up for you. … So what Providence Geeks, AS220 and The Steel Yard are going to start exploring is, how do we incorporate this sort of technology into our offerings to our community? It's really exciting. It could change the world!
MEDIA
pbn photo by stephanie ewens
Michael Dawson, director of post production at Tango Pix, demonstrates the 'Action Blast' movie the company produced for Hasbro Inc.
Local firms try to cash in on state's film tax credit By Natalie Myers MYERS@PBN.COM Amid mixed reviews of the state's motion picture production tax credit, a few Rhode Island-based companies are reaping the benefits and using them to create new permanent jobs.
Tango Pix, a Providence company specializing in high-definition TV production and digital media, has an application pending for about $175,000 in tax credits, subject to approval by the R.I. Film and Television Office. Last year, expecting the credits, the company hired three new employees.
Curt Worden, Tango Pix president and executive producer, said the opportunity to get tax credits "made us more comfortable hiring new employees and adding additional service capabilities to our facility."
That investment, in turn, "makes us more attractive to other clients and therefore stimulates more sales for our company."
Rhode Island offers a 25-percent tax credit on TV and film productions for which more than $300,000 is spent in the state. Tango Pix'
application involves "Action Blast!" – an hour-long TV show the company produced for Hasbro Inc.
For the show, which involves live action and animation, Tango Pix not only hired extra staff, but it also engaged 30 local freelancers.
There are plans to do more with the show, but they are on hold for now, Worden said.
Steven Feinberg, director of the Film and Television Office, said Tango Pix' new hires and freelance contracts are first steps toward building the kind of industry infrastructure he believes the tax credits could help create in the state.
But in a recent joint analysis of the credits, the Poverty Institute at Rhode Island College and the Rhode Island Public Expenditure Council said one of the biggest problems is that they are not creating permanent jobs.
Gary S. Sasse, executive director of RIPEC, said out-of-state production companies purchase goods and services while in Rhode Island, but when they leave, they take the funds generated from the tax credits with them and can invest them elsewhere.
"Taxpayers don't have much to show for it," he said.
Ellen Frank, senior economist for the Poverty Institute, said the credit should be reexamined.
"There's nothing wrong with the tax credit per se," she said. "It just should be subjected to the same scrutiny that other budget items face."
She said the $25 million per year could be put to better use in creating jobs, especially if it were invested in work force development and training.
But Feinberg said he hopes the state will hold on to the tax credits and let them continue to work at attracting more companies and jobs.
He said he knows of four production-related companies that will be moving to Rhode Island this year.
In addition, he's been discussing with Hasbro the possibility of building a studio in Rhode Island.
"Hasbro has been making decisions to keep productions in our state because of the state's investment in the state," Feinberg said.
Hasbro did not respond to multiple requests for comment for this story.
Providence Pictures also supports the tax credits. The 10-year-old documentary television production company based in Providence last year received tax credits for a series it produced for the "Nova"
science program on PBS.
Though Providence Pictures has managed to survive without the tax credit for nine years, the credit has enabled it to hire a new associate producer, said Gary Glassman, executive director.
"And we were able to invest in additional staff to create a new international co-production that will be a business model for our future growth," he said.
INTERVIEW: Brian Jepson
POSITION: Editor and programmer at "Make," a magazine and line of books on hacking and do-it-yourself technology projects published by California-based O'Reilly Media
BACKGROUND: Jepson graduated from South Kingstown High School and attended the University of Rhode Island before quitting school in 1992 to work as a computer programmer on Wall Street. He later worked as a technology consultant in New York City and northern Virginia before returning to Rhode Island in 2001 to work as a writer and editor for O'Reilly. Last year Jepson co-founded the Providence Geeks, a growing group of technology professionals who meet monthly at AS220, where Jepson is also a board member.
EDUCATION: B.A. in linguistics, 2005, University of Rhode Island.
RESIDENCE: Kingston
AGE: 39