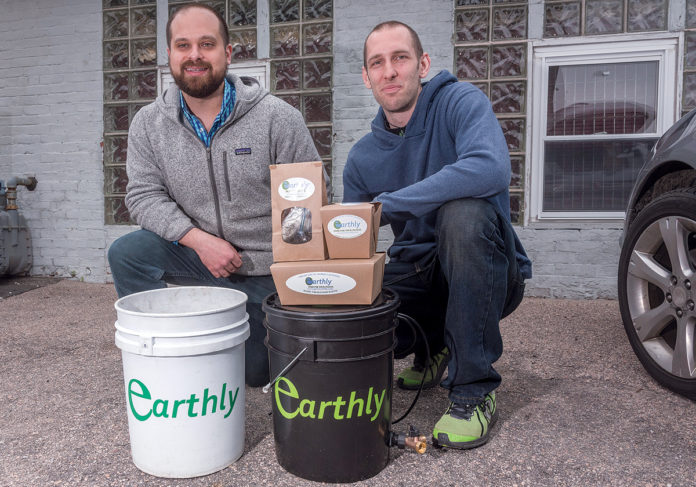 Frank Mastrobuono, a former environmental scientist, always considered himself the "outdoorsy type."
He used his "drive to go back to business school" to start a company that would help manage food waste in a green, ethical manner.
"New York City trash is trucked 200 miles away to a landfill in Virginia and, given all the technological innovations we've made, we still truck our trash away to a hole in the ground wrapped in plastic," said the University of Rhode Island graduate.
Earthly, the Providence-based, food-waste-management and composting business Mastrobuono co-owns, was born out of a group project he was assigned while studying for his master's degree in business administration at the Hult International Business School in Cambridge, Mass.
"We were looking for a better solution – other methods of composting that would be more efficient," he said of the business model.
Worms, he said, are the best choice for processing food waste into natural fertilizer because they digest "the materials so quickly there is no foul odor." The latter allows Earthly to operate in a downtown Providence warehouse, eliminating the "transportation burden" of companies who previously hauled their waste out of the city.
The worm castings are then sold to farmers as a soil aid to help cultivate stronger, richer harvests.
Together with Animesh Mishra and Mike Kowalczyk, Mastrobuono developed a business model for a company that could grow and succeed with a "decentralized operation," he said.
Mastrobuono said he chose to become an entrepreneur because he "wanted to be where innovation was happening in the environmental realm." His work, he added, "is a constant dance between art, science, biology and economics."
Mastrobuono said he and Mishra spent the initial months of development "talking to composters and producers of varying scale … trying to understand their challenges, structure and financial drivers."
Mastrobuono graduated from Hult in September 2015 with a "market-ready" business, including an initial concept and early products, he said.
In late April 2017, Earthly took first place in the New England Cannabis Convention's Pitch Slam – their business concept beat out more than 70 companies looking for entry into the newly legalized industry in Massachusetts.
Cannabis, said Mastrobuono, "is the largest-value cash crop in the country," adding that eco-friendly, chemical-fertilizer alternatives are often sought by cannabis farmers because of the "medicinal nature" of the plant.
"Cannabis growers and consumers … are conscious consumers," he said.
Mastrobuono has no ethical problems being connected to the industry, saying he thinks a stigma has been "unfairly associated with cannabis." He is dedicated to effecting social change through increasing environmental awareness.
Mastrobuono's goal for the coming year is to establish Earthly satellite offices in Boston, Portland, Maine and Burlington, Vt.
OWNERS: Frank Mastrobuono, Mike Kowalczyk and Animesh Mishra
TYPE OF BUSINESS: All-natural agricultural products
LOCATION: 217 Oak St., Providence
EMPLOYEES: 5
YEAR ESTABLISHED: 2014
ANNUAL SALES: Less than $10,000