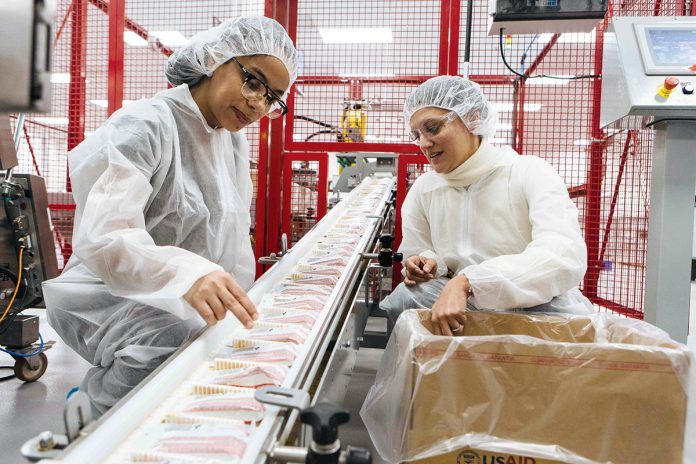 Edesia INC.
Overall Excellence, 50-149 employees | 2019 PBN Manufacturing Awards
---
Producing peanut-based, ready-to-use foods that help treat different degrees of malnutrition experienced by pregnant women and young children in Yemen, Afghanistan, Venezuela and elsewhere is the norm at North Kingstown-based Edesia Inc.
"We're constantly working in whatever countries seem to be in the worst condition possible," said Navyn Salem, founder and CEO. She also calls herself the nonprofit company's "chief storyteller."
Salem said Edesia's 100 employees are fully invested in the mission to treat and prevent malnutrition in the world's most vulnerable populations. "Many people have lived where humanitarian aid was a lifeline and now they work here to provide it," Salem said. "That's a pretty powerful circle of life."
Since its founding in 2009, Edesia – named after the Roman goddess of food – has reached 8.5 million children in more than 50 countries.Salem is aiming to serve 10 million children by 2020. Humanitarian organizations such as UNICEF, World Food Program, U.S. Agency for International Development and the U.S. Department of Agriculture purchase most of Edesia's products, and then deliver them for free to participating public-health programs in needy countries. Much of the rest of Edesia's output is shipped by the company to smaller nonprofits and clinics, Salem said.
Edesia said its obsessive search for efficiencies and economies of scale, coupled with a focus on improvements, distinguishes the company. "We're given a lot of liberty to try new things," said Ron Yanku, plant operations director. "If we think of a new idea and implement it, that'll save lives. With backing from the top down, we're unstoppable."
The North Kingstown plant is heavily automated, unlike Edesia's original location in Providence, which had no automation. Employees who once spent hour after hour folding, filling and taping boxes for shipping now operate sophisticated equipment that does the job.
'If we think of a new idea and implement it, that'll save lives. With backing from the top down, we're unstoppable.'
RON YANKU, Edesia plant operations director
The North Kingstown plant is five times the size and has twice the capacity of the original location. Each day, Edesia receives 150,000 pounds of raw materials – peanuts, vegetable oil, milk powder – which it transforms into 20,000 metric tons of products annually.
"The amount we have scaled up … is pretty unbelievable," Salem said. "We will make in a month what we made in our whole first year."
With Edesia already meeting the plant's output goals, Yanku is looking for ways to do more in the same space. "The answer to that is almost always lean operations, automation and ingenuity," he said
Edesia saw its revenue increase to $38.3 million in 2017 from $21.3 million in 2016. While the numbers dipped in 2018 to $36.5 million, the company reported that revenue would have been $39 million had USAID shipments not been delayed due to circumstances beyond Edesia's control.
Meanwhile, a donation of more than $600,000 by Alex and Ani LLC paid for a new production line that boosted Edesia's capacity by one-third. Other Rhode Island businesses, including Collette Travel Services Inc. and Lifespan Corp., have made smaller donations.
Edesia is launching a new product line, MeWe, that is aimed at the domestic market. The line's first product is MeWe Baby, a peanut-based product designed to meet federal guidelines recommending that babies consume 2 grams of peanut protein three times a week to reduce their risk of developing peanut allergies. With peanut butter a choking hazard, Salem's team developed MeWe Baby to help parents easily follow these guidelines, which the American Academy of Pediatrics has endorsed.
Three flavors of MeWe Baby will be sold soon in Dave's Marketplace, Stop & Shop and through Amazon.com. Other MeWe products – called "top secret" by Salem – should roll out this summer. Proceeds from the sale of the commercial products will be used to support Edesia's humanitarian work, the company said.