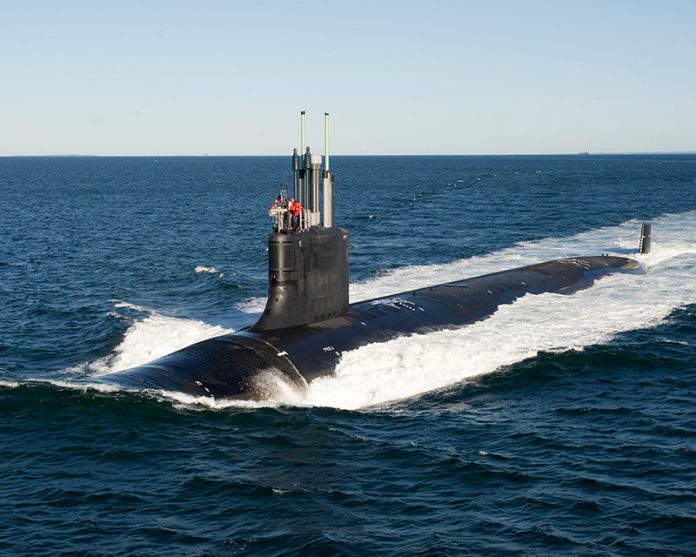 WARWICK – General Dynamics Electric Boat plans to hire another 1,000 people this year for its manufacturing site at Quonset Point in North Kingstown, continuing to build a workforce that will be able to complete 42 nuclear-powered, attack submarines and ballistic missile submarines by 2033.
The overall workforce for Electric Boat, one of the Navy's largest contractors, reached 16,200 in November, its highest level in 25 years, according to President Jeffrey S. Geiger, speaking Monday at the company's 2018 Business Outlook presentation.
About 4,100 of those jobs are manufacturing positions located in Rhode Island, Geiger said. Last year, the company fielded 16,000 applications for positions in Quonset, hiring about 1,000 people. The same hiring pace is anticipated through 2018.
His presentation on the EB outlook was made at Community College of Rhode Island in Warwick, which manages three programs that train shipbuilders, through intensive, full-time courses in maritime electrical, maritime pipefitting and maritime ship fitting.
Geiger, addressing an audience of government and business officials, said the state's efforts to build intensive training programs to prepare workers for Electric Boat's needs was working. Electric Boat had initially encountered questions from the Navy about whether it would be able to ramp up a workforce as needed from Rhode Island.
"This has been nothing but a phenomenal success," he said, of the Rhode Island-based programs, which include programs at CCRI, New England Institute of Technology and at several high schools in Rhode Island.
Real Jobs RI, a state program which trains residents for manufacturing and other positions, includes a shipbuilding component.
Through the various programs, Geiger said, 700 people were hired in Rhode Island in 2017. The retention rate for the new hires has improved, as well, he said because they were better prepared.
In 2016, only a small number of students were interested in shipbuilding careers in the Rhode Island technical schools. The number under active training increased to 350 in 2017 and is expected to reach 500 in 2018.
"It is meeting our needs," he said. "It is showing the capacity is there. We just need to keep it going."
The audience for the annual outlook typically includes the Rhode Island congressional delegation, but all were in Washington D.C. Monday for a Senate vote intended to end a federal government shutdown.
Gov. Gina M. Raimondo, who attended the briefing, said she was pleased to hear that the Rhode Island programs were working, and that another 1,000 positions would need to be filled this year. Some of those are due to attrition.
"I would love to see every one of those jobs go to Rhode Islanders," Raimondo said, after the meeting. "I think that's possible if we continue to do the work we're doing to train people."
Cranson Mayor Allan W. Fung and State Rep. Patricia L. Morgan, R-West Warwick, who have announced their intention to run against Raimondo, also attended the outlook lunch.
During the question-and-answer session, Morgan, the House minority leader, asked Geiger if the state should consider legalizing marijuana as a recreational drug. She cited an ongoing review by a joint legislative committee.
Geiger was blunt: "To be frank, people have to be able to pass a drug test to work at Electric Boat. And I don't see the federal rules changing on that. So, that could create a limiting factor in our ability to grow our workforce."
Employment at Quonset Point is expected to remain stable for the next several years, then will need to ramp up significantly to meet the Navy's demands, he said. By the early 2020s, Quonset will need at least 6,000 people, he said.
Electric Boat is the primary contractor for two types of submarines.
The Virginia class of submarines, known as fast-attack submarines, will be the major product of the Rhode Island manufacturing base for years to come, Geiger said. The Navy has ordered 30 more Virginia class submarines, and Quonset is manufacturing the intact modules that form the body of the submarine at a rate of two submarines a year. It will continue the work through 2033.
The Columbia class will host ballistic missiles and the manufacture of them is anticipated to begin in 2018. Electric Boat has a contract to build 12 of the Columbia class, to be delivered from 2021 through 2035.
The fiscal 2017 National Defense Authorization Act included $5 billion for the Virginia sub program and $1.5 billion for the Columbia class submarines. President Trump has recommended a 2 percent increase in his budget proposal this year, according to Geiger.
Beyond direct employment, Electric Boat is also looking for a broader range of suppliers, Geiger said. It has 143 suppliers in Rhode Island but needs to make sure it has the capability to source materials as needed once production increases.
Within three to four years, the manufacturer expects to double its spending on finished materials and parts, he said.
Mary MacDonald is a staff writer for the PBN. Contact her at macdonald@pbn.com.