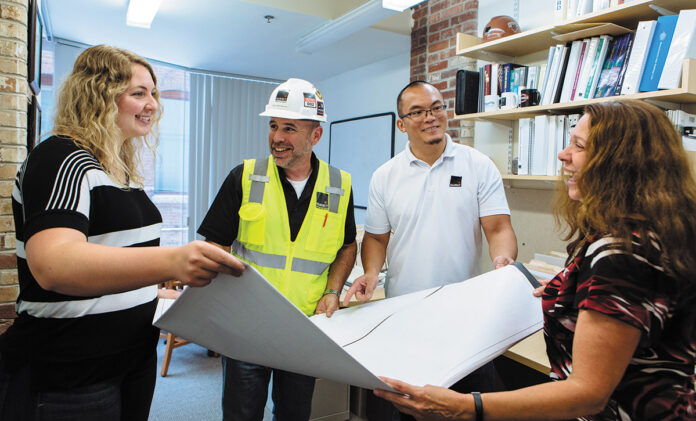 2019 PBN Fastest Growing Companies: $75M and above
1. Shawmut Design and Construction
---
CEO (or equivalent): Les Hiscoe
2018 Revenue: $169,800,000
2016 Revenue: 103,375,698
Revenue growth: 64.3%
ALTHOUGH EMPLOYEE-OWNED national construction management firm Shawmut Design and Construction has offices in Boston, Chicago, New York, Miami, Las Vegas and Los Angeles, its Providence location is just as mighty. Named a fastest-growing company by PBN in 2017 as well as 2019, the company continues to grow exponentially, while maintaining safety, sustainability and philanthropy as top priorities.
Shawmut's Rhode Island office opened in 1999, and it is celebrating its 20th anniversary. The company has come a long way in the past two decades. It has achieved substantial financial and physical growth, reporting more than $100 million in revenue annually and retaining more than 100 employees. "In fact, Shawmut Rhode Island reported more than $169 million in revenue in 2018 alone – showcasing the firm's incredible presence in the state," said Ron Simoneau, Shawmut vice president.
Recent clients include prominent organizations such as Rhode Island School of Design, Brown University, Roger Williams University and Providence College. "Shawmut's employees are energized at bringing our world-class client experience to market," Simoneau said. "Shawmut has played a critical part in Providence's I-195 redevelopment, where the firm recently completed the Wexford Innovation Center, now called Point225, and River House apartments – transforming the former Jewelry District into an all-new and vibrant Innovation and Design District."
Some factors that have attributed to Shawmut's growth are its employees, culture, leadership and approach. "At Shawmut, we build for the best – our employees deliver the most complex projects for the region's most elite brands and institutions. So, our culture is designed to empower our people to do their best. As [a] 100% employee-owned company, our people are the owners. That means everyone here takes pride in being part of a talent-driven and leading-edge organization focused on delivering excellent client service – which ultimately serves our clients with the absolute best experience," said Simoneau.
Shawmut provides top-of-the-industry benefits, including 100% company-paid health insurance, stock ownership plan, paid family leave and Shawmut Flex, a unique program that allows the employee to work on their own terms. "Collectively, these factors make Shawmut a great place to work for and with – they allow us to attract and maintain the best people in our industry, which in turn allows us to create world-class experiences for our clients, which in turn makes our clients come back for more."
Current projects include the completion of a new residence hall at Rhode Island School of Design's North Hall. Designed by award-winning architect Nader Tehrani, a RISD graduate, and his firm NADAAA, the 43,500-square-foot residence hall can house 153 students on six floors. As part of a larger quad enhancement project, it will feature amenities such as workrooms, bike storage, shared kitchens and an outdoor terrace. The phased renovations of Homer and Nickerson residence halls are next.
In addition to collaborating with partner Brown University and completing more than 200 projects with the school, Shawmut recently completed an all-new Engineering Research Center, a three-story, 80,000-square-foot research building for specialized research facilities for photonics, nanomaterials and environmental science. The design's goal is to expand research in renewable energy, advanced materials and other areas. Additionally, Shawmut completed renovations to Brown University's Watson Institute for International and Public Affairs. The company is now working on an innovative transformation of the Performing Arts Center for Brown.
Looking toward the future, Shawmut seeks to continue to excel. "There's one thing that stands out as a goal, and that is to continue making lasting impacts on both our clients and the communities and industry in which we work," Simoneau said. "For us, that means partnering with our clients to deliver truly exceptional projects, in the community it means partnering to make a difference, and within the industry it means making waves of progress – both in the workplace and within the industry itself."

Want to share this story? Click Here to purchase a link that allows anyone to read it on any device whether or not they are a subscriber.