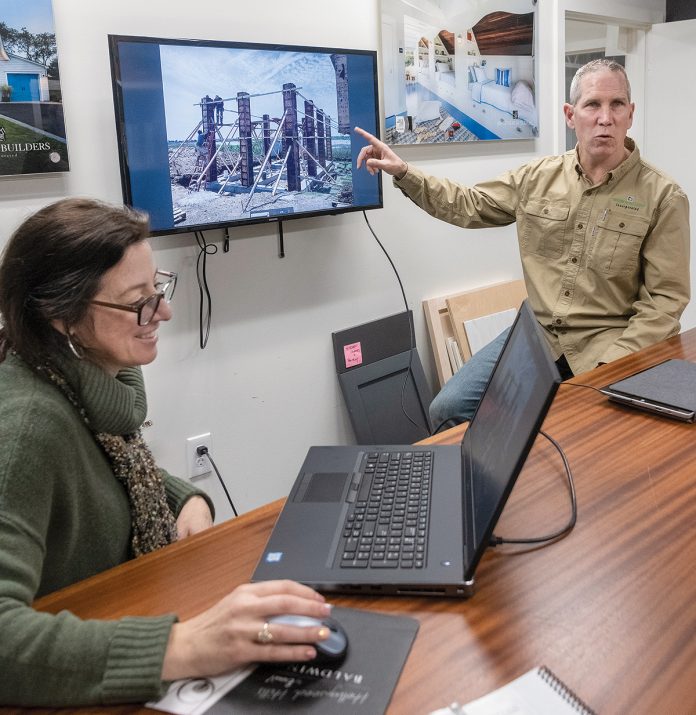 Weather-related damage from fierce hurricanes, flooding, storm surges and intensified UV rays does not discriminate between high-end or low-income housing.
In Rhode Island, however, some of the most vulnerable areas – along the coast – are filled with luxury homes whose owners are increasingly seeking weather-related protections for their property investments, according to residential architecture firms and building companies.
Jeff Sweenor, president and CEO of Sweenor Builders out of South Kingstown, says his contracts for weather-related improvements have grown.
"Sea-level rise is going to affect the closest to the coast first and Rhode Island is as close as you get," said the 29-year building-industry veteran. "If we were in Indiana, we wouldn't be having this conversation."
Sweenor said his company has devoted more and more resources to preventing weather-related damage to high-end homes – be it new-build or renovation – for the past decade.
"Most of our work is within close proximity to the water," he said, necessitating elevation of the structure with "a combination of stilts or concrete piers, flood vents and breakaway walls."
In addition, waterproof materials are included in the construction as further insulation. The theory behind multilevel protection, he added, "is that if a flood does occur … everything below the first floor can get wet, drain, dry out and won't create a mold issue."
Sweenor also sees high winds, often the result of hurricanes, as a threat to high-end homes on Rhode Island's coastline. Hurricane-rated windows and a system of mechanical connectors starting in the foundation and running to the roof are utilized to protect the interior of the home from blown-out windows and/or a roof.
Weather-resistant investment in high-end homes, said Christine M. West, KITE Architects Inc. principal, "is certainly on the forefront of a lot of people's minds – especially in a state … where some of our best real estate is on the coast."
'Resiliency is the next generation in the architecture world.'
CHRISTINE M. WEST, KITE Architects principal
One residence designed by the Providence-based firm to withstand all Mother Nature can heave at the Ocean State is Beach House in Charlestown.
"Designed for the extreme end of being prepared for climate change," said West, Beach House is an elevated waterfront property on Charlestown Beach. Built of red-cedar vertical siding, the home has a four-sided, modern façade with windows and two balconies.
It is also a 2018 American Institute of Architects Rhode Island Design Award recipient.
Echoing the possibility of storm surge outlined by Sweenor, KITE designed Beach House to withstand "coastal wave action," said West, as is now required of all new builds.
Where Beach House stands out, she added, is that it can not only, "in worst-case scenario, weather the storm" but draws on nature to create a sustainable environment. Oriented to take in the warmth of the winter sun but shaded from summer rays, it supports enough solar panels to exist off the grid.
"Resiliency," said West, "is the next generation in the architecture world."
West has seen more weather-minded residential owners come forward. The trend, she added, is "inevitable" given the climate and focus by local municipalities on coastal erosion and community planning.
While the industry moves to new, green technology to protect high-end residences, Donald Powers, founding principal of Providence-based Union Studio Architecture & Community Design Inc. is looking at historical homes to understand how these types of protections have been engineered over the centuries.
"Our traditional local architecture didn't develop as an accident," he said. "There's a regional logic and it's based around the environment."
He listed red- and white-cedar shingles and shakes as examples of traditional building materials still in use today that were chosen for their weather-resistant qualities. These types of wood, he explained, are more rot-resistant than others and "in a saltwater-driven wind environment [such as] southern New England," that's very important.
As a result of including technological, weather-minded building materials, most companies tackling such high-end residential projects have had to increase their pricing.
KITE Architects said the cost of coastal-property projects, in particular, have risen "more than 10 percent" in a decade.
For Sweenor, it's more like 15 percent.
And, while Powers agrees the cost has gone up for his firm, he feels the more important conversation lies in convincing owners to invest upfront and patiently wait for a return in lower energy costs down the road.
"There is an increase in the first cost of improving insulation, air sealing, and better windows and materials driven by codes and a greater awareness of sustainability," he said, but there is "not a lot of talk about … lower cost [later on]."
Emily Gowdey-Backus is a staff writer for PBN. You can follow her on Twitter @FlashGowdey or contact her via email, Gowdey-backus@PBN.com.