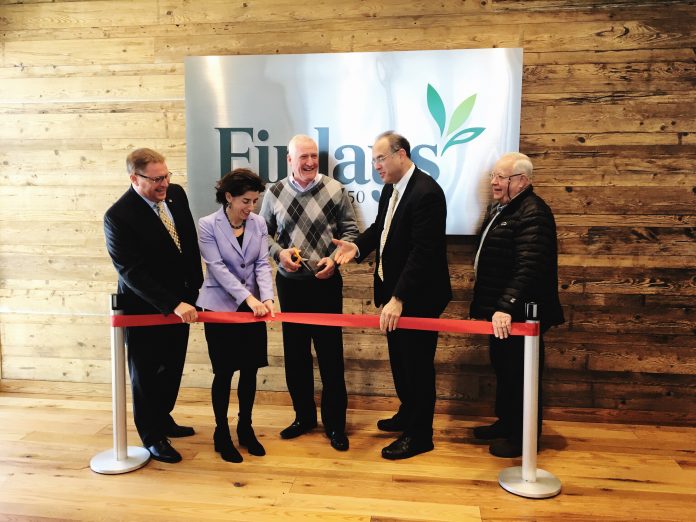 NORTH KINGSTOWN – Finlay Extracts & Ingredients USA Inc. celebrated the ribbon cutting for its 28,800-square-foot global research and development, and manufacturing center at Quonset Business Park Thursday.
Finlays specializes in the development and distribution of tea and coffee, as well as their extracts.
"This is another sign that Rhode Island is creating high-paying jobs for our citizens and that our economy has momentum," said Gov. Gina M. Raimondo in a statement. "We welcome Finlays to Quonset, which continues to be one of Rhode Island's leading centers of job creation and economic growth."
Attending the ceremony along with the governor was R.I. Commerce Secretary Stefan Pryor.
The new facility is the first of two that Finlay Extracts & Ingredients USA parent Finlays plans to build at Quonset. When the company announced project plans in 2016, it put the value of the two buildings at $54.3 million – the other facility is a 65,000-square-foot manufacturing and distribution facility (the final price tag on the two buildings was not available at publication).
If the company meets its hiring goals by 2019, it will be eligible to receive $1.4 million in Qualified Jobs Incentive Tax Credits and $572,000 in Rebuild Rhode Island tax credits.
"We are very pleased to celebrate the opening of this new advanced manufacturing facility," stated Pryor, who also serves chair of the Quonset Development Corp. board of directors. "Finlays is a global food and beverage company with options to expand elsewhere, but they chose to plant their flag in Rhode Island thanks in part to Gov. Raimondo's economic development toolkit and the resources at the Quonset Business Park. We congratulate the Finlays team on this new research and development center, and we look forward to their success."
Chris Bergenheim is the PBN web editor.