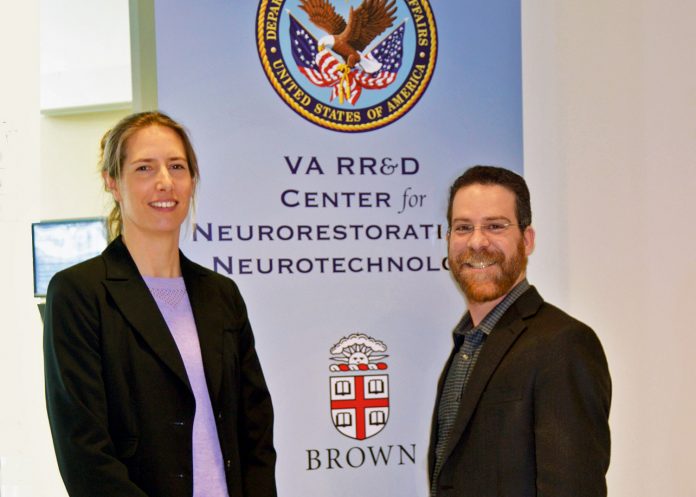 PROVIDENCE — Scientists and physicians at the Providence VA Medical Center and Brown University are investigating whether small amounts of electricity applied to the scalp improves virtual reality therapy for post-traumatic stress disorder in a first-of-its-kind, $1,044,669, four-year study.
The research team, led by Dr. Noah S. Philip and Dr. Mascha van 't Wout-Frank of the Center for Neurorestoration and Neurotechnology, is recruiting 90 participants at the Providence Veterans Affairs Medical Center. The subjects must be suffering from PTSD resulting from their experiences serving in the military in Afghanistan and Iraq, since the virtual reality environment they have available is geared toward those places and situations, van 't Wout-Frank said.
The virtual reality technology provides a very realistic simulation of driving a Humvee through both war environments, she said.  The programs, termed Virtual Iraq or Virtual Afghanistan, simulate helicopter sounds passing overhead, ambushes, gun battles happening nearby, and improvised explosive device explosions using a combination of virtual reality headset and a stationary Humvee equipped with a subwoofer to simulate movement and physical impact as events occur. A smell-generating machine is also used to complete the simulation, she said.
"So it's really immersive and really puts them back in the place," van 't Wout-Frank said.
That part of the study is called exposure therapy, she said. Such therapy works by gradually exposing the person to the source of their anxiety to help them cope with memories of it in a safe situation.
"So they learn over time that nothing bad is going to happen," van 't Wout-Frank said.
Prior research by her team in a pilot study demonstrated that electrical current applied to the scalp, called transcranial direct current stimulation, or tDCS, can be used to stimulate the ventromedial prefrontal cortex in the brain, which grows less active in people suffering from PTSD, van 't Wout-Frank said.
The current is equivalent to that generated by two 9-Volt batteries, she said. It's applied by parting the subject's hair (shaving isn't required) and attaching two dampened 3-centimeter square sponges with electrodes to the forehead and top of the head, she said. People report experiencing a slight itch and tingling sensation when the current is applied.
The current is intended to activate the ventromedial prefrontal cortex, which in PTSD patients has grown less responsive. Usually, that part of the brain helps a person associate events with situations,  van 't Wout-Frank said. With a person with PTSD, that part of the brain is no longer able to regulate the body's physiological response to situations similar to traumatic events.
During the hybrid treatment, the current is applied as the person experiences the virtual reality situation, van 't Wout-Frank said, to boost the ventromedial prefrontal cortex's ability to regulate the physiological response.
The idea to combine the two therapies was the result of many coffees and lunches, and hallway conversations between herself and Philip, van 't Wout-Frank said. She had been working with laboratory exposure therapy, and Philip worked with non-invasive neuro-stimulation to treat PTSD.
"So it was a very natural combination for us,"  van 't Wout-Frank said.
The hybrid treatment is termed tDCS Augmented Virtual Reality Exposure, or TAVRE, the first of its kind to combine tDCS with VR therapy.
The pilot program has shown some signs of success. People who have experienced it so far have reported an easier time sleeping. Getting enough sleep is important in learning, she said, including the learning you use your the ventromedial prefrontal cortex for, so the treatment should be even more effective.
The therapy isn't for everyone, however.
"We also have people who have more difficulty with it because it's hard to do," van 't Wout-Frank said. For that reason, their research is focused on whether the benefits of the treatmet can be realized early on, preventing the need for patients to endure exposure therapy for long periods of time, she said.
The VA is interested in the research since PTSD is more common in Veterans than in the general population, and the research hints at more effective treatments for PTSD, said Winfield S. Danielson III, Public Affairs Officer at the Providence VA Medical Center.
"While more effective treatments for PTSD would directly benefit Veterans, they could benefit people suffering from PTSD in the general population, as well," Danielson said.
The treatment administered during the study consists of six sessions over about two weeks, she said, and the trials begin May 1. With luck, she said, they ought to have enough data to offer a preliminary report within three years.
Veterans interested in learning about this study can contact the Center for Neurorestoration and Neurotechnology at 401-273-7100, extension 6200, or visit the TAVRE study website.
Rob Borkwoski is a PBN staff writer. Email him at Borkowski@PBN.com