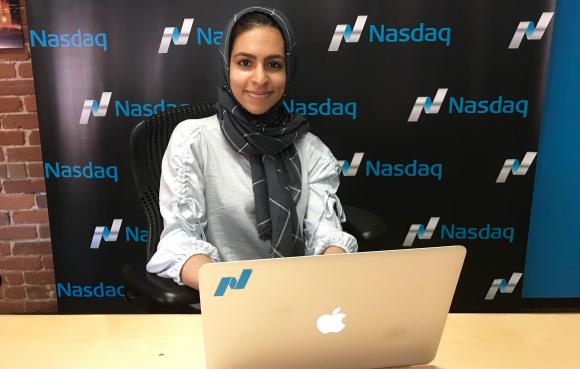 Azeeza Hasan is a junior at Brown University concentrating in applied math. At Brown, she provides guided tours, attends meetings for the Association for Women in Math and performs in shows as part of the Brown Figure Skating group. Outside of school, Hasan enjoys time with her family, which often comes in the form of vacationing, hiking, skydiving and enjoying good food.
PBN: Where are you from and when were you first interested in math?
HASAN: I was born in Cary, N.C., but spent most of my life in northern Virginia, where I currently live. From early Montessori school, math was always the subject to which I gravitated. There, we made our own schedules and I was determined to finish the entire math curriculum well before the end of the academic year. This interest solidified, and I realized math could be applied to nearly any discipline and was the most concrete of all sciences.
PBN: Which elements of the Brown University applied mathematics program intrigued you the most and led you to enroll at the Ivy League school in Providence?
HASAN: By word of mouth and research, I quickly learned that the applied mathematics department [known as APMA] at Brown was stellar. An employee at NASA told me he researched with an APMA alumnus from Brown and that if I choose to be in that department, I am set. I spoke with mathematics professors in North Carolina who looked at the faculty at Brown, and I received remarkable reviews of the staff before matriculating.
PBN: As a junior, you must be thinking post-college pursuits. To which industries are you leaning when you think about jobs and a career?
HASAN: After college, and having worked in data science, I can definitely see myself working in the technology industry, and specifically under the data science and machine-learning umbrella. The fascinating aspect of this discipline is that machine learning and computer science can be applied to any industry – finance, fintech, aerospace. I have yet to decide which industry is a good fit.
PBN: This summer, you interned with Nasdaq at its Global Technology Center in Boston designing a streamlined online marketplace. What did that experience teach you about the possibilities of implementing your applied mathematics degree, both in the finance and online trade industries?
HASAN: My applied math experience at Brown taught me a way of thinking – how to assess a problem, what algorithm or approach is appropriate given the unknowns, and what tools to use. When looking at any online marketplace, each little feature I used to overlook, I now scrutinize with a curiosity that begs the question, 'What is going on behind the scenes?' After spending weeks pivoting and brainstorming the most optimal algorithm at Nasdaq, I realized an arduous behind-the-scenes process might yield a mere, underappreciated number.
PBN: What advice would you give other youth who are interested in finding ways to study math but still have the human interaction you have achieved in your studies?
HASAN: As we see the world moving toward [an environment] rooted in technology, so too are academic practices [changing]. Math and statistics have existed since the beginning of time, but … we cannot be antiquated in the way these subjects are used.
Programming, while difficult and frustrating at times, is an important skill I picked up at Brown. I learned while working in the industry that when programming, it is a shared experience. Importing and using libraries, functions, packages created by someone else to avoid reinventing the wheel is a shared experience. Beyond that, when in the same office, we are faced with people equipped with a spectrum of skills, and I learned how to ask.
Emily Gowdey-Backus is a staff writer for PBN. You can follow her on Twitter @FlashGowdey or contact her via email, gowdey-backus@pbn.com.