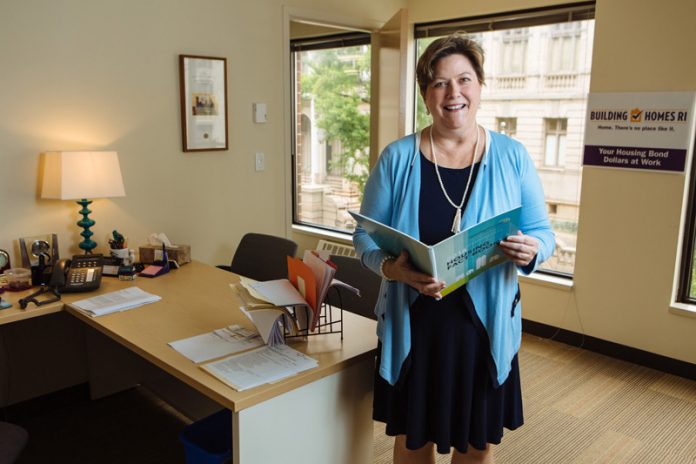 Brenda Clement, the executive director of HousingWorks RI at Roger Williams University, is one of the people involved in Homes RI, a new coalition of housing advocates, led by the United Way of Rhode Island, which is trying to attract more attention to the issues of housing availability and affordability in Rhode Island.
This week, Homes RI held an event at the Statehouse to announce its 2019 legislative agenda. Clement spoke to the Providence Business News about the priorities.
PBN: What is Homes RI?
CLEMENT: In some ways it is a coalition of organizations that have been working on housing and pushing for more resources and awareness of housing needs in the state. It's a continuation of many groups that worked on the housing bond campaign and who have been in the field for many, many years.
PBN: What are the legislative priorities?
CLEMENT: One is the rental assistance vouchers and the source of income bill. Right now, many, many advertisements on Craigslist and other sites say, "No Section 8 need apply." Folks who based on the source of income won't accept someone. It's not just vouchers. Whether your income is through child support or Social Security benefits, a landlord can't prevent you from obtaining an apartment based on the source of that income. You still have to have sufficient income. A landlord can still screen tenants out in appropriate ways. And many other states have started to pass this. [In Rhode Island] it passed the Senate last year, not the House.
PBN: And Gov. Gina M. Raimondo indicated this week she would support this bill?

CLEMENT: She was, in general, supportive last year, but this year was the first time she … made it a priority and said this was one of the bills she would like to see passed.
PBN: What other issues are priorities this year?
CLEMENT: There is always a need for more resources. Bills … have been introduced to provide more funding for housing protection and housing in general. That's critical. If we don't have more units, preventing discrimination is one thing, but if we don't have enough units to accept Section 8 vouchers, then we're still in the same boat. Increasing the supply remains a consistent message for all of us.
PBN: What else is on the horizon?
CLEMENT: The other bills are related to eviction, through the work of the Center for Justice and through other community partners. Right now, if a tenant does what they are legally allowed to do – withhold their rent because a landlord has failed to make improvements, or if they make improvements and deduct that from their rent – if they still get into court, it shows up on their record. It shows an eviction notice was filed. It doesn't follow up on the details. So, many folks have a kind of a black mark on their records even though they haven't necessarily been evicted.
Mary MacDonald is a staff writer for the PBN. Contact her at macdonald@pbn.com.