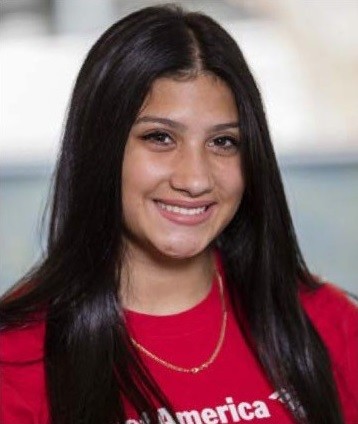 A senior at Central High School in Providence, Jaislene Viñas was named one of five 2016 Rhode Island Bank of America Student Leaders. Viñas was selected from a competitive pool of candidates, based on her academic standing and community involvement, earning the opportunity for a paid internship with the Fox Point Clubhouse at the Providence Boys & Girls Club. In addition, Viñas attended a weeklong leadership summit in Washington, D.C.
PBN: What does it mean to you to be named a Student Leader?
VIÑAS: Coming into the summit, I felt as if I were almost overly prepared. I was coming from a low-income background, a school with a 55-percent graduation rate and I was surrounded by gangs and street violence. I figured I had seen it all. I would call myself pretty ambitious and already think of myself as a leader. I've been class president for four years now, am a straight A student, captain of the tennis team, charity donor representative at my church and I was in charge of multiple groups, so being a leader has always felt very natural.
However, my experience in Washington, D.C. helped me realize that being a leader is more than just being involved. It was more than being class president, it was about literally changing the world and having an impact on this new generation. In D.C., I did not realize I would learn about so many different cultures, hear about personal struggles and meet individuals who contain the same drive I have in terms of education and making the world a safer place. I met students who had similar life circumstances to me but seemed to have even more challenges, as well as students who had many more privileges, yet still had a strong desire to support those in need. Carrying the name "Bank of America Student Leader of Providence, Rhode Island" means a great deal to me. I am not just a chosen student who went to the nation's capital, but a student who is willing to constantly learn more and am ready take on the challenges to make her community safer and better for children and families all around.
PBN: What do you hope to gain from your experience with Fox Point Clubhouse?
VIÑAS: When I first entered the Boys & Girls Club, children were running around, Legos were on the floor and of course there was a "time out" area for the not-so-well-behaved children. All of this was very familiar to me – I grew up with a home day care. My mom is a babysitter, so watching over kids and playing with them is something I am used to. However, the experience differed as my relationships with the children grew. There was one 5-year-old who was just a troublemaker. He did not follow the rules, always picked on other children and would want to fight anyone if he had the chance. I clearly did not want to deal with him. But, one day he came to me and asked for a favor. When we went together to grab his forgotten toys at the park, I reminded him about leaving his toys at home next time so he wouldn't lose them. At that moment, he opened up to me, explaining how he must bring his only toys to the club because he doesn't want them to get taken away if his mother's car gets towed again; he said the car was also his home and where he goes after the club.
After countless conversations with this young boy and other children, my drive to help the Clubhouse and other children in need has become stronger. As my last few days were coming to an end, the staff and I ran a bake sale and car wash to fund enough money for the kids to have opportunities to go on field trips, have school supplies and simply say they had a great summer this year in Fox Point. Next summer, I hope to come back and help these children have another unforgettable summer.
PBN: How do you think this experience will help you build a foundation for a future professional career?
VIÑAS: This experience has shaped me in many different ways and one for sure is the way it has inspired me to really start "making moves." Giving me the push to start making a clear impact, it paved the way for me to start this small nonprofit where individuals can donate mittens, hats, or scarves for children. A long-term goal I have is to become the Providence School Department's superintendent and I think many of the lessons I have learned this summer will help set a foundation for pursuing that. I want to change so much in the system and help students like myself, and like all the children in the Fox Point Boys & Girls Club, feel like they can be successful at anything. I'd like to show them that, despite all of their problems and struggles at home, getting an education can be their way out.
PBN: Why do you think it is important for companies like Bank of America to provide philanthropic opportunities, like Student Leaders, to residents of downtown Providence?
VIÑAS: It can dramatically impact each generation to pursue a career in the philanthropic field or be generous in their actions. This will open many doors for those who do not have anything. To me, this is beyond important, especially in a city like Providence. Growing up, I have seen many students wanting to give up, but if they had more nonprofit organizations surrounding them or perhaps fellow students who could inspire and motivate them, they might stay in school and head down a more positive path. This program has not only given me a huge morale boost, but has allowed me to spread this energy among peers in my school. It's almost as if the inspiration is contagious.
PBN: Will this experience inspire you to volunteer in your community?
VIÑAS: I am active in my community already and this program inspired me to continue. I hope to start multiple nonprofits and help groups of individuals who have the same drive, to be as active as myself.