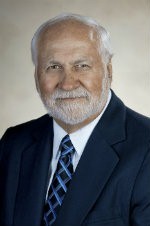 Lawrence Aubin is the recently installed chairman of the board at Lifespan, Rhode Island's largest health system. Aubin is the president and CEO of Seekonk, Massachusetts-based Aubin Corporation, and since the 1990s has been an active fundraiser for Hasbro Children's Hospital, the pediatric division of Rhode Island Hospital, and has chaired or served on a number of Lifespan boards and committees, including as chairman of the Rhode Island Hospital Board of Trustees. For nearly 20 years, he has chaired or co-chaired the annual Hasbro Children's Hospital Invitational Golf Tournament, which has raised more than $5 million.
PBN: The Lifespan board chose you as chair after years of service for Rhode Island Hospital, Hasbro Children's, and Lifespan. What do you see as the central challenge for Lifespan in the extremely dynamic realm of health care in our historical moment?
AUBIN: Among the most important challenges is to continue our efforts to create a truly integrated delivery system that places the patient at the center of everything we do. We must focus on providing the highest level of care and best patient experience, while simultaneously doing so at the most affordable price. As large, complex institutions with several important missions that are crucial to our state – safety net provider, teaching and research – it is important to recognize that patients will increasingly have more choices as to where they receive their care. We must respond with our ongoing efforts to align our physicians, nurses and employees in creating an environment that provides the best outcomes and value.
PBN: The child protection center at Hasbro Children's bears your name; what led to that, and what is the mission of the center?
AUBIN: I've really championed the idea of a child protection center since Hasbro Children's Hospital first opened in 1994 and I took a lead role in helping to raise the money needed to start such a vital and necessary program, which we opened in 1996. Once it started, we needed to keep the program funded so I became involved in launching the hospital's annual golf tournament, which for a number of years raised funds exclusively for the child protection center. I was truly humbled and touched when the decision was made to name the center in my honor. This program serves a vital role in the community by providing services for children who may have been victims of sexual, physical or emotional abuse, neglect or factitious disorders, which are also known as medical child abuse. It also serves a role in training doctors in the area of child abuse pediatrics. In fact, we have the nation's only three-year academic fellowship in child abuse pediatrics. To have my name associated with such a meaningful program is something I'm very proud of.
PBN: You served for two years as vice chairman of the board at Lifespan. How well would you say that those years prepared you for the role you'll be in now?
AUBIN: Those two years, combined with my two years as vice chairman of the Rhode Island Hospital Board of Trustees and five years as that board's chairman, as well as the countless committees I've served on and chaired have given me a solid understanding of Lifespan and the health care landscape. In fact, I first joined the RIH board in 1994, the year Lifespan was created. The role of the chairman is primarily one of leadership, but my involvement in multiple board committees has given me a fundamental understanding of most of our governance issues and has prepared me well to serve in this new role.
PBN: What is a typical Lifespan board of directors meeting like? And how often does the board meet, normally?
AUBIN: Our board meets once a month. We have tried having longer but less frequent meetings, but have concluded that the work of the board requires very regular attention, especially since a great deal happens in health care delivery in a month. Our meetings involve the matters required of any charitable hospital or community mental health center board, such as professional staff appointments, quality oversight and strategic initiatives. We hear from management and from our committees on things like financial and operational matters that impact the services we provide. The board members attend committee meetings, read and prepare in advance for our meetings, and work hard when we meet, but we still try to find a little time to socialize. There is a great deal of mutual respect among the members, as well as camaraderie.
PBN: Have you had occasion to visit any family members or close family friends at a Lifespan hospital, and if so what did the experience tell you about the job that Lifespan is doing?
AUBIN: Living in Rhode Island and serving these fine institutions for as long as I have, it would be nearly impossible not to know someone who has benefited from the fine care given at one of our hospitals. That includes me. I often joke that I've played nearly every role at Lifespan (having served on various boards and committees since the early 1990s,) including one as a patient. What I've learned through my own personal experience is we have an incredibly caring staff that works hard to make patients feel at ease. The care provided by our hospitals is world-class, whether the patient is being treated for a minor illness or a major trauma. And each employee, regardless of his or her role, plays a significant and important part in how we care for patients and how patients view the care they've received. I see this each time I walk into a Lifespan hospital. It's the very reason why I continue to volunteer so much of my time to Lifespan.