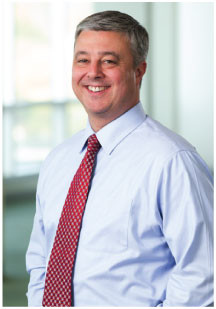 Mark Waggoner is senior vice president of Blue Cross & Blue Shield of Rhode Island for care integration & management. An advocate of patient-centered systems of care, he is responsible for BCBSRI's strategies to influence the creation of patient-centered, physician-led systems of care in Rhode Island. The systems feature physicians, hospitals, and other health care providers that coordinate the care of the patient and incentivize quality and efficiency. His responsibilities extend to care and disease management capabilities, provider reimbursement policies, and operations as well as pharmacy and behavioral health. Before joining Blue Cross, he served for 16 years in a variety of leadership capacities across the provider delivery and health insurance sectors.
PBN: There's something nice about the idea that modernizing health care can lead to people receiving more health care in their own homes. What has been the response among patients to the In-Home Case Management program so far?
WAGGONER: It's an innovative offering in Rhode Island and, based on early indicators, our members are really pleased with both the convenience and benefits associated with receiving care in the home setting. Because the program is designed for BCBSRI Medicare Advantage patients, we are focused on the needs of an older population. As a result, being in the home gives the clinical team an opportunity to assess very specific risks – such as fall prevention, medication management, proper nutrition and physical activity – and provide concrete advice on how to maintain their health or connect them with a healthcare provider if needed.
PBN: Can you give an example of a patient with a complex medical situation where a case manager caught something that might have nipped in the bud a worsening of a condition or other medical issue?
WAGGONER: As a part of a recent in-home health risk assessment, the in-home nurse identified a member who was not taking their medication as prescribed. Had this issue not been identified, the member would have been at risk for becoming very sick and possibly needing hospitalization. Together, the primary care team and the in-home nurse provided patient education, resulting in the patient remaining safe, healthier and in her home.
PBN: The patient-centered medical home model strives to enhance communication across the medical team serving each individual. Can you talk about the ways in which communication is facilitated with this new case management program?
WAGGONER: The in-home case management model (IHCM) operates in partnership with our advanced PCMHs and highlights the importance of communication across care settings. The model includes specific members of the team who are charged with reviewing and following up on individual patient care to ensure the delivery of coordinated care and improve the patient experience. From nurse care managers, to social workers and even pharmacists, the team has ongoing communication to facilitate and ensure care plans are updated and meeting our members' needs.
PBN: The program builds on your on-site pharmacist program. What has been the response among your policy holders to having pharmacists in primary care offices?
WAGGONER: The onsite pharmacy program continues to be a positive experience for our members and advanced primary care practices, as proven by their active engagement in the program. With access to a pharmacist as part of the advanced PCMH, our members are gaining a better understanding about their medicines and possible side effects. We believe this is having a positive impact on adherence (i.e. patients taking the medicines correctly), as well as reducing drug interactions.
PBN: Are there other developments that BCBSRI is working on to enhance the patient centered medical home model more?
WAGGONER: We spend time with our partners exploring opportunities and collaborating on new care models. One example is our work with Care New England and the Providence Center to create HealthPath, a community based behavioral healthcare model for our members with significant mental healthcare needs. We also recently announced a partnership with Women & Infants hospital for maternity care. A key component of this new model for our members will be home visits for new mothers that are identified through the program.