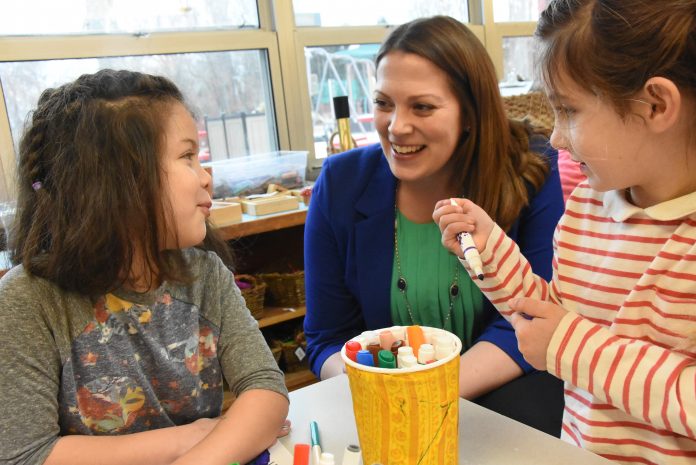 Gordon School Admission Director Sarah Turner arrived at the school with extensive experience at Cambridge Friends School and the Waynflete School, two schools that share Gordon's focus on multicultural classroom practice and commitment to institutional equity, inclusion and diversity. At Cambridge Friends, she was the director of admissions and financial aid, middle school dean and high school placement director. At Gordon, she oversees enrollment management as well as the admission process for all families considering the school, guiding them through the process from initial inquiry to enrollment.
In addition to conducting tours, interviewing parents and assessing applicants, Turner leads families through the Family Individualized Tuition process. Turner, who has worked for independent schools for more than a decade, is a member of the school's advancement team, working closely with the development office on all marketing and communication needs of the school.
PBN: What is the idea behind the new Family Individualized Tuition payment plan launched by Gordon School last fall?
TURNER: Family Individualized Tuition, known as FIT, is Gordon's new and innovative tuition model, designed to be simple, predictable and equitable. Starting this fall, every family at Gordon will be paying a custom tuition price based on their economic circumstances.
Independent school tuition is an investment and there are families who, in the past, self-selected out of considering an independent school education because the full-price tuition was out of reach. With FIT, tuition is adjusted taking into account a family's personal financial situation.
This is my first year as Gordon's admission director, and it has been exciting to see how FIT is transforming the process. Now, families can get an idea of their tuition right away – within 10 days of applying. The old tuition model lacked that transparency and immediacy.
PBN: What was the catalyst behind such a unique pricing plan?
TURNER: The outdated independent school model of tuition and financial aid no longer works, as reinforced by national and local educational trends. Over the last 10 years, median day-school tuitions, as a percentage of household income, have grown from 34 percent to 43 percent, according to the 2017-2018 National Association of Independent Schools. FIT is designed to counter this unsustainable trend; it's formula is centered on a family's adjusted gross income and long-term increases in tuition can be expected to keep pace with the annual increase in household incomes.
PBN: To date, how many unique tuition plans have been generated under this new plan?
TURNER: To date, we've had over 350 families receive a customized tuition price after engaging with FIT.
PBN: Did you research other schools across the state and country to see if any had similar plans?
TURNER: FIT was developed during a two-year process, which included extensive research on both a local and national level. At first glance, there seemed to be plenty of schools with innovative tuition models, but a closer look revealed many had simply rebranded their existing financial aid systems. These systems, although called something other than financial aid, continued to operate in the same manner, with the same vulnerabilities.
Very few schools have a tuition model that both invites all families to participate and provides each family with a customized price; often these schools were founded with that tuition model, so it has always been at the core of how they operate. A big takeaway from this research was that in order to be successful, our tuition model needed to be fundamentally connected to our mission, and that was an important factor in how FIT evolved.
PBN: Will the creation of an individualized tuition bill for each student, let alone each family, be more of a draw on both the school's time and resources than it will benefit those involved?
TURNER: Once we look past this initial year, FIT will alleviate time and resources for Gordon's administration, staff and families. We have a lot of families going through the system this year because we are transitioning all of the currently enrolled families to FIT. Once families enroll for 2018-19, however, they will not have to engage in the FIT process again for another three years.
Before FIT, families participating in the financial aid system had to complete lengthy forms annually and we would go through an annual, resource-intensive process of allocating financial aid once everyone's forms were submitted. With FIT, the financial overview we are asking families to provide is very succinct. Within 10 days they learn their custom tuition price and are provided a three-year tuition outlook.
When a family can plan ahead using this concrete tuition trajectory, they are able to invest themselves more fully in the Gordon community. We are hearing from our families that FIT's benefits of simplicity and predictability are quite significant, which means our investment in this system is well worth it.
Emily Gowdey-Backus is a staff writer for PBN. You can follow her on Twitter @FlashGowdey or contact her via email, gowdey-backus@pbn.com.