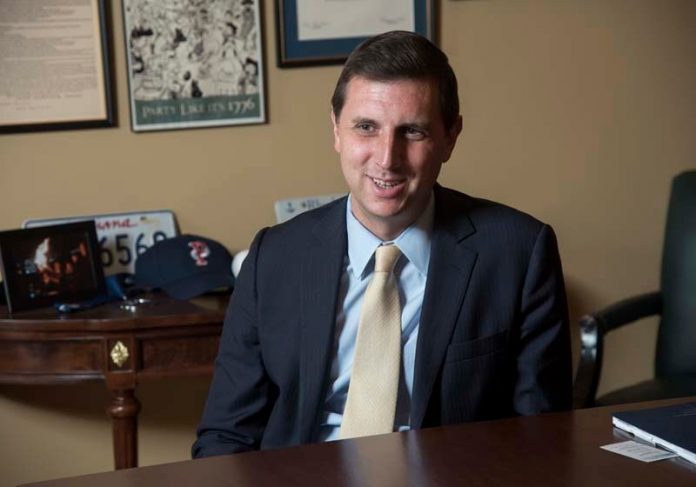 Seth Magaziner, a Democrat, is beginning his second four-year term as Rhode Island's general treasurer after defeating Republican challenger Michael G. Riley in last November's election.
After growing up in Bristol, Magaziner earned a bachelor's degree from Brown University. He began his professional career as a public elementary school teacher in Louisiana in 2005.
He went on to earn a master's degree in business administration from Yale University. He moved to Providence, where he worked as vice president at Trillium Asset Management, a Boston-based investment firm specializing in socially responsible investing.
Magaziner launched his first successful campaign for general treasurer in 2014.
PBN: How did the state's pension plan perform compared with previous years?
MAGAZINER: The Rhode Island pension system serves about 60,000 people. These include teachers, first responders, nurses, social workers and civil servants who spend their lives serving the community and deserve to retire with dignity.
In fiscal year 2018, the pension investment portfolio returned 8.03 percent, earning approximately $640 million and beating its target return of 7 percent for the second year in a row.
Thus far in fiscal year 2019, the financial markets have shown increased volatility due largely to political uncertainty coming out of Washington. We are monitoring the situation and continue to hold approximately 40 percent of the pension portfolio in low-risk assets that protect the system from market volatility.
PBN: Why did you feel it was important to take a public position last year against excessive compensation for corporate executives?
MAGAZINER: As long-term investors in public companies, we owe a duty to the 60,000 people in the pension system to make sure that the executives running those companies are compensated in a way that aligns with shareholder interest. It is in the best interest of the companies and the pension system for executive pay to be tied to long-term performance.
There is not a specific level of compensation that we automatically define as inappropriate, but our policy is to vote against any executive pay package that is not adequately linked to performance or is out of line with industry peers.
PBN: What outcome is your office seeking in taking legal action against Google's parent company?
MAGAZINER: We keep an eye on the decisions made at the companies in which we invest, to ensure that the leaders of those companies are behaving in a responsible manner that aligns with shareholder interests. Most of the time, our engagement with companies takes the form of private dialogue, but in extreme cases where we feel that irresponsible actions by a company may have hurt the pension system, we take stronger action.
In the case of Google, the company not only failed to protect the private data of millions of Americans but also failed to disclose the privacy failure to customers or investors for many months after they became aware of it. We believe that the failure to disclose such a major event for so long could represent an inappropriate manipulation of the company's share price by management.
PBN: How has the BankLocal program progressed since you started it last year?
MAGAZINER: Small businesses are a vital part of Rhode Island's economy, but too many entrepreneurs have a hard time accessing the capital they need to grow their businesses and hire more people. We started BankLocal to support lending to small businesses by moving millions of dollars of the state's cash deposits to local banks and credit unions.
Since we started, we have moved more than $20 million back home to the Ocean State, and supported loans to more than 200 small businesses. We also offer additional incentives for banks and credit unions to lend to women, minorities and veteran-owned businesses.
PBN: What was the impetus for recently releasing your report calling for personal finance education in public schools?
MAGAZINER: Young people face high-stakes financial decisions early in life. We need to do more to ensure that our high school graduates have the knowledge and skills to make smart financial decisions and avoid common pitfalls. Thirty-six states guarantee access to personal finance education in the public-school curriculum, but Rhode Island does not.
We should join most other states in ensuring that young people graduate from high school with a basic knowledge of personal finance concepts [such as] budgeting, saving, investing and maintaining credit. This will not only improve the lives of thousands of young people coming out of school – it will strengthen the economy over the long run as more Rhode Islanders achieve financial stability.
Scott Blake is a PBN staff writer. Email him at Blake@PBN.com.