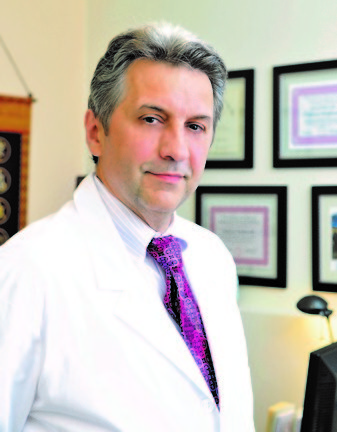 Tad Sztykowski is the founder and owner of the Centers for Integrative Medicine and Healing. He established his practice in 1990; the Centers for Integrative Medicine and Healing has assisted more than 12,000 patients. Sztykowski was born in Poland and graduated from Medical School in Gdansk in 1982. In 1999, he lobbied and helped to pass the first insurance bill in the East (fifth in the country) requiring coverage for acupuncture via an insurance rider. The bill increased acupuncture coverage from none to a little less than 20 percent of Rhode Island's population.
PBN: What effect is the Affordable Care Act having on the practice of oriental medicine, acupuncture and integrative medicine?
SZTYKOWSKI: For the first time ever, the federal government recommended acupuncture as a viable part of our health care system. In addition, part of the ACA states: "A group health plan and a health insurance issuer offering group or individual health insurance coverage shall not discriminate with respect to participation under the plan or coverage against any health care provider who is acting within the scope of that provider's license or certification under applicable state law." This means that no insurance company in the United States can discriminate against acupuncture, oriental medicine and integrative medicine doctors operating within their scope of practice.
PBN: What are some chronic diseases that acupuncture has been particularly effective in treating?
SZTYKOWSKI: All and any chronic pain and illness problems can be effectively treated with Acupuncture. However, statistically speaking, 65 percent of all patients that we treat here at CIMH suffer from chronic pain, but many of our patients suffer from multiple chronic health conditions that we also effectively treat such as anxiety, depression, insomnia, migraines, vertigo, high blood pressure, infertility and chronic fatigue syndrome, to name a few. We see people from all walks of life with a variety of different health issues and concerns, not one patient is the same. Patients that we see in our clinic experience a 97 percent positive response rate to acupuncture treatment.
PBN: There is a perception that acupuncture is for people of a certain socio-economic level – is that inaccurate? If it is accurate, is insurance closing the treatment gap?
SZTYKOWSKI: Absolutely inaccurate. That statement implies that the only people who can afford acupuncture service do it. The fact is that since the year 2000 I have pushed through co-insurance mandating coverage of acupuncture riders. Because of that, now the number of people that can afford acupuncture treatment due to insurance coverage went from 0 to an estimated 250,000 citizens in the state of Rhode Island. For those whose insurance does not cover it (because of insurance company problems with following the Affordable Care Act Laws) we offer payment plans and discounts to make our services more affordable for those who have suffered with years of pain and debilitating illness and are in a desperate search for an effective treatment.
PBN: What about your treatment of patients has proven to be most persuasive in opening people up to the possibility that acupuncture might be for them?
SZTYKOWSKI: We simply encourage everyone to come for their first consultation and health evaluation, a $320 value that we offer for free, to see if we can effectively help them with their medical conditions. In 97 percent of all cases we absolutely can effectively treat and help patients with their chronic health problems. After the free consultation the first step is to run 6 consecutive visits, by the fourth visit the patients that fall into the 97 percent effective response rate category see and feel for themselves that acupuncture treatment is the answer to a pain-free, healthier life. The significant positive life-changing improvements our treatments have on individual lives prompts patients to share success stories and testimonials (thousands over my years of practice), many which can be viewed in our clinic on our walls and on our website thanking myself and my practice for truly effective treatment. There is no persuasion, just results.
PBN: In what regards is Rhode Island playing a leadership role when it comes to acupuncture and integrative medicine – and in what ways does the state need to keep evolving?
SZTYKOWSKI: With Rhode Island being the smallest state in the nation, with just over one million inhabitants and ambitious healthcare goals set up by the governor and legislators, we are at the perfect junction to dramatically improve the overall health of the population of Rhode Island with major cost savings if we are able to implement the principle of treating health conditions from the root cause and not just simple symptom relief. Prevention at early stages is crucially important to a healthier, happier life and overall healthy well-being. A perfect example of this can be found in my book "Healthcare Dollars and Sense – How Classical Chinese Medicine can save your health and your company's bottom line." If the governor and legislator of Rhode Island follow the Affordable Care Act's language regarding oriental medicine, acupuncture and integrative medicine, the state as a whole will have wider access to the benefits of integrative medicine.