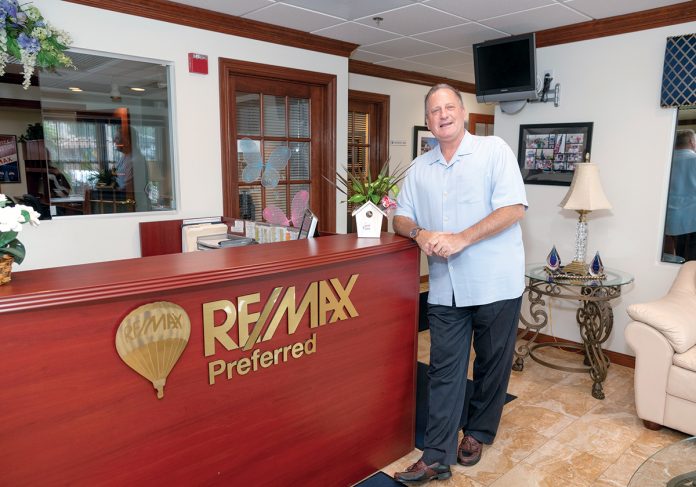 Richard Zompa
RE/MAX | Cumberland, North Providence, North Smithfield, Smithfield
---
The pitch: RE/MAX recruits and retains experienced real estate agents. Each of the agents at Zompa's locations has an average of 16 years' experience in the real estate industry.
Years in ­business: 26
Employees: 110
Cost to obtain franchise: $25,000 initial franchise fee; $150,000-$2 million total approximate investment.
Before opening franchise: Zompa began working as a real estate agent at the RE/MAX North Providence location in 1986.
Reason for opening: The owner of the North Providence RE/MAX location was looking to sell the property and move out of state, but the banking crisis that plagued the state in the early 1990s "put [the owner] over the edge," Zompa said. Zompa subsequently purchased the location in 1992 and then opened three additional locations in the northern part of the state.
"We also donate to a lot of places that take care of animals, whether it's the Rhode Island [Society for the Prevention of Cruelty to Animals], the North Providence Animal Shelter and PawsWatch, and we also donated to the Gloria Gemma [Breast Cancer Resource] Foundation."
"Last year, our [RE/MAX in Rhode Island] golf tournament donated $20,000 to Hasbro Children's Hospital. Many of my agents donate out of each commission check a percentage or a dollar amount and we collect that. Through RE/MAX International, they have the Children's Miracle Network as our charity. All money raised through the Children's Miracle Network goes right to Hasbro Children's Hospital."
"The most rewarding thing is watching the quality of life that so many of my agents have had by being part of this great company."
"We recruit and retain the best agents in the business. We do not hire any part-timers, where almost every other company does. We look to go hire seasoned people who have the experience. We have No. 1 brand awareness. … There's no other company in the world that sells more real estate than RE/MAX."
"When we first started talking [about me purchasing the location, the original owner] was planning on moving to Florida. Then on New Year's Eve 1991, the governor [Bruce Sundlun] closed all of the credit unions. That's where all [the owner's] money was. Now he was in a position where he thought, 'I got to go back … make a deal and put this in writing because I don't know when I'm going to Florida or what's going to happen now.' "