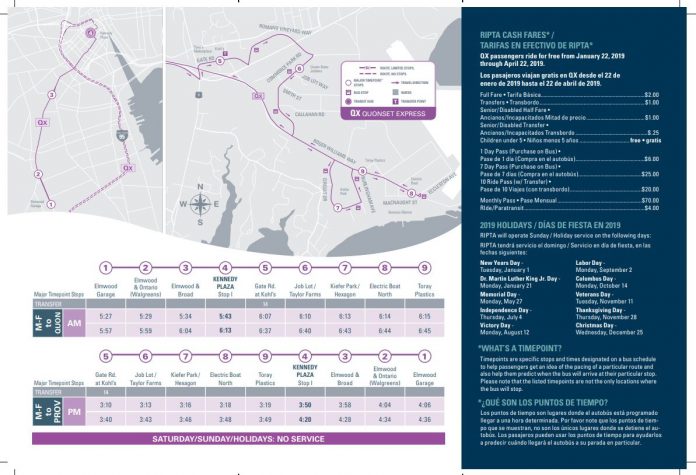 PROVIDENCE – R.I. Public Transit Authority will extend the free trial service from Providence to Quonset Business Park through the end of the calendar year, RIPTA announced Wednesday.
The pilot program launched on Jan. 22 and had been scheduled to run through April 22.
"This is all about economic development and connecting people to jobs," stated RIPTA CEO Scott Avedisian. "We knew that starting in the winter would be a bit of a challenge and continuing the free pilot program will give more people a chance to give it a try."
The project was launched with federal funds and a 20 percent match from the Quonset Development Corp.
"We are committed to making the Quonset Business Park accessible for the nearly 12,000 workers who commute here each day," stated Steven J. King, managing director of the Quonset Development Corp. "We hope more employees will take advantage of the Quonset Express bus as spring approaches."
The service, called QX, makes two nonstop express trips from Kennedy Plaza in Providence to Quonset Business Park in the morning and two trips from Quonset to Providence in the afternoon on weekdays. The bus makes several stops within the park.
RIPTA said that it will look into starting the route in Pawtucket, but that details are not finalized.
RIPTA spokeswoman Barbara Polichetti said that adoption of the service was initially slow, but that the service is currently averaging about 60 rides per week. She also said that the service is experiencing ridership upticks each week. The extension will allow more employees at Quonset to decide if the service works for them, she added.
"For too long, Quonset Business Park was inaccessible for many hardworking Rhode Islanders," said Gov. Gina M. Raimondo in prepared remarks. "No one should have to turn down a great job because they don't have a way to get there. This free pilot program is an important step in our efforts to connect Rhode Islanders with economic opportunity through public transit, and I'm glad it's been extended through the end of this year."
Chris Bergenheim is the PBN web editor. He may be reached at Bergenheim@PBN.com.