PROVIDENCE — A development team that most recently worked together on the Urban Greens grocery in Providence has been selected as the preferred developer for Parcel 6 of the Interstate 195 Redevelopment District.
D+P Real Estate and Truth Box Architects, both based in Providence, will now develop more detailed plans for the prominent East Side parcel. Their initial proposal would place a mixture of affordable rental units, retail and office space, as well as a grocery store on the site.
Located at the base of Fox Point, which doesn't have a grocery store, the parcel is bounded by Wickenden, South Water and South Main streets. It is located adjacent to Corliss Landing.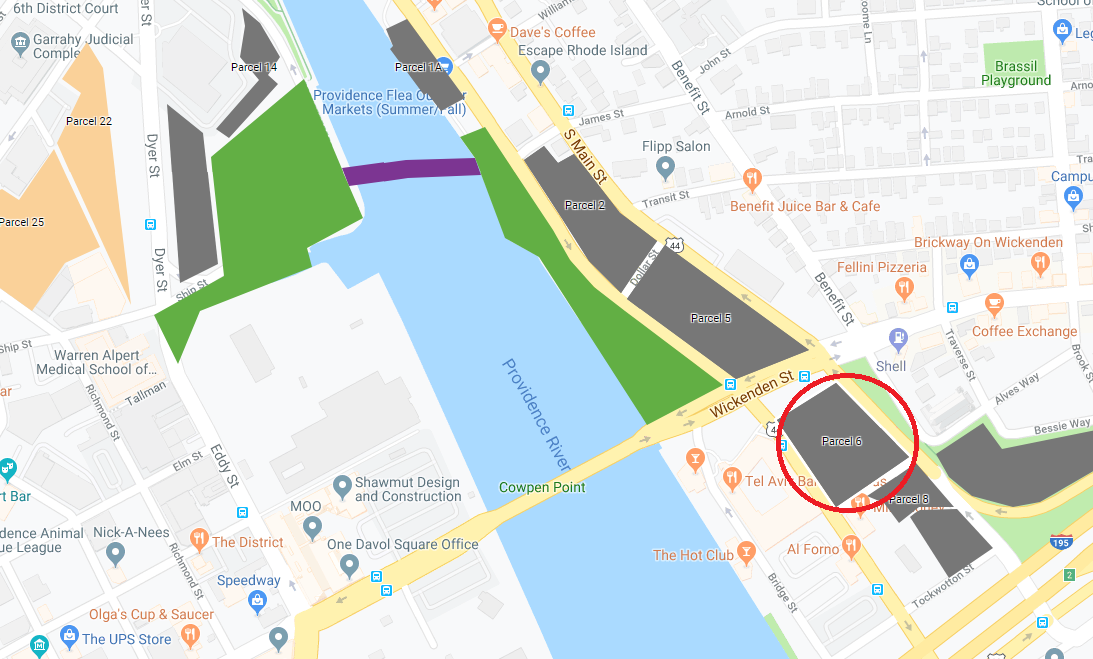 The D+P and Truth Box proposal outlined 67,100 square feet of retail, residential and office space, contained in three separate buildings. The 49 residential units are apartments aimed at a mixture of income levels, including about 50 percent targeting 'workforce housing' needs, said Jordan Durham, the founder of D+P Real Estate, a 13-year-old development company that focuses on urban infill projects.
The retail tenant is a grocery store, and the project team has had "significant" discussions with a national grocer-tenant, according to a financial analyst who reviewed its submission.
The relationship with an anchor tenant was the strongest aspect of the financial plan, according to Bruce Murray, director of Real Estate Solutions Group, which conducted a financial feasibility assessment of the D+P/Truth Box proposal.
Commissioner Sandra Smith said the members felt the D+P and Truth Box project responded well to the site and would meet a community need for a stand alone grocery and affordable housing.
"Its also a talented team that is local and has a presence in the city," she said.
In addition to teaming up on the Urban Greens store, which will open soon, the project developer created the Box Office, an office complex created from repurposed shipping containers. It is also now developing the state's first 'passive house' multifamily complex.
Its interest in the East Side parcel is to replicate its approach to a community grocery, while targeting a segment of the renter-population that has little choice in new apartments. Most of the new apartments being created in Providence are aimed at higher incomes, according to Durham and project architect Peter Case.
According to the project description, the developer plans to purchase the site for $1 million. Construction would begin in April 2020. The per-square-foot project cost is estimated at $294.
RES Group found the timeline, financial assumptions and market feasibility accurate. The only criticism was what Murray described as the relative inexperience of the team in new construction of mixed-income housing of this size.
The commission also considered an application for the parcel by a competing development company. DMG Investments LLC proposed a more intensive mixed-use development plan for the site, with its housing aimed at students.
The project would have covered 234,291 square feet, and created 168 units of student housing, in a shared apartment configuration that would have made room for 358 students.

Mary MacDonald is a staff writer for the PBN. Contact her at macdonald@pbn.com.