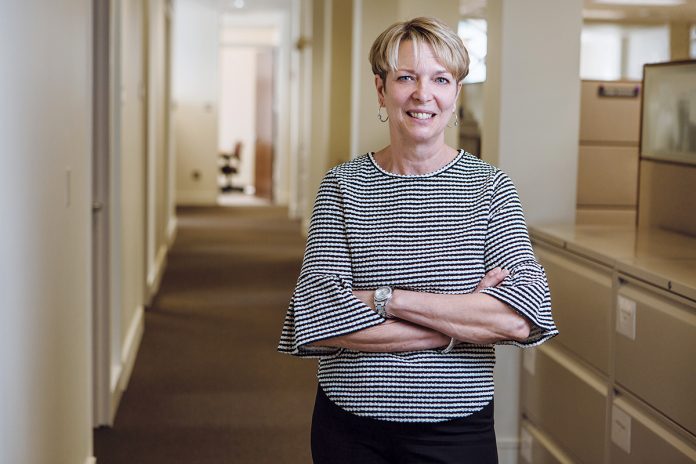 CHIEF HUMAN RESOURCES OFFICER, NONPROFIT/SOCIAL SERVICE AGENCY | Tammy Lederer, Brown Medicine
---
Tammy Lederer, Brown Medicine's chief human resources officer, has had her hands full for more than a decade converting paper medical records to digital, a new name, new branding and a switch to a patient-centered medical home model of care.
The name change has been the latest transition. Just this past February, University Medicine changed its name to Brown Medicine.
Its parent company, Brown Physicians Inc., is a partner of Brown University's Warren Alpert Medical School. Showing this affiliation in a more obvious way helps attract doctors who want to expand their scope, said Lederer.
"Physicians … come and work for us because they want to teach and have an academic component" to their careers, she said. "That opportunity is there for them. And research."
When she first came onboard to what was then University Medicine Foundation in 2004, the nonprofit had fewer than 200 employees. "I knew everybody. I could introduce everybody to the president," she said. "I can't do that now." The number of employees has more than doubled, and interviewing and hiring duties are shared among a larger HR staff to accommodate the organization's more comprehensive mission.
Lederer is a University of Rhode Island graduate who previously worked in human resources for Lifespan Corp. About two of the three decades she's spent in health care have been in the HR arena. She is the former director of the state Society for Human Resource Management, and a member of many other industry associations.
One of her responsibilities at Brown Medicine has been to maximize the effectiveness of its employees and their workplace satisfaction. "I try and improve things all the time," so that team members remain engaged and motivated, said Lederer.
When she started, turnover and pay had to be addressed. "Compensation was one of the first things I looked at and talked to the board about. … Salaries needed to go up to be more competitive in the market. To get that implemented took years. [One has] to bring the business argument forward with HR issues to get everyone onboard and embrace it."
Staff surveys helped guide other potential improvements, such as adding Community College of Rhode Island prerequisite classes at Brown Medicine's East Providence campus, so that employees can take classes on-site and not have to travel. Brown Medicine leadership backed the move, and other professional-development initiatives, such as offering tuition reimbursement for employees who take licensed practical nursing courses at CCRI, said Lederer: $2,000 per year for every year they are employed, until the tuition bill is paid in full.
These and other HR efforts are working. Brown Medicine was named one of the Best Places To Work in Rhode Island in 2010, 2011, 2012, 2013 and in 2014 by Providence Business News, and named 2017 Business of the Year by the East Providence Area Chamber of Commerce.
Probably the largest transition at Brown Medicine is the change to the way it delivers care, a collaborative approach with all facets working together.
With more than 200 primary care, specialty outpatient and subspecialty physicians onboard, the new patient-centered medical home model of care was implemented in 2016. The new model puts all of a patient's caregivers – primary and specialty – under one roof for more streamlined collaboration.
"We have one medical record for each patient across the organization, so if someone sees a primary care doctor at Brown Medicine and one of our specialists, the patient's information is in one record," she said.
With Brown Medicine's recent changes accomplished, Lederer looks ahead to what may be in the future in an ever-changing industry. Changes and impact of the Affordable Care Act are something she and others in health care and human resources are watching closely, she said.
"In all the years I've worked in health care, it keeps evolving – which is what I love about it. Nothing is stagnant and there's always something new to learn," she said.