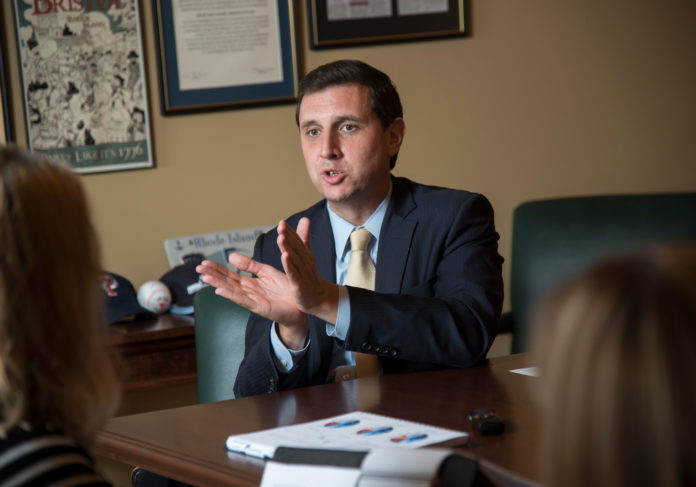 PROVIDENCE – In an effort to help shore up municipal balance sheets, the state's general treasurer on Thursday announced legislation to encourage locally administered pension plans to join the state's system.
There are currently 34 locally administered pension plans – entirely separate from the state-administered Municipal Employees' Retirement System, or MERS. The plans report a combined $2.4 billion unfunded liability, representing the gap between how much money is set aside compared to how much money is owed in future benefits.
Nineteen of the plans are funded at less than 60 percent, a measure of assets to liabilities, and 12 are funded at less than 40 percent, according to a state report.
General Treasurer Seth Magaziner plans to submit legislation in the coming weeks that would allow the locally administered plans to join MERS if local governments and unions agree to gradually conform to MERS benefit structures.
"Too many locally managed municipal pension plans are struggling, costing cities and towns millions of dollars and threatening the retirement security of hard-working municipal employees," Magaziner said in a statement. "This proposal provides a new tool for municipalities to get their pension plans back on track."
The locally administered plans, excluded from the well-known state pension reform of 2011, championed by Gov. Gina M. Raimondo, are predominately for local firefighters, police officers and some municipal employees.
Local lawmakers for decades have failed to put enough money aside each year to cover future benefits. Unfunded liabilities in many cases have ballooned.
Magaziner's legislation, dubbed "Healthy Local Pensions," or HELP, would make it easier for municipal pension plans to enter MERS by offering longer amortization periods and allowing certain parts of the pension benefit structures for agreed-upon periods of time, provided everything meets actuarial guidelines. Municipalities could saves costs by handing over investment duties to the state, and in some instances realize stronger investment performances.
Entering MERS, however, would remain optional, protecting the state from potential legal pushback similar to what happened following the 2011 reform. It also places the responsibility of convincing local unions to join on local lawmakers. The latter requirement poses a tall order, as many of the local benefit structures are much more lucrative than what's offered under MERS. Each proposal to enter MERS would also need to be approved by the state Retirement Board.
MERS comprises more than 100 plans and has an average funded status of 83 percent. Unlike the locally administered plans, lawmakers almost never fail to contribute 100 percent of what's owed each year, as the state has legal authority to withhold funding from those that fail to do so. No such law regulates the habitually underfunded locally administered plans, which exacerbates the poor financial health of local funds and subsequently municipal balance sheets. An investigative series by PBN last year revealed such issues happening in cities and towns throughout the state.
Magaziner's plan also would provide an option for "capped" plans, or those not accepting any new participants, to turn over fund management responsibilities to the state investment team without changing benefits. Because there's no requirement to change benefits, this part of the legislation will likely be more attractive to members of the capped plans. Those plans would not be considered part of MERS, according to Magaziner.
"This proposal provides a new tool for municipalities to get their pension plans back on track," Magaziner said.