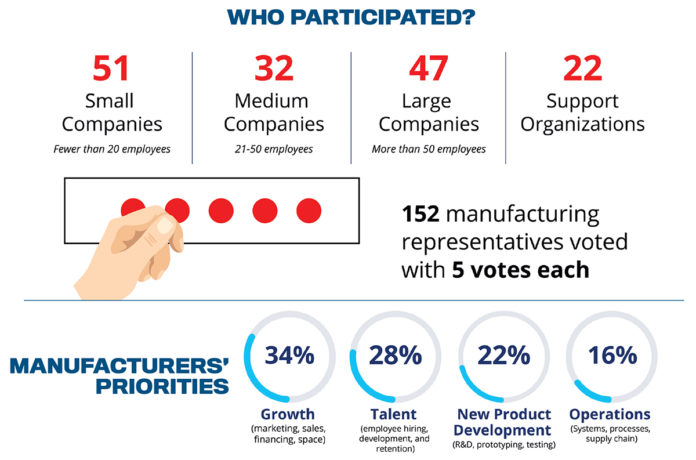 What is made in the Ocean State? Even some manufacturers, who make a living making products, are surprised by the diversity of local suppliers.
An inaugural event organized this year by Polaris MEP was designed to bring manufacturers together, not to network, but to demonstrate their products and capabilities. A survey of the participants, released late last month, illustrates some of their shared ­concerns.
The event, RIMFGB2, held at the Crowne Plaza Hotel Providence-­Warwick in March, drew 400 exhibits and participants, representing more than 250 companies.
It provided an opportunity for local makers to see firsthand what else is made in the Ocean State, with the possibility of expanding the local supply chain, according to Christian Cowan, the center director.
"We set it up in a trade-show format," he said. "We gave them all tables and booths, and they could bring their products. There are a lot of examples of Rhode Island manufacturing companies that buy their parts and materials from places outside the state, and they don't even realize there is someone down the street from them who is making the same exact part."
By design, the displays were set up in no particular order. Rather than grouping manufacturers of medical devices or textiles in clusters, for example, Polaris scattered the participants in the conference room.
'Very small companies don't know how to go find the engineers.'
CHRISTIAN COWAN, Polaris MEP director
This forced participants to walk among the various displays. "People actually commented that that was good," Cowan said. "They walked past people they otherwise would not have looked for. A lot of people don't know what's made here in the state. A lot of these manufacturers didn't even know these companies existed."
In a note to Cowan, conference attendee Dinna Finnegan, Platinum Recognition LLC's CEO and president, said the North Providence company has since seen a boost in sales. "As a direct result of your B2B conference, my company is receiving a little spike in business," she said.
Beyond the potential for strengthening the local supply chains of manufacturing companies, Polaris MEP found in the event an unusual opportunity to survey the participants.
All in one room, representing many sectors, were Rhode Island's top manufacturers. Forty percent of the participants responded to the surveys.
They included many small firms, with fewer than 20 employees. That group represented 51 of the respondents, followed by 47 large companies, identified as those with more than 50 employees.
Of the participants, 152 representing manufacturing companies were given red sticky dots, and a board of possibilities. They were told to place a dot on the five issues representing their greatest needs, grouped among four categories: growth, talent, new-product development and operations.
Based on those marker boards:
• 34 percent identified managing "growth" as a top priority, including marketing, sales, space and financing.
• 28 percent identified "talent" as a high priority. This category included the topics of employee hiring, development and retainment.
• 22 percent identified "new-product development" as a top priority. This category included research and development, prototyping and testing.
• 16 percent identified improving "operations" as a priority, including systems, processes and supply-chain issues.
Of those who identified managing growth as a top priority, they broke that down as follows:
• 38 percent said they needed help breaking into new markets.
• 27 percent said they needed help in growing the sales of existing products in established markets.
• 20 percent said they need to understand new-market applications of their current capabilities.
Medium-sized manufacturers were found to be three times as likely as others to need improved or larger facilities.
Small manufacturers were four times as likely to need access to capital.
In the focus on talent, 23 percent of the surveyed participants said they needed to hire machine operators, while 22 percent reported they needed help in training floor employees for advances in technology.
A full 19 percent of the participating manufacturers said they need to hire engineers.
The responses will help shape how Polaris MEP and the R.I. Commerce Corp. shape existing and future programs, according to Cowan.
For example, he said, the fact that so many of the businesses identified finding engineering talent as a concern is something Polaris can tackle, through marketing programs.
Large manufacturing companies with big HR departments and established connections may have an advantage in recruitment, he said.
"Very small companies don't know how to go find the engineers very well," he said. "The GE Digitals and Johnson & Johnson have good connections into the universities, the others don't."