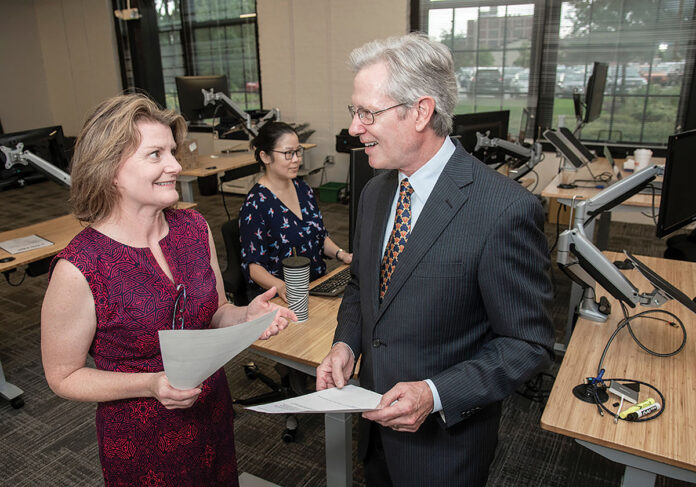 MANUFACTURING
---
The trends in manufacturing over the past decade, including lean processes and increased efficiency, took a back seat in the last two years. Innovation and resilience instead became the drivers for many manufacturers.
Even before the COVID-19 pandemic, employment in the industry that once dominated Rhode Island had been declining. In 2020, the state had 37,414 people in manufacturing jobs, down almost 6% from 2019, according to the R.I. Department of Labor and Training.
The number has been falling for the last five years, although it has bounced back somewhat in 2021. Manufacturing now accounts for less than 10% of all private jobs in Rhode Island.
This runs counter to the national outlook, in which manufacturing has experienced slow growth.
Despite the tightening of employment, the industry enters 2021 more resilient, say leaders. Many manufacturers had to reboot themselves in the pandemic, after supply chains dwindled, or demand dried up for traditional products. A few closed or had significant layoffs.
But many others saw gains in demand – and challenges that were associated with those, including finding enough employees.
The broader trends of the past five years remain in place.
The workforce is aging and will have to be replenished.
Twenty-five percent of all manufacturing employees in Rhode Island are 55 or older, eligible to retire within 10 years or so, according to 2019 data. About 31% are in their 20s and early 30s, which has resulted in a labor force dominated by the relatively young and old.
Wages are increasing. A public database maintained by Polaris MEP reported that the average hourly manufacturing wage was $28.98 in 2019.
Partnerships among manufacturing sectors are increasingly influential. Several emerged in the past five years.
They include 401 Tech Bridge, an initiative launched in 2019 to help connect the textile, composites and undersea technology industries to the U.S. Navy, local universities, nonprofits and businesses.
Another alliance among industry members is the Rhode Island Textile Innovation Network, which has joined together a cross-section of advanced textile manufacturers and suppliers to promote ­opportunities.
And We Make RI, a nonprofit that provides training, worked to train new employees for manufacturers having trouble finding experienced talent, including Amerisewn of Cranston, which needed industrial, professional stitchers.
Another emergent trend: the state of Rhode Island has become a more active partner in encouraging manufacturing growth.
General Dynamics Corp., which operates the Electric Boat submarine manufacturing facility in North Kingstown, credited workforce development initiatives, including Skills for Rhode Island's Future, Back to Work RI and P-TECH, with shepherding 1,400 workers to its site at Quonset Point. The manufacturer of nuclear submarines expects its workforce in Rhode Island to grow from 4,000 to 6,000 over the next several years.
Other state activities have been aimed at encouraging innovation and development of the manufacturing industry.
In 2020, the state revised its Rebuild Rhode Island tax credit program to provide flexibility and more funding for smaller manufacturers. The reworked requirements removed the threshold for manufacturing projects. Under the original program, Rebuild RI would only help an employer with at least 25 employees, planning to spend at least $5 million on a project. Another government program, Innovation Vouchers, has been used heavily by manufacturers.
Since January 2016, more than $1.9 million has been awarded through the Innovation Vouchers program to manufacturers to help them expand innovative technologies or products.
Manufacturers can use up to $50,000 in innovation grants to fund research and development internally, or to partner with a university.
Through the pandemic, many manufacturers found their markets shifted.
Some, such as WaterRower Inc., a manufacturer of rowing exercise machines, saw its sales expand because of the increase in at-home, personal fitness and the closure or restriction of traditional gyms.
Other manufacturers added new product lines or shifted work to meet new markets, including the needs of the health care industry or consumers. Aidance Scientific Inc., of Woonsocket, normally a manufacturer of topical medications, shifted into hand sanitizer.
Manufacturers who were reliant on industries hit hard by the pandemic were initially hit by lagging sales. Those industries have since started to recover.
And manufacturers that beefed up production in the pandemic, for products such as face shields, medical gowns and gloves or face masks, have since recalibrated. Honeywell International Inc., which has a factory in Smithfield, brought on 500 new manufacturing employees to produce N95 masks in March 2020, when the supplies were critically low. But by May of 2021, the company had announced those numbers would be cut, as it stopped local production due to decreased demand.
Before the pandemic, tariffs and trade restrictions, particularly with China, were vexing to many Rhode Island manufacturers whose products include materials and components sourced overseas. The tariffs imposed in 2018 by the Trump administration caused price increases for materials, including Chinese-sourced aluminum and steel.
Manufacturers, such as ­­VIBCO Inc., of Richmond, which had already relied on American suppliers for its aluminum and steel, faced price increases as more manufacturers sought to avoid the tariffs and get their supplies from U.S. sources.
Manufacturing companies that used steel and aluminum in their products, and which used U.S. plants, adapted to the new demands on their supply chain. Yushin America Inc., a Cranston-based subsidiary of a Japanese manufacturer that makes industrial robots, took the long view.
"In the short run, it may cause some pain," said Michael Greenhalgh, Yushin America's director of operations. "In the long run, it's better for us as a country."