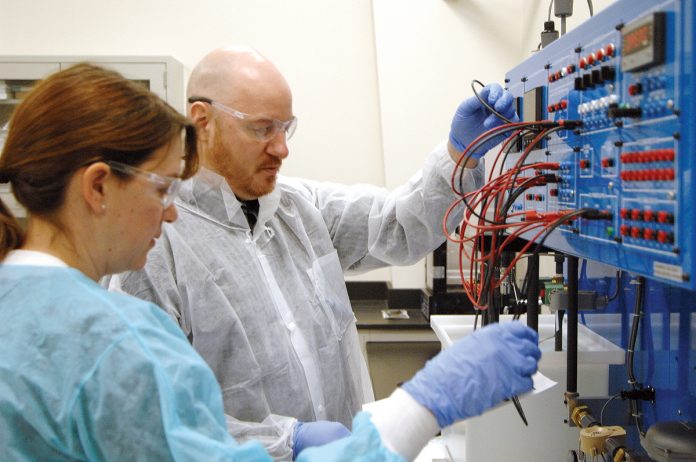 Process technician: The name doesn't necessarily trigger an awareness or emotion among Rhode Island job seekers, but maybe it should.
Employers are looking for them, in increasing numbers and across a wide range of industries. And the state is paying for the training that can prepare someone to do these jobs in about two months.
Run under the auspices of the R.I. Department of Labor and Training, the new program for process-technician training at Westerly Education Center recently graduated its second cohort of students.
A year from now, they could be in any number of businesses, keeping production lines going.
At Grey Sail Brewing, the process technician monitors what goes into the cans and how they're coming together on the production line. In another business, the process technician is testing soil to determine if it contains contaminants.
Across businesses and industries, the roles differ but the need remains.
Explained Amy Gryzbowski, executive director of the Westerly Education Center: "Generally it's a person who can run the mechanics behind any process. Anything you see or use in a grocery store has been developed … by someone who is either a process technician or a chemical developer."
That people may be unfamiliar with the position is not too surprising, she said, in that manufacturing positions have been downplayed in recent decades. Now the conversation is shifting, as people realize that not all good jobs require a college degree.
"It's similar to many manufacturing positions," she said. "We went through a time when we didn't focus as much on trade training or manufacturing. We were encouraging students that college was the only path. We are changing that conversation."
The process-tech program, a 10-week, six-hour-a-weekday commitment, is free of charge for the students who enroll. The cost, including textbooks, is covered by the state under the Real Jobs RI program. A college degree is not required. While enrolled, students are instructed in safety protocols, laboratory procedures and related skills. They have academic instruction as well, in applied math and science.
On graduation, they are encouraged to apply for positions at the roughly two dozen employers whose suggestions helped create the curriculum.
A partial list includes some of the most well-known employers in the state: Amgen Inc., AstroNova Inc., Bradford Soap Works Inc., Dewetron Inc., Edesia Inc., Grey Sail Brewing, Eurofins USA, Pfizer Inc., Roger Williams Medical Center and Toray Plastics (America) Inc.
Thirty-eight students have now completed the program, Gryzbowski said. It all started just a few years ago, when she was approached by an employee at Pfizer, who explained the industry was "aging out" and they needed a training program to help individuals gain the requisite skills.
'It's almost like [academics and employers] speak two languages.'
JULIAN ALSSID, Community College of Rhode Island vice president of workforce partnerships
While the pay varies by employer, the starting hourly range is $15 to $17 an hour, she said.
One of the most recent graduates, Megan Cortesi, was confident she was prepared for working as a process technician. A graduate of University of Massachusetts Amherst, with an undergraduate degree in art, Cortesi said she was happily employed for many years working in commercial production of artwork.
But last year, unemployed, she had difficulty finding ads that suited her skills and interests.
"I was not finding job listings that interested me," she said. "I felt limited in what I could apply for."
She's most interested in jobs in the testing area, which would require her to use precise instruments to measure environmental materials, including soil, water or other substances.
Cortesi, who heard about the program through word-of-mouth, said learning the new information had been fairly easy. She expects to land a job, she said, because, "There are a lot of jobs in Rhode Island."
On the recruiting end, employers like the program because the graduates are exposed to the equipment and standards that they will find in manufacturing workplaces.
Stephen Dolinich, manager of talent acquisition at Thielsch Engineering Inc., in Cranston, said his company has hired three people who came through the program.
When he took the tour of the educational facility in Westerly, he noticed it used the same instruments as his lab. On the interview days, the graduates did well at Thielsch.
"In all three situations, I had a hiring manager at the end of the interviews with a smile on his face," Dolinich said. "He said, 'They get it.' "
Julian Alssid, vice president of workforce partnerships for Community College of Rhode Island, said historically, academics and employers haven't been on the same page in workforce preparation.
"It's almost like we speak two languages," he said. That's starting to change. This program is an example of one that was created with the end result in mind.
"The hope is that as this grows, more and more employers will jump on board," Alssid said.
Mary MacDonald is a PBN staff writer. Contact her at Macdonald@PBN.com.